I'd like to show some new invitation designs I have been working on over the last couple of months.
Wedding Scroll Invitations
Wedding scroll invitations are still the most popular requested so I have put together another design.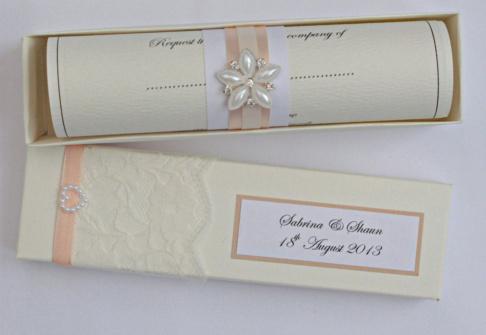 Eleanor in ivory and peach
This design is called Eleanor. The design consists of a scroll band with 2 satin ribbons, a pretty pearl flower brooch surrounded by tiny diamontes. The box front is trimmed with lace, a matching satin ribbon and  tiny pearl shaped heart. The name of the couple and wedding date are displayed on the box front.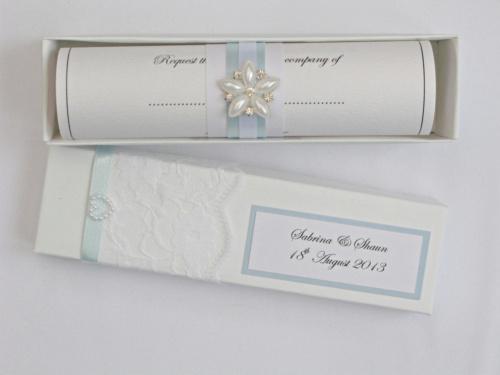 Eleanor – ice blue and white
This design can be made in any color of your choice. Scroll boxes come in white or ivory. I have added white lace with a white box and ivory lace with an ivory box.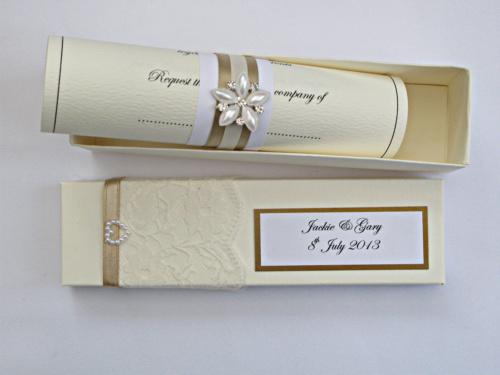 Eleanor in champagne and ivory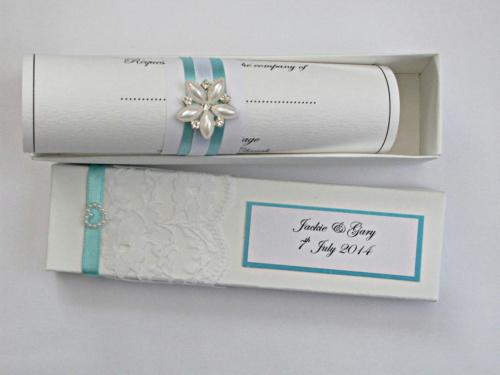 Eleanor in turquoise and white
This invitation is available with a flowers brooch or a heart shaped pearl brooch.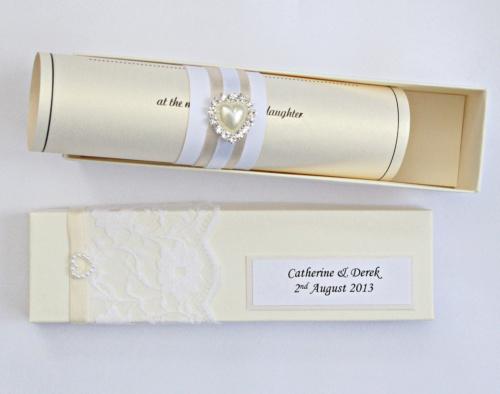 Eleanor in ivory and white
This has been made in white and ivory. Neutral colours for anyone that wants to keep their 'on the day' color a secret.  This has been made with an ivory box and white lace. The scroll band is white and ivory ribbons. This design is available in any color scheme of your choice.
This design is perfect for at vintage themed wedding.
Pocketfold / Wallet Style Invitations
I recently did a wedding fair. I was asked many times for pocketfold style invitations.  I have quite a few designs they will be uploaded to the web site over the next couple of weeks.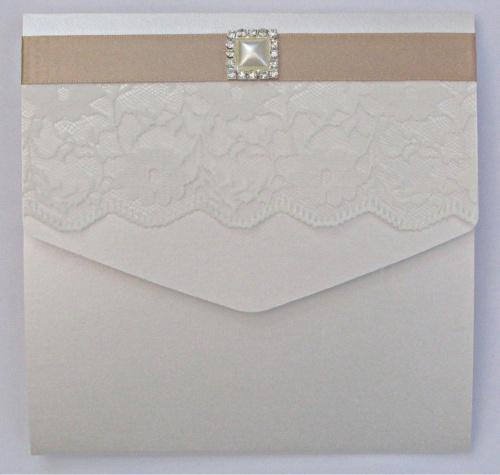 Charlotte
These invitations are great if you want to add lots of extra information. The invitation comes with an rsvp and envelope. Additional cards can be added including menu choice, directions, accommodation details.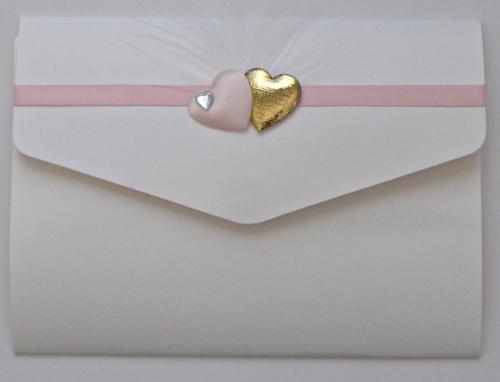 Sophia
You can view our gallery of wedding invitations here
We have a variety of designs and color schemes.If you see a design you like but can't see it in your color scheme drop me an e-mail.
[email protected]
If you would like regular updates on our stationery please like us on Facebook 
I update the page regularly with new designs and color schemes.
I'd be happy to make up an invitation in your preferred color and send you over a photograph.
Pocketfold style invitations come in various sizes, textures and colours.
We also make 'on the day' stationery to match our wedding invitations. Why not visit the website
to view our wide range of wedding stationery.