When it comes to choosing a beautiful and elegant wedding dress, you will find copious styles, cut and colors available in the market. A rising trend for designer wedding dresses have been noticed in the recent months for the simple reason designer wedding dresses make them look stunning and graceful.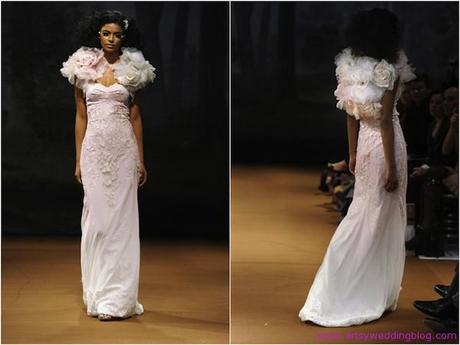 With the ever changing trends and fashion, the wedding dresses too are not left out. If you are looking for the latest and best designed wedding dress, you can fall back on the latest issues of bridal magazines that will give you a peep into the dresses and pattern just hot off the ramp. Even you can search online and get to know about best wedding dress that will flatter your body type on your special day. Besides this, wedding dress trend watch from bridal market fall 2011 will update you about the latest trendy and fashionable bridal wear. You will love the alluring texture, light hint of color and amazing alternative necklines of the collection.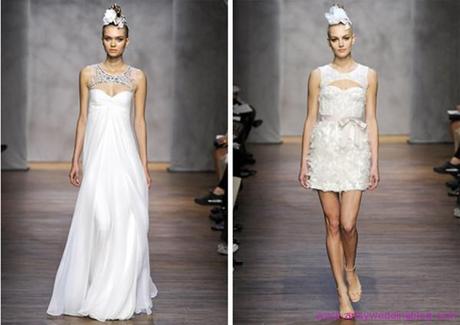 Best Wedding Dress Trends For 2011
In 2011 wedding dress trend, you will find lots of new collections of bridal wear with modern, vibrant shapes, colors and classic materials and over all – an ethereal look. Here are some of the best and top wedding dress collections by famous designers that can help you in choosing the exclusive wedding dress for you. These include: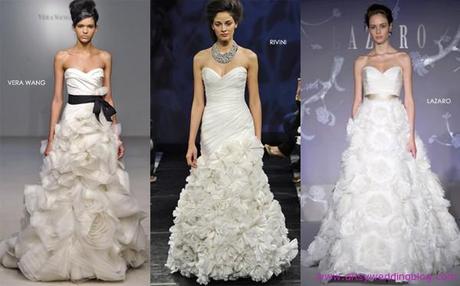 Flower designs and patterns: If you are attracted towards floral designs and patterns then you can choose dress with skirts that are beautifully adorned with colossal cabbage roses, silk petals that flutter and pop up and down while you walk. You will find a lot of illusion embroidery on a barely there fabric with opulent beading.
You will simply fall in love with Monique Lhuillier Fall 2011 bridal collection which includes strapless gown with trimmed ruffle skirt, bailey sheer silk organza wedding gown and many more. If you are looking for lace embroidered, simple silhouette gown then this is an ideal dress that you can pick for your wedding. You can also choose attractive tulle, lace and taffeta dress.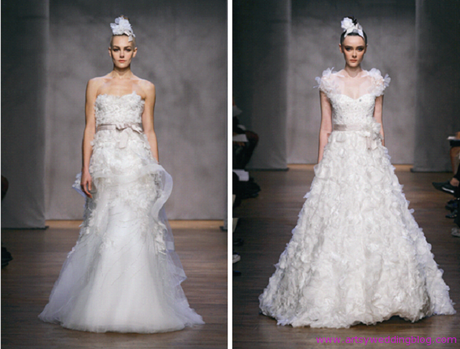 If you happen to love a more stylish and voguish dress, you can opt for platinum wedding dress by Priscilla. This dress comes with classy top with chic with A-line skirt. You will also love to wear tiered skirt on your special day.
You can even try fully covered white dress by Claire Pettibone. This dress comes with lacy, loose pants and diagonal handkerchief skirt. This amazing wedding dress will make you look more stylish and fashionable.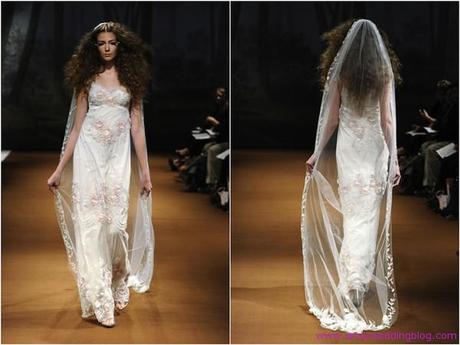 Apart from these, you can also check out other bridal collection from various fashion boutiques and shops. If you still looking for exclusive and chic wedding dress, there are many online shops that offer branded and designer bridal wear made by renowned designers.