Along with its new flagship phone, the Galaxy S5, Samsung launched its third wearable device at the Mobile World Congress 2014 in Barcelona – the Samsung Gear Fit. The Gear Fit is meant to accompany the Galaxy S5 and, unlike the Gear 2 and Gear Neo, it's more health and fitness-oriented.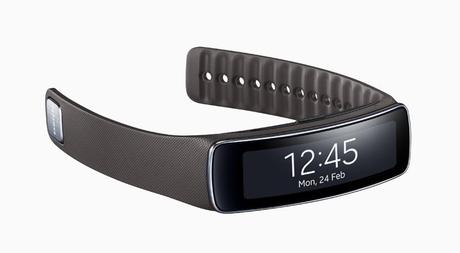 The Gear Fit was unveiled alongside its siblings, the Gear 2 and the Gear Neo.
The Gear Fit weighs 27 grams and has a 1.84in curved AMOLED display (resolution of 432 x 128 pixels) and it's the first device in the sea of wearable tech to come with this feature. The Gear Fit interacts with your smartphone and pulls up SMS, call and email notifications from it and presents them to your via the screen. It also comes with a number of health-related options, such as a pedometer, a heart rate monitor, a sleep tracker, a timer and a stopwatch. Given the fact that its completely waterproof (IP67 rating), you can even use it in the rain or in the shower. The Gear Fit has a 210mAh battery which Samsung claims can last three to four days with moderate usage.
Samsung says that they designed the Gear Fit for those users who want to live a more active and fit life, yet still want to remain trendy and have the ability to stay connected at all times. The company also promised that the Gear Fit will have more than a 100 apps once it's officially launched.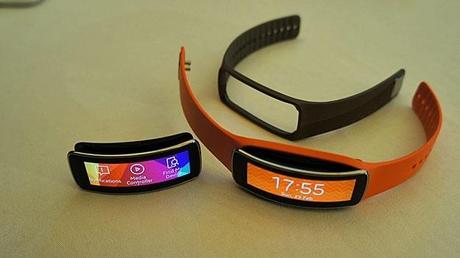 You can easily switch between the different coloured straps.
The Gear Fit has three changeable straps in orange, mocha grey and black, which means that you can customize it to your personal preferences and liking.
According to Samsung, the Gear Fit will become available in April, but the company hasn't said anything yet about the pricing details.