Home > Stock Market > We've (finally) hit my target!
We've (finally) hit my target!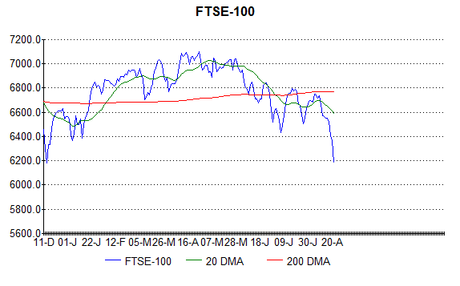 The FTSE has reached the 6,200 level I called as my next target two months ago, though It has taken a lot longer to get here than I anticipated (and two weeks ago, after two bounces well above the 20 day moving average, I would have said it probably wouldn't make it at all). After nine straight down days however, I think we should see a bounce this week, but I still feel my call of a 15-20% fall is reasonable and this would see the index bottoming out just below 6,000. That said, this correction has received a lot of mainstream media coverage which suggests that it may have mostly run its course, so it may not last too much longer. There has been talk of a full-blown crash, but the FTSE-250 and investment trust discounts are holding up fairly well so I don't think we have entered a bear market. The recent sharp sell-off was triggered by China's devaluation of the Yuan and fears over their growth slowing down, but I suspect that, as is often the case, these fears have been overdone. The devaluation will reduce inflationary pressure in the countries China exports to, so may delay any interest rate rises there and it may be that this increased uncertainty is adding to the doom and gloom atmosphere.