Home > Bitcoin, Stock Market > Bitcoin is looking wobbly again.
Bitcoin is looking wobbly again.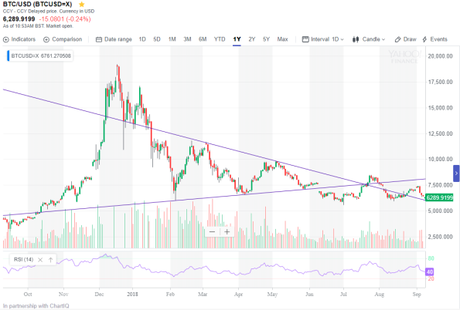 We did get the bounce I predicted in my last post, and it went further up than I forecast, verging on overbought territory (Relative Strength Indicator - RSI > 80). The price then dropped again as would be expected, but didn't make a new post-crash low, which was a positive sign and I was hoping that bitcoin may have turned a corner. It drifted back up after that, but, a week ago was looking like it had run out of steam, so I was expecting a bit of a dip. This has happened, though the price fell more sharply and slightly further than I anticipated, cancelling out the positivity and suggesting that there could be further to go in this drop. (Short-term corrections tend not to exceed nine or ten per cent and this drop was around thirteen per cent). It is usual, after a crash like we have had this year, for the drop to end when buyers capitulate and sentiment turns very negative, but this hasn't happened yet with bitcoin. Consequently, I think the price could drop substantially from here, perhaps below $1,000, as there is a strong band of supporters (the HODLers - Holders On for Dear Life) who will take a lot of pain before capitulating. It is important to remember that, although the bitcoin price has fallen by more than two thirds since it peaked in December, it is still above where it was a year ago, so any longer term investors will still be in profit at the moment and so still not too worried. It is also worth noting that it is less than two years since bitcoin regained the $1,000 level, so this level is by no means out of range.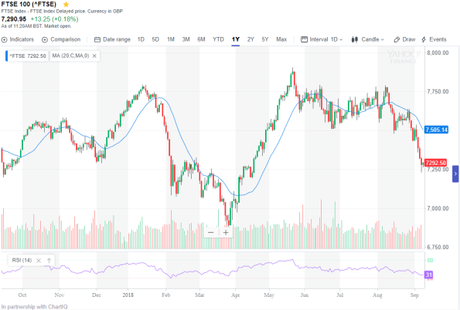 The FTSE did continue to drift upwards for a while, as I suggested in my last post, but, in the last few weeks has fallen, despite support from a falling pound (which makes foreign earnings more valuable to FTSE multi-nationals). I haven't discerned any particular reason for this being attributed by the commentariat, so I think it has to be put down to general Brexit anxiety. There have been comments about the relatively high likelihood of a no deal exit, which appear to have spooked the market. There is significant support at 7,200 points, so I think the index may well bounce there, but I don't have any strong feelings about what is likely after that as it is too dependent on politics.