Home > Lunacy, Stock Market, Bitcoin > A plethora of "death crosses"!
A plethora of "death crosses"!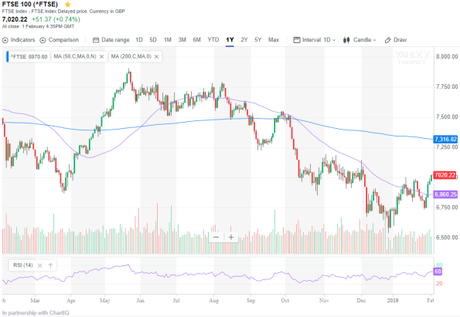 The FTSE didn't plummet as I predicted in my last post, but went sideways for a few weeks then dropped to just above 6,500 points. Since then however, I have noticed two "death crosses" in the chart, one in March 2018 and another in October 2018. This is where the 50 day moving average crosses below the 200 day moving average and both lines are sloping downwards. It is a widely recognised chart pattern that usually indicates a longer-term downturn has started (rather than the short-term correction I forecast), though there is often a bounce shortly after the signal which is considered a last chance to sell. In the March case, the FTSE made a new all-time high (just) and I was thinking about selling out of my FTSE tracker, but was persuaded not to by the conspirators who insisted that I'd miss out on a melt-up if I did. The question is, how long will the downturn last? (The second signal is not too significant). The index broke its March low and is now rebounding, but there are still the problems of the China/US trade war (which neither side wants to lose face over) and the Italy debt crisis (which has the potential to wipe out the European banking system), so I think that, although the FTSE may continue to rebound for a while yet, there is likely to be significantly more downside to come fairly soon.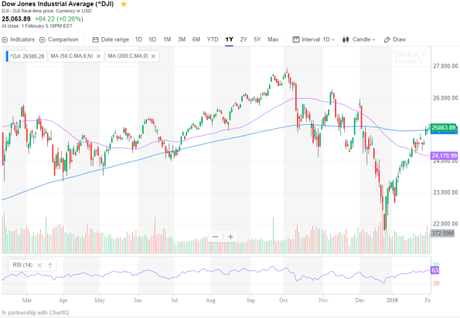 The Dow chart also features a death cross (in December 2018) and we are now probably in the last chance to sell rebound. This has paused at the 200 day moving average, but may go further. The same problems exist for the Dow as for the FTSE though, despite the US economy looking strong.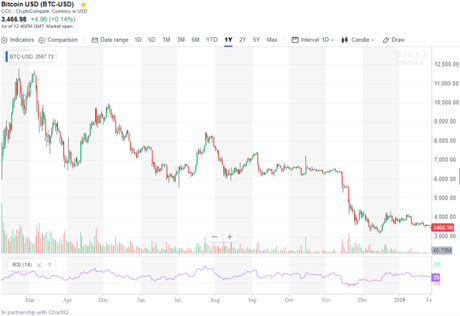 Bitcoin continued sideways for a few more weeks after my last post, but has now fallen, as predicted. There was a bounce just above $3,000 (the support level from the September 2017 crash and my initial target low), but it seems to be declining again now. I think the price is likely to fall significantly further as there is still no sign of "blood on the streets".