Home > Bitcoin, Lunacy, Stock Market > FTSE teetering on the edge?
FTSE teetering on the edge?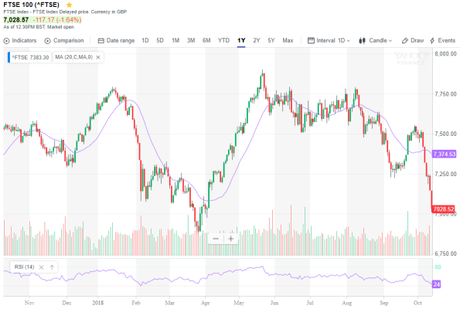 Market uncertainty has been pulling the FTSE down for the last week and it is now closing in on the 7,000 point mark. The index looks to me like it is teetering on the edge of a precipice now and, if (when) 7,000 is broken, we could be in for a sharp decline to 6,000 very quickly, i.e. in the next week or two. There is a number of things for the market to worry about: rising interest rates in the U.S., disruption to the eurozone by Italy's populist government budget and, of course, Brexit. I had been looking forward to the mania stage of this bull run, but it looks like that will at least be postponed for now, if not cancelled altogether. The financial crisis hit in 2007 without a melt-up for the last run so perhaps we could see another crash here without one again, but I am not yet convinced of that. Looking at investment trust discounts (which often increase immediately prior to a crash) there is no sign of a longer-term change of mood. So I think this may just be a largish short-term correction of around 20% or so. 6,000 points could be the bottom for the FTSE and we could see a drop of a few thousand points in the Dow Jones (which seems to have finally caught a dose of the jitters as well now, with an 800 point drop last night), but we will have to keep a close eye on progress.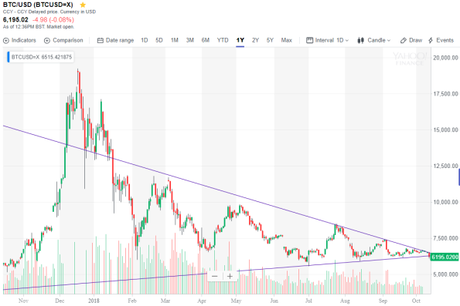 I have adjusted my wedge lines in the bitcoin chart so that they show a new pattern of which we are reaching the point now. The bitcoin price has found strong resistance at the upper line in the last few days and has now dropped sharply through the bottom line; could this be the start of the next stage of the crash I predicted in my last post? I am not sure yet as my forecast was highly influenced by the messages I get through the media and is therefore likely to be completely wrong! Again, it is a case of watching and waiting.