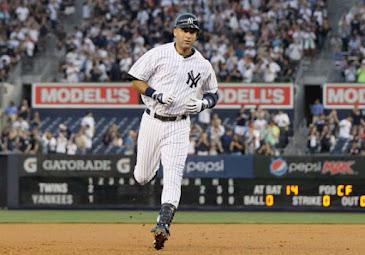 - Troy Ballard
It's so easy, New York. Isn't it?
When was the last time anyone has sat down and watched a Yankees' game and thought sincerely to themselves -- wow, this team really blows. Because I have been tossing that exact same idea around for the past few hours, and I have no real answer.
Because never in my (albeit relatively short) lifetime have the New York Yankees been a bad team. Sure, I've watched NY tank on a scale of massive proportions in key games -- but really, really suck.. nope.
Being a Philadelphia Phillies fan, all I can do is sit and watch in frustration as New York has eclipsed another notable achievement -- winning 10 consecutive games.
But much like the World Series in '09, I watched as a better team took over the game and flat out dominated. It wasn't a blow-out, but the winner was obvious. So much that it would be difficult to make a case any other way. And as the Yankees rolled to that 10th win, I was rushed with a wave of realization. 
Forget the fact that Derek Jeter is playing like he's 20 again, that CC Sabathia looks like he could win the Cy Young, that Robinson Cano is easily the best second baseman in baseball, that the absence of Mariano Rivera is not hurting the team, that Andy Pettitte has had a resurrection that would make even the most devout atheist look twice, that Curtis Granderson has ice water in his veins, that the Yankees are just as good as ever.
Those who watch MLB night in and night out will say, no kidding.
But those who aren't privy to what is going on -- New York is nasty. Flat out nasty. The Yankees are just as good, if not better (baffling though it may be), than anytime in recent memory. It's chemistry, talent, determination and that damned New York pride rolled into one solid baseball team.
Don't be surprised. This sort of dominance is what we all expect from a team like the Yankees -- anything else seems flat out wrong.