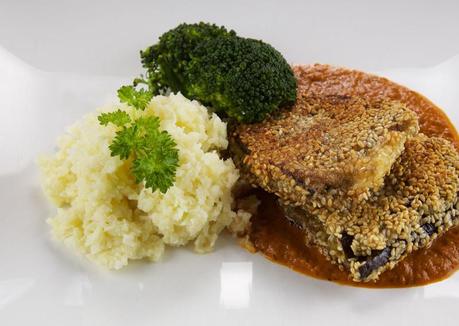 Lots of people have asked, is it possible? Others may just have assumed it's impossible, but it's certainly not. This week we hope to inspire you to try it out.
We're doing a week of vegetarian LCHF - no meat, no fish.
Here's a cheese-filled eggplant breaded with sesame seed, with cauliflower rice and a spicy tomato sauce. Not bad at all!
To be continued and find the recipe - at 79 energy percent from fat - here:
Recipe
Cheese-filled sesame seed-breaded eggplant with cauliflower rice and tomato sauce, 4 servings
Tomato sauce:
olive oil
2 scallions
1-2 garlic cloves
1 can of crushed tomatoes
1/4 cup red wine
1 tablespoon basil
salt and pepper
Cheese-filled and sesame seed-breaded eggplant:
2 eggplants
olive oil
salt and pepper
around 10 slices of cheese, ideally aged
2-3 eggs
sesame seeds
Cauliflower rice:
1 head of cauliflower
butter
Chop scallions and garlic finely. Sauté in olive oil for a few minutes without letting it turn brown. Add crushed tomatoes, red wine and basil. Bring to a boil and let simmer for a few minutes. Salt and pepper to taste. Blend the sauce until smooth.
Preheat oven to 400°F (200°C). Cut away the ends of the eggplants and split the eggplants along the middle lengthwise. Cut each piece in slices, about 1/4 inch (0.5 cm) thick. Coat with olive oil, salt and pepper both sides and place on a baking sheet. Place in oven and bake until soft and golden. Take out and let cool slightly. Place a slice of cheese (or more) between two eggplant slices and dip in beaten eggs and then in sesame seeds. Fry in butter until golden brown.
Grate the cauliflower. Boil water in a pot. When it starts to boil add salt. Add the cauliflower and bring the water to a boil again. Let boil for one minute and then remove the water through a strainer, put back into pot and add butter to taste.
Serve with steamed broccoli.
Nutritional Value
10 E% protein
79 E% fat
8 E% carbohydrates
More
Diet Doctor's LCHF
Healthy Tasty Green Chips!
Picnic at Diet Doctor's House
Dinner at Diet Doctor's