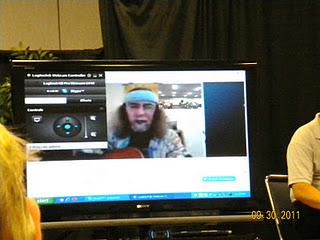 AUTHOR GUEST OF HONOR SPIDER ROBINSON VIA SKYPE
THE KID IN THE NEW CANDY STORE-
THOUGHTS FROM ARCHON 35
by Charlie Kenmore
While it is not uncommon to embellish or exaggerate fond childhood memories, there is one set of memories that stands out clearly in my mind-hunting days. I spent my early days on the south side of Chicago. Between the north-south streets were alleys, a prime hunting ground for deposit bearing bottles. Small bottles brought two or three cents, and large bottles were five and ten cents. With a couple of friends and a wagon, we'd scour the alleys for several blocks to the north. It was always to the north, because the liquor score that would cash them in was several blocks to the north. We didn't even have to wash them out (if we waited until the owner's wife was at the counter).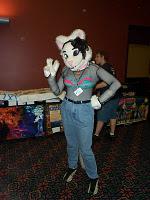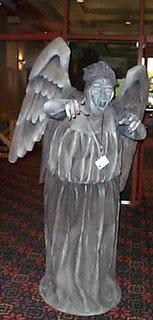 Once the day's haul was converted to cash, it was time to make the trek back south to the mom and pop variety store. If the pickings had been really good, then perhaps a small toy was in order, or sparklers or charcoal snakes if it was near the Fourth of July. However, the one constant that we could count on was bringing home a bag of goodies from the penny candy wall, and a block of second guessing on the walk home over whether we should have taken one less sucker, and added more chocolate.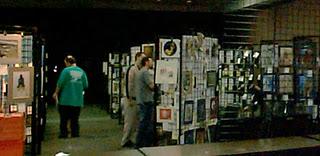 ART SHOW AND AUCTION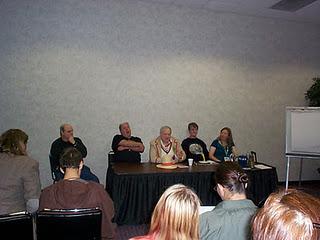 Dr. Who Panel: Rob Levy, Mike Dugan, Cindy Mathews, Adrian Mathews
Occasionally, when I stop to grab a something from the modern day equivalent of the penny candy wall (now fifteen for a dollar), I think briefly about how the prices have changed, but let it go at that. However, when Alexx Momcat asked me to write a guest blog, I couldn't figure out what I wanted to write. Then it occurred to me that attending Archon 35 was a grown up version of a trip to the variety store.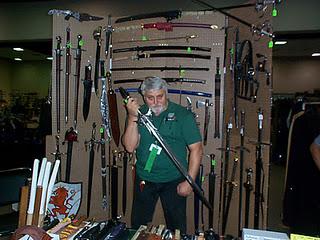 ZIGGY'S WEST ([email protected])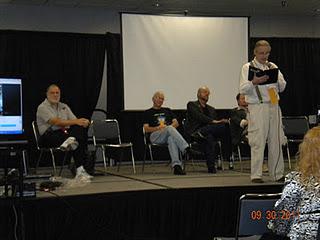 MC Vic Milan, and Guests of Honor
First there is the anticipation. For those who have been to Archon before, there is the foreknowledge of all of the wonderful things to do and see. For those that haven't attended, there is the endless recounting and regaling of tales of all the wonderful things to do and see from those who have.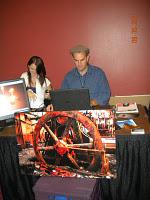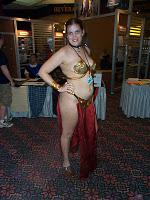 Next there is the fellowship. Even before you register, you know that you are surrounded by friends and fellow travelers. The outside world may not understand you or appreciate your acerbic wit, but at Archon you are surrounded by those who will accept you for who you are (even if you were enthralled by the special effects of Space: 1999). When was the last time you walked up to a stranger on the street and asked to take her picture? At Archon, it is not only acceptable behavior, it is expected. After all, you're family.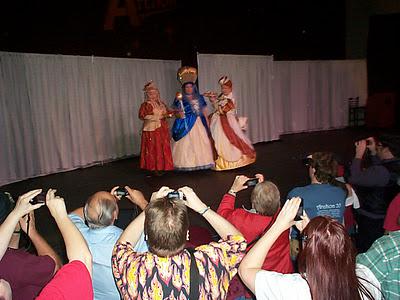 COURT OF THE MUFFIN QUEEN (with Alexx Mom Cat's arm)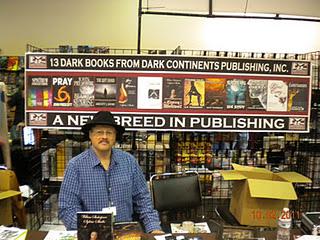 Author David Youngquist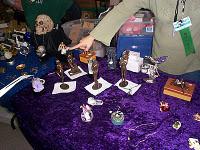 ZIGGY'S WEST
 Finally, there is the variety store. For those that are literal, there is a dealer room where one can find figurines, crystals, books, sharp pointy things, books, corsets, gaming supplies, jewelry, books, zombie ducks and more. For the rest of you, there is also an art show and hallway with more purveyors of assorted wonders. Foremost, however, is three days of extraordinary programming filled with discussion panels with numerous writers and artists, gaming, demonstrations, films, and a masquerade. No matter how much you do or see, you are still going leave with regrets that you missed A, B and C.
Hope you can all make it to Archon 36. My goodies bag is going to be a little fuller next year. I'm going to be a panelist.
See you there, CK