Thanks so much to Alexx for having me here to talk a littlebit about No Boundaries Press.
No Boundaries Press (NBP) was originally planned a littleover two years ago. Kaleigha and I wanted to be sure we had a well thought outplan as we knew it's difficult to trust newer companies.
I wanted to push the boundaries and bring to the frontvoices and stories that would be overlooked by other publishers. We knew therewould be hurdles, so we tried to determine the future of books. This is one ofthe reasons we had a quick "recovery plan" for the new terms that PayPal is nowenforcing on authors, publishers and vendor sites.
*
NBP wants to offer a home that is reliable to the authors werepresent. We try to reply to all emails as promptly as we can. This also goesfor our customer service. There are always bound to be glitches withtechnology. But we try our best to make everything right and get things handledthe best that we can.
We know that as a small publisher—especially being sonew—that we have to take our hits and be ready to prove that we are around tostay and that we are reliable. Trust isn't just given, it's earned. And we'reprepared to do so and hope that we already have started that with what ourcurrent authors say about us.
One of the unexpected happenings is opening as a vendor. Weknew that things would change with payment processing eventually. Although wecouldn't determine when. We knew we'd have the answer for our authors.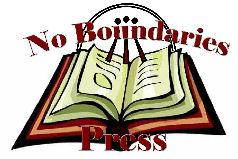 However, when it happened, I decided that we could dosomething for others as well. It became more about censorship than of having torepresent, as a publisher, those listed on our site. While we love being apublisher and love our authors...I knew this had to be done as well. So, NoBoundaries became a vendor source as well. As that thought processed, wedecided to not limit it to only those books that had been pushed off othershelves. So, we expanded some more and now are open to anyone for a vendorlocation.
Next month when NBP is here again we'll introduce you tosome of our authors.  Until then you canfind us: Facebook– Blog – Store and on [email protected] and our hashtag #NBPress
Best of luck to No Boundaries Press in all it's endeavors! 
*
Blog mistress's note - as of posting of this blog, Paypal may be revising or postponing enforcement