Give me some music; music, moody food
Of us that trade in love.
(Antony and Cleopatra, 2.5.1-2)
I love these words…"music, moodyfood"…because the sentiment perfectly describes the muse that led methrough the pages of BLEEDING HEARTS: BOOK ONE OF THE DEMIMONDE.
My story is heavy with emotions—and well itshould be, since it's the story of an empath whose sensitivities are developinginto oracular proportions. There were challenges in writing the story becausemy main character needed to experience things I'd never had to express inwords.
What's a writer to do?
Obey the muse, of course.
I've always had a passion for music. Mind, Ihave zero talent myself. I can't read music, I cannot play an instrument, andmy son's first full sentence was "Mommy, stop singing." (I maintain Isound just like Geddy Lee when I'm alone in the car…but one single passengerwrecks the acoustics and destroys the effect. Sadly, the world will never know.)
My ears and my heart, however, were perfectlyattuned and I fed on music. I nurtured the wounds of adolescence and nudged myweak-kneed heart to its feet after each high school heartbreak with music.Rush, the Scorpions, Bon Jovi, Neil Diamond…didn't matter. They all playedsongs that spoke to me, inspired me, soothed me.
I never outgrew my hunger for emotional music.As an adult I found My Chemical Romance, Type O Negative, Nanci Griffith,and—my favorite—Lacuna Coil.
Lacuna Coil are an Italian gothic band I firstheard when they opened for Type O Negative in 2003, I believe. I was stunned bythe melodious qualities of the duo vocalists against the keys and guitar. Moodyfood, indeed!
The next morning, despite a thick fuzzy headfrom the great quantities of Bacardi mixers consumed the night before, Istopped at a record store and bought the CD Comalies,listening to that swirl of rapture all morning.
The songs spoke of longing and separation andthe agonies of love—things I haven't experience since I was an angsty teen—andI realized I found my elusive muse at last. Songs like "Entwined" and"The Ghost Woman and the Hunter" supplied the emotion my characterneeded and my story surged along, renewed by the beauty and the grace of mymusical muse.
Lacuna Coil have since progressed to become akick-ass symbol of all things urban fantasy—fortunate for me, no doubt, as Ihave lots of urban fantasy inside me just begging to claw its way out. When itdoes, my muse will be waiting for it.
Check out a few of Lacuna Coil's videos andmeet my muse…
Heaven's A Lie 
Within Me http://www.220.ro/funny/Lacuna-Coil-Within-Me/r1PX21UEIg/
And more at their website http://www.lacunacoil.it/
About the Author: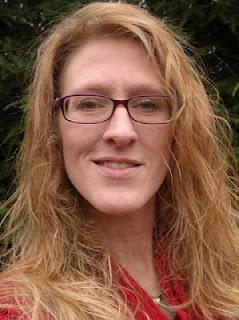 Ash Krafton's writing credits includestories published in Absent Willow Review, Silver Blade, and Bête Noire.Several of her poems have been published, as well, one of which was nominatedfor the Pushcart Prize. She is a member of Pennwriters, RWA, and SFPA and isco-editor of the Query Tracker blog.
BLEEDING HEARTS won grand prize in the MarylandWriters' Association 2008 competition and has since won several other nationalnovel writing contests, including achievement of finalist rankings in sixRomance Writers of America competitions. A sequel, BLOOD RUSH, is nearingcompletion and a follow-up, WOLF'S BANE, is underway.
She resides in the heart of the Pennsylvaniacoal region with her family and their bossy German Shepherd dog.
Links and Images
Author: http://imageshack.us/photo/my-images/35/authori.jpg/
Link to the Tourannouncement: http://ash-krafton.blogspot.com/2012/02/bleeding-hearts-virtual-book-tour.html
www.facebook.com/AshKraftonAuthor
www.twitter.com/ashkrafton
www.ashkrafton.com
www.ash-krafton.blogspot.com
www.goodreads.com/ash_krafton
Thank you so much for coming by.  We definitely want to hear more from you.
Mom Cat