Welcome back to Skincare 101 for those who have unsightly fur coats on their arms and legs and wishes to remove them.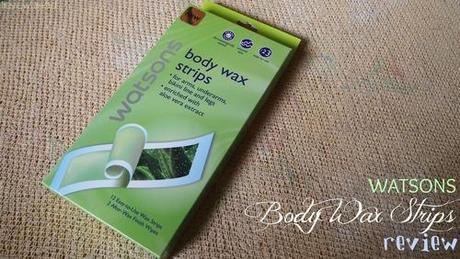 Today's product put under the microscope is Watsons' very own newly produced Aloe Vera Body Wax Strips.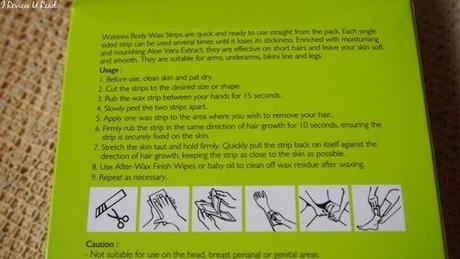 Basically the instructions to use this wax is pretty standard:
Before use, clean skin and pat dry

If the strips are too big, cut to desired size or shape

Rub the wax between your hands for 15 seconds

Peel the strips apart 

Apply strips to areas you like to remove your hair 
Rub strip in the same direction of hair growth fro 10 seconds
Stretch the skin taut, hold firmly and quickly pull strip back against the direction of hair growth, keeping strip as close to skin as possible 
Use After-Wax Finish Wipes or baby oil to clean off residue after you've finish waxing 

For those who are interested to know the ingredients used to make the Finish Wipes and Wax Strips, refer to the picture above.  
Please do not judge it after merely reading that it's Made in China. Try it first then you have the right to judge it.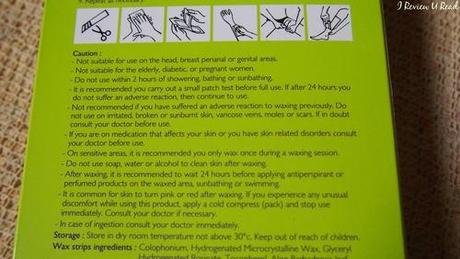 Warning
Do not use within 2 hours of showering, bathing or sunbathing. 
Do not use soap, water or alcohol after waxing
After waxing, it is recommended to wait 24 hours before applying antiperspirant or perfumed products on the waxed area, sunbathing or swimming.
Not recommended if you have adverse reaction to waxing previously.  
Refer to the rest of the warning section in the picture.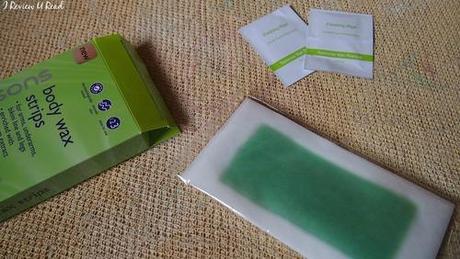 With that, we are finally moving on to the opening of Watsons' Body Wax Strips.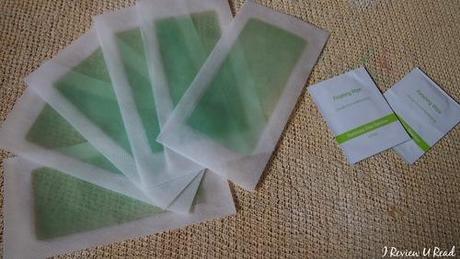 In this Greeny Goodness, it contains 6 Wax Strips and 2 Finishing Wipes use to remove the forgotten wax remained on your velvet smooth skin.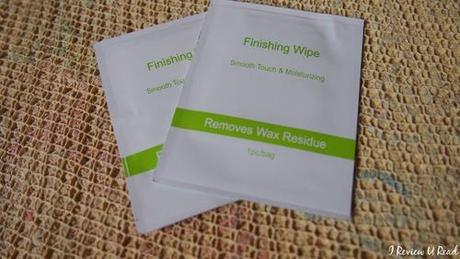 As mentioned in my previous posts if you happen to run out of perfect finishing wipes, you can remove the wax using Baby Oil or Argan Oil. You cannot remove wax with water.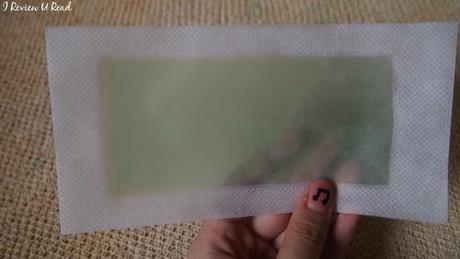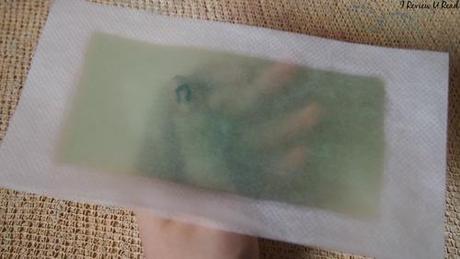 As seen from the above pictures, the layer of wax is rather thin and that does worries me. Reason being, I am afraid that these strips can't be 'reused' to remove the desired areas covered with unsightly fur coats. And I am right. After 2 repetitious movements on my legs, the wax strip became dull. It doesn't matter how much hair you like to remove, it'll just become unstuck after 1 to 2 rips. 
Aside from that, I find the wax paper rather hard. Instead of giving shape to your legs, the remaining wax paper would actually stick out awkwardly. The only thing which I like about this wax strips is it's refreshing Aloe Vera smell. 

In conclusion, I am going to give Watsons - Aloe Vera Body Wax Strips, 1 IreviewUread Smile. Reason being, despite only liking it's refreshing fragrance, I have to say that this wax strip does actually works. It cleanly wax off your fur coat for the first rip and if you are lucky, the second too. However I know that some of you only uses wax strip one time and not repeatedly over the whole leg, I have to say that this box of strips will benefit those people. 
For me, not so much. Would I buy this again? Nope. It's just not worth SGD$10 (pricing around there) over 12 strips.
~~~
Read my other hair removal alternatives here: 
Veet - Suprem Essence Ready to use Wax Strips Review
Veet - Velvet Rose Fragrance and Essential Oils Hair removal Cream Review 
Paula's Choice - Close Comfort Shaving Gel Review