Hey all!
I am here with the review of one of my favorite eye products – Budhi sacha inchi eye nectar from WabiSabi Botanicals. That was quite a mouthful! The irony is, this product as is, has been discontinued and has been reformulated. I am going to try the new formula pretty soon, but wanted to document my love for the old one too.
I received this in one of the boxes from a subscription service called "the boxwalla". I must admit, that I received a lot of wonderful green beauty products from boxwalla.
Few words about this eye nectar from the boxwalla'a instagram page.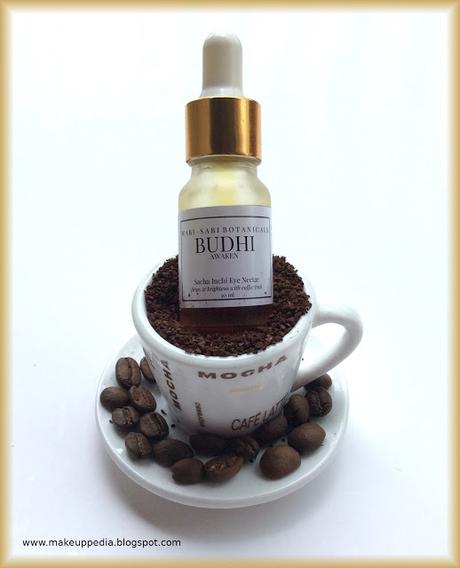 "Budhi is a Buddhist term that comes from the Sanskrit 'Budh' which means 'to awaken' and this velvety nectar literally makes you look refreshed and awake. How, you ask? The amazing ingredients list will tell you the whole story.
"The organic coffee fruit oil used in this delicious concoction is made by roasting and cold pressing Organic Venezuelan coffee beans resulting in a full bodied, caffeinated oil that infuses the skin around the eyes with potent antioxidants. The beautiful, rich oil has a high concentration of chloregenic acid and actives, which firm and brighten under-eye skin while reducing inflammation, puffiness, fine lines and improving skin texture. The Sea Buckthorn Supercritical CO2 extract with its high beta carotene & free radical scavenging abilities, the Coffee Fruit oil that firms & brightens under-eye skin, the lovely Peruvian Sachan Inchi Oil with its unusually high content of Omega 3s that supports an anti-inflammatory skin response. And these potent star ingredients are all supported by incredible oils like Prickly Pear seed oil with its high Vitamin E content, highly linoleic Guava Seed Oil with its scar-reducing properties & ability to help the skin retain its moisture, Evening Primrose Oil that reduces inflammation & renews tired skin & Olive Squalane that is a lipid-precursor. Nature's super powers all distilled into this beautiful little bottle."
I could not find any information on the website, as they have relaunched and no longer have information about the older version.
Ingredients: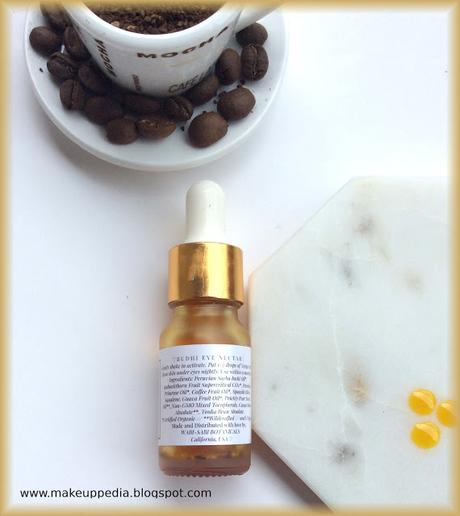 Now, on to my thoughts on the eye nectar.
First off, I love the golden yellow hue it has, which is due to its excellent mixture of oils. Despite being so dark, it does not stain the skin at all.
Next is the aroma. You really can smell the aroma of coffee beans. At the end of the day, it is quite soothing to inhale before applying. And, it spreads easily and hence a little goes a long way. One 10 ml bottle lasted for more than a year for me. My skin under the eyes are perennially dry and have many fine lines under my eyes. So a regular gel textured eye cream won't provide moisture that would last the entire day/night. This oil was very moisturizing for me. It does not sit on top of my skin, but gets absorbed quickly. I do not have crow's feet yet, so I am not sure of its firming properties.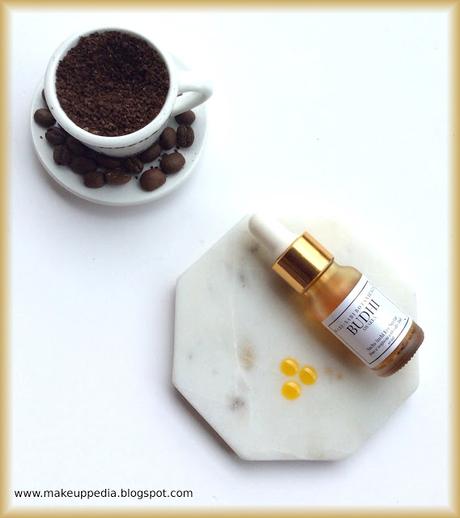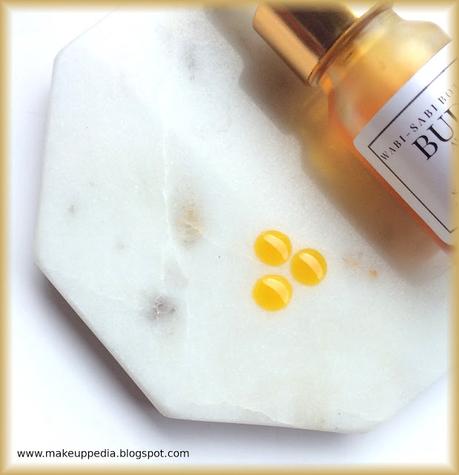 Another important aspect, that I look for, in an eye cream, is that it should not irritate my eye lids. Many creams that I have tired do irritate my lids. This oil does not! I have taken it as close to my water line as possible, and it did not irritate my skin nor cause blurry eyes or sting them. Lastly it is excellent to massage with a metal tipped tool. I started massaging the area around my eyes of late, and it is so relaxing!
The packaging is a usual glass dropper. I don't actually drop the oil, just smear whatever is stuck on the glass dropper under my eyes.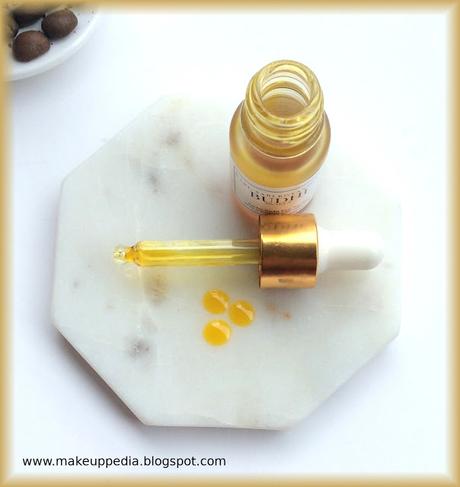 To me, this is an excellent moisturizing and anti-aging eye product. I am extremely sad that this concoction was discontinued. But, I am also excited to try the newer version and see if I love it the same way as this.
Ok, now addressing the main claim of reducing puffiness and dark circles. My eyes seldom get puffy (unless I have a severe cold and running nose), so I cant speak for its depuffing claims.
I have super dark eye circles. Mainly under my eyes, because of two main reasons. First, my eyes are deep set, so there is always a dark shadow effect under my eyes. Second, my dark circles are hereditary and so, nothing can actually cure it. Concealer is my best friend!
So, when I try an eye cream, I only look at how moisturizing it is and how well it lasts through the day.