Hi Beauties!
Like every beauty professional, I am always looking for ways to condense my kit. I can't even count how many times I've switched out bags, cases, boxes, rolly bags, backpacks and zipper bags of products while searching for the "perfect" travel/storage system.
There are a few things I look for when packing my kit and one of the most important factors is condensation. I try to pack as many of my "must have" products into as small of a space as possible.
I hit the jackpot when I was introduced to Vueset palettes & cases. These little cases fit SO much product in such little space, some even fit in your back pocket. They're perfect for being on set and needing product at your finger tips for touch ups but not wanting to carry a lot with you from point A to point B.
I'm sure we've all seen similar products but trust me, these are different. For starters, they are 100% Microwave safe. If you have ever tried to fill a palette/case with products you have to melt down first, you'll know why this is so amazing! It saves time and is a cleaner process all around.
The cases are clear making finding what you need from any angle super easy. You can label them accordingly on the top, sides or bottom, whatever works best. They're stackable which makes being on set easier too so you can keep your station neater & more compact.
There are 6 cases and I've put 3 to use so far. They all have names and the "Tahiti" is my personal favorite. It holds 24 full size lipsticks, foundations and even glitter. I knew right away I'd be using it to transfer a brand new Kryolan Ultra Foundation palette I'd held off on using because it was too big, and somewhat inconvenient, to bring with me on set.
Step by step I showed how easy it was to scoop the products out and place them in the Vueset. This case had 2 layers and 12 shades on each level. They all fit perfectly in my "Tahiti" Vueset!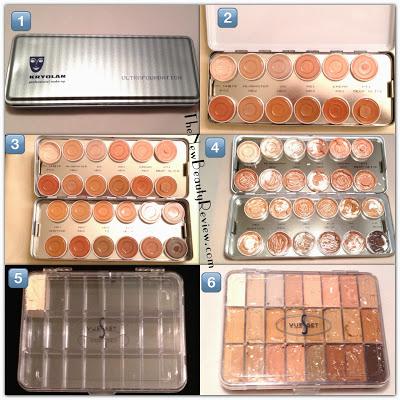 The "Bonanza" holds 15 spaces and I used the smaller slots to melt down some M.A.C shade sticks, Ulta & Sephora pencils.  I used the bigger slots to hold my NARS multiple sticks and my Shu Uemura highlighter. These 3 come with enough product on the push up sticks that I was able to fill the case and still have a lot of product left over. They also melted down smoother than any other product I've ever had to melt.  Also, I scooped out some M.A.C fluidline & paint pots, Benefit cream shadows (which double as primers) and my Motives Luxe Creme shadow, which I also use as a base. The jars are glass and believe me, they get heavy when you start carrying around 6 of them at a time. All of these products I can now take with me where as before, it was a challenge to pack everything and have it all handy.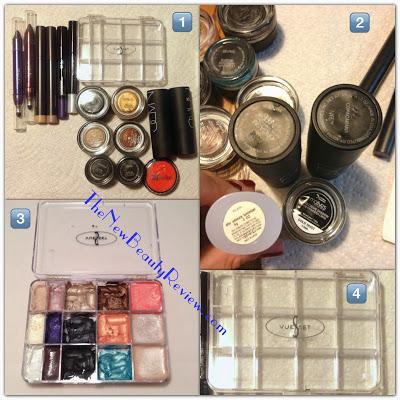 I knew the "Viking Jack" would be used to carry my Kevyn Aucoin- "The Sensual Skin Enhancers" I'm sure you can see why! These are also kinda heavy when carrying them all together and who wants to carry around 10 little jars when you can carry one case? :-) I also added one of my Ben Nye creme colors in Orange.  There is so much product in these little jars that I was able to fill the case and still had half left in the jars to keep at home.  In box #3 is the "Taxi" box which I've yet to use but I'm sure it's just a matter of time before it finds it's way in my kit!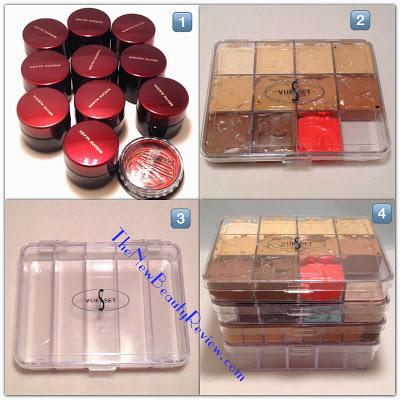 The last 2 cases are called "Star Nova" and "Disco Prima" The "Star Nova" is a plain, long case that you can use for combs, pencils or tiny palettes. I'd be careful using straight powder products (blush, eye shadow) because the case is not magnetic and they might crack if they get moved around too much.  The "Disco Prima" has 13 sections; 8 small, 4 medium and 1 bigger area. This is ideal for products you use in unison, a lot. Like if you have a few lipsticks, creme clashes, highlighters, and loose items that you use together for a specific client of look, this would be a great way to keep that all together so you have it all at your disposal. The cases, big and small stack up with ease because of small grooves on the top and bottom that allows them to fit in snug spots, one on top of the other.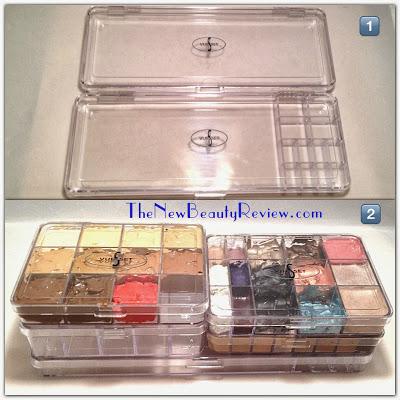 The cases are $14, $16 and $18. I know they made their debut at the PHAMExpo in June but I'm hoping they can start making the rounds at trade shows regularly because they are a "Must" for pros!  They're also good for storage of any kind; crafts, beads, jewelry...etc
To shop or for more info, check out their website *Vueset.com* and don't forget to "Like" their Facebook page! Vueset on Facebook
Keep it Prettie!
*Stephanie*
-Products were provided for my review.