Hello Beautiful People!
Before I get into my review I'd like to say how grateful I am to have maintained such a great relationship with Senna Cosmetics! I am truly a fan of their products and I love using them on clients and on myself daily. Cheers to Senna!

♡

♡

♡


I do love my bright colors and pastels but there is something about a

wine

colored lip that, when worn properly, is so incredibly stylish. As the seasons turn and makeup trends hit the streets, magazine covers & runways, it's always nice to see a familiar shade pop up again.
I have recently been very into cranberry, orange, coppers & browns for my eyes, which are all very "Fall" friendly. So I was excited to see that the Senna-Fall 2013 collection called Midnight Wine is rich in copper, plum, ruby, chocolate and wine shades!
The collection consists of 3 Lip Lacquers, 2 lipsticks, 2 eye shadows and a blush.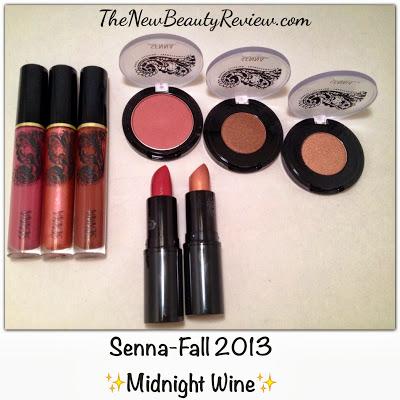 *Lips*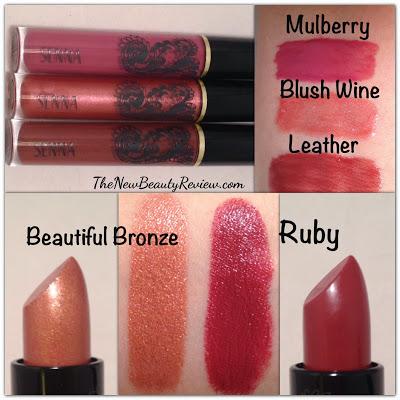 The Lip Lacquers come in 3 shades, each their own take on a glossy Fall lip. They are all build able so you can wear them sheer or deepen them by adding a few extra coats, depending on what look you do with your eyes.  Mulberry is the kind of mauvey-plum that you can wear along with smokey eyes or on top of a nice deep lip to glaze it up. Blush Wine is a beautiful shimmery pink copper! I found this works great when you dab a drop on the middle of the bottom lip.  Leather...can we just talk about this name for a second? Lol! I love it! This chocolaty brown is so delicious it makes me want to dip strawberries in it and eat it! :-) It really is the perfect brown gloss. The cream lipsticks are a perfect match to the glosses.  Beautiful Bronze is exactly that, a beautiful bronze. It does have a hint of pink which makes it versatile. I also use this in the middle of my bottom lip to add dimension.  Ruby is a timeless wine shade that can be worn as the star of the show with a minimal face or blend in with a dark, smoldering eye look.
*Face & Eyes*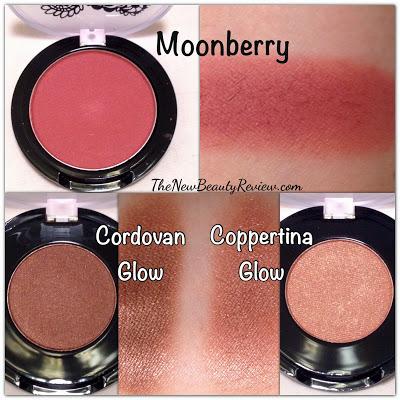 Moonberry  is the exact color I was once afraid of using. I would see a deep, berry blush like this and run! In recent years I've gotten over myself and realized that not only this shade CAN be used on every skin tone but it SHOULD be! It shows up flattering on every skin tone AND it's perfect for contouring. I try to play with blush often to change it up and work with my look so this has already gotten a lot of use. It's sheer at first but builds up really well. It is a great match for the fall friendly eye palettes. The eye shadows are so warm and fun! The copper tones are a smooth transition from summery golds. Cordovan Glow  is a gorgeous, deep shimmery bronze that can be used for smokey looks or in the outer corners. This is perfect to set liner with because it has the shimmer, it will make any brown eyeliner pop! Coppertina Glow is golden, shimmering copper. This shadow is so beautiful I've worn it alone with mascara and it is a look all on it's own! It's also good for highlighting the face and the inner corners of eyes, transitioning and to soften a hard look. 
As always you can check out Senna Cosmetics creator, Eugenia Weston demonstrating different ideas for this (and other) looks on the Senna Youtube channel--->Senna on Youtube The first video is for the deeper, berry/wine  Ravishing Ruby look. The second is for the softer, golden Neo Copper look.
To shop the collection click here---> Senna Fall 2013-Midnight Wine
Keep it Prettie!
*Stephanie*
*Products were provided for my review