Hi Lover Dolls!
I wanted to spotlight 3 very special little ladies that add so much pizazz to my lippy collection just by being themselves!
Aside from Mermaids, Unicorns were all the rage for me & my friends in second grade

♡


I'm serious, we were girls who liked Mermaids, Unicorns, fairies, rainbows, glitter, hearts, Hello Kitty, stickers...basically anything that screamed

"I'm a GIRL!"

Lol!
When I saw the LimeCrime packaging, which sports a Unicorn head with bows, stars & tassels, I felt like a kid again. It's some of the most beautiful packaging I've ever seen, on any makeup, ever.
True story

♡


I really wanted to try the Velvetines collection and the Carousel Gloss, also known as "Glossy Lipstick", a rich, pigmented sparkly lip gloss.
While attending The Makeup Show in LA this year I picked up a

Suedeberry

 (Velvetines) & 2 Carousel Glosses,

Cherry On Top

and Candy Apple. Everything was selling out so fast that by the time I got to the booth, the

Red Velvet

Velvetine was gone! O.o
I was happy to get the one I did because a few hours later all that remained were like 3 eyeliners. The booth never slowed down. Cheers to LimeCrime!

♡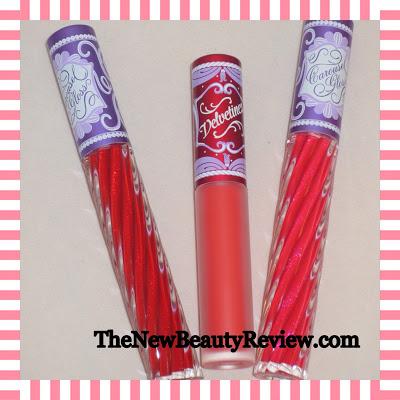 I obviously swatched everything before I got it to see the textures first hand and they blew me away!
These are taken without flash & it shows how deep the colors are. Also, the

Suedeberry

stayed firmly in place, as you can see there was no sign of it bleeding.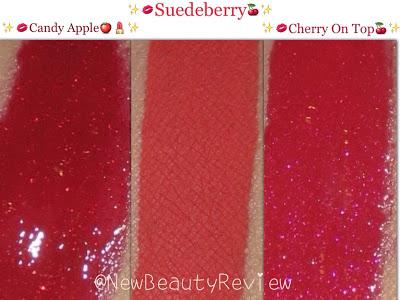 I wanted to try the Velvetines because I'd heard so many good reviews saying how this liquid lipstick was so unique. At first I was like, "how is a lip gloss matte?" I soon found out it's a "matte lip gloss" because it goes on like a gloss but dries into a matte finish, then doesn't move, all day!


The finish isn't just matte, it is indeed

velvety.

It's not heavy in texture so it glides on like silk and you can move it around but once it settles, i

t won't budge or crumble. Instead it wears down evenly after hours but you will have to remove the last of it manually!


Both of the Carousel Glosses are very "Snow White Couture" to me. 

Candy Apple

is dangerous, and enticing yet delicious at the same time. It's a deep, sparkling red that carries a "forbidden fruit" feeling to it. It's 100% hypnotic and very sexy.  While

Cherry On Top

  makes me think of what Snow White's lips would look like, if she were real of course :-) It's a playful red, bright but not obnoxious and it's flirtatious with it's sparkles daring you to come closer.  Not to mention they smell like candy which is always inviting!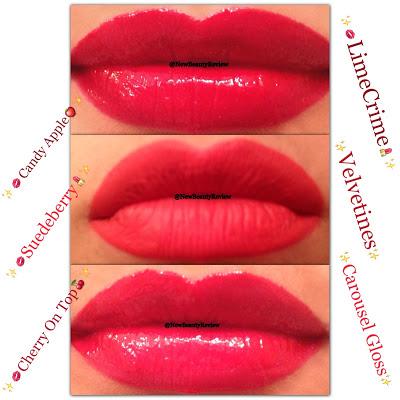 As a bonus,

Doe Deere

, the owner was there with Jeffree Star so we chatted about LimeCrime and my glitter business cards, which they loved! I think the one I gave to Doe was purple

♡

and I know Jeffree got a green one because he picked it to match his hair

♡


Not sure why we all look slightly wonky but who cares?  Trust me, we're fabulous!

♡

♡

♡

♡

♡

♡

♡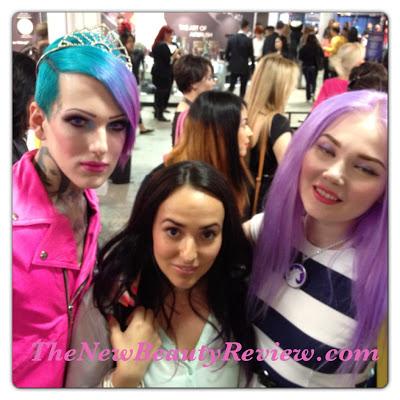 These glosses are definitely unlike anything I own, the colors, textures, the ambiance. In fact the entire line is mystical and unique. They have lipsticks in colors that, I believe, put all of the pastel & bright lips we are seeing today on the map, making them wearable again.  LimeCrime also carries, liquid eyeliners, glitter, eye shadows, primers and nail polish in colors that are all their own. 
To browse & shop the site, I added a link in the *Shop With Me* section on the right hand side of my blog.  Their prices are more than reasonable with the priciest item being $34.99 and that's for a 5 piece eyeshadow set, making each shadow $7. That's nothing!  Happy Shopping & let me know what you get!

♡

♡

♡

♡

♡

♡

♡

Keep it Prettie!
*Stephanie*