Before I get swarmed by the overwhelming work, I should really get down to writing this post. It will be my last post about Vietnam. Ladies and gentlemen, may I present to you HOI AN! (:

I really love this little town a lot. Although it seems a little touristy with all the tourists around, it is the place where I feel and see a lot of their culture. Also, being a small town, the traffic wasn't bad at all! Just a pity I didn't get to rent a bicycle and ride around the town. It would be really fun I guess? We passed by their school and saw many students riding a bicycle home. They are really independent!
Lantern making all around the town. The Vietnamese have really good craft work.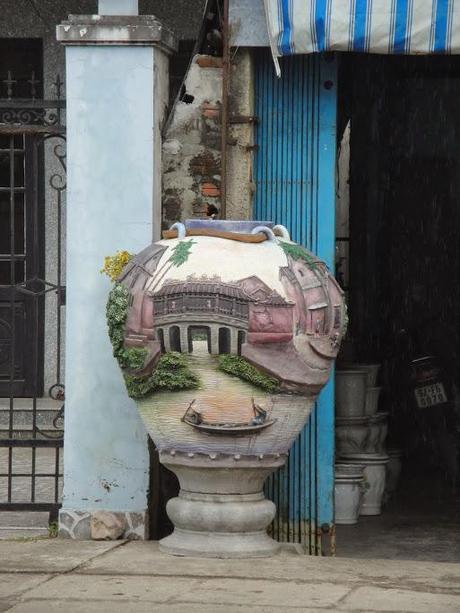 We spotted this vase from the opposite lane and we were like, WHAT WAS THAT?! So real life and 3D! VERY IMPRESSIVE! At first I didn't quite know what the drawing was on the vase, but after the trip I realized that it was the Japanese Bridge.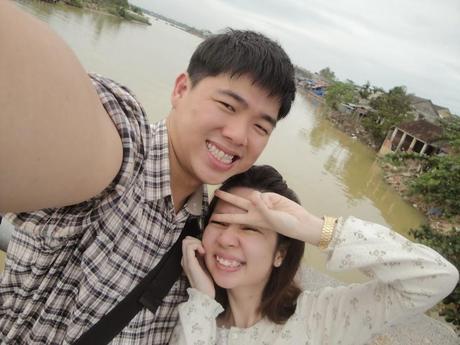 Taking a picture but the sun was shining brightly and I couldn't open my eyes!! hahahah!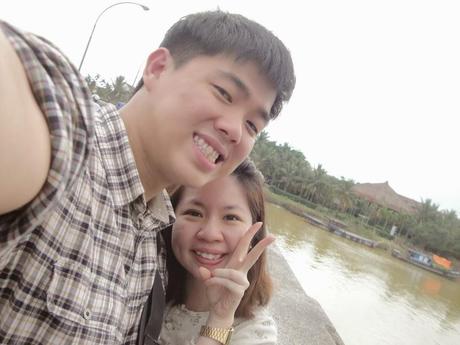 Okay this one is much better!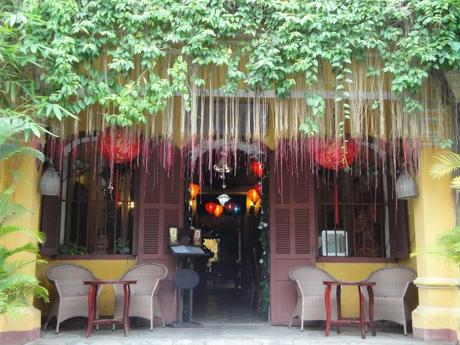 Spotted this restaurant and decided to lunch here.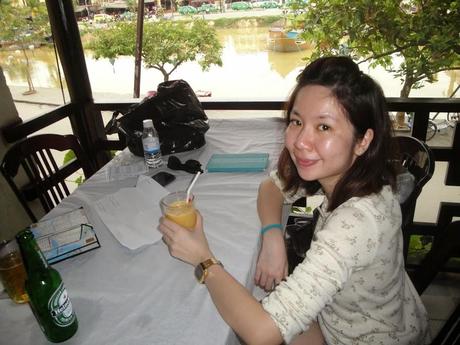 Went all the way up for an awesome view. I had mango juice! Spot the map on the table. BF was teaching me how to read the maps. lol. #badatdirections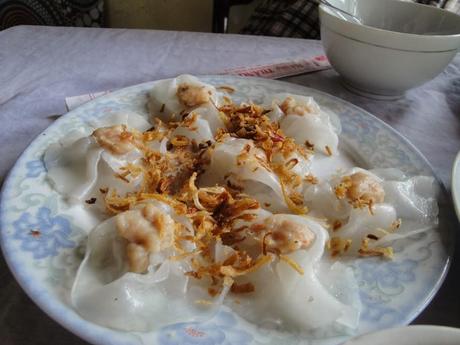 I cannot remember the name of this dish. All I knew was this is a MUST HAVE local food. The name has a "Rose" in it if I didn't remember wrongly.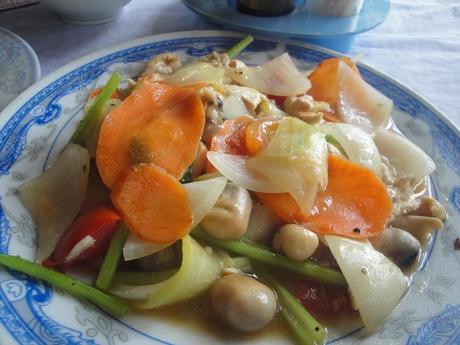 I ordered this, thinking that it was a main dish. Turns out it was just a side dish. I had to order another bowl of rice to eat together. lol.
Next, we bought tickets to visit some heritage sites at the old town.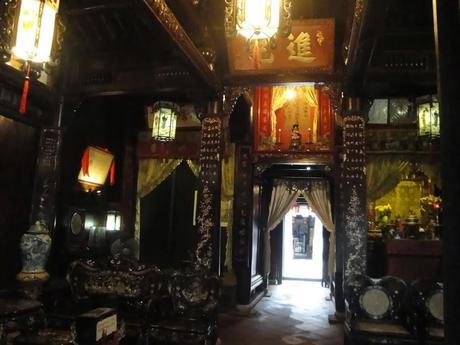 Ancient Chinese house with a history of more than 200 years. 80% of the furniture there are original.
Evening view of the town.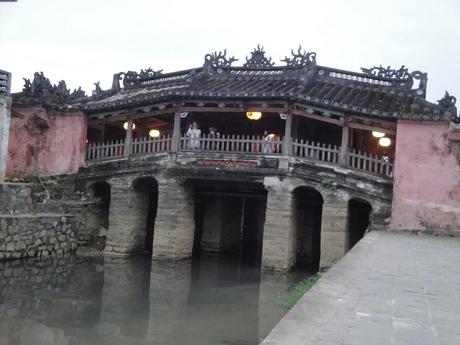 This was the Japanese Bridge I was talking about!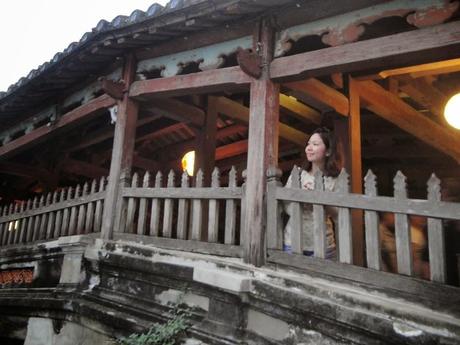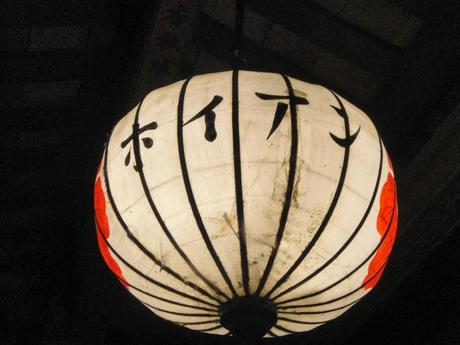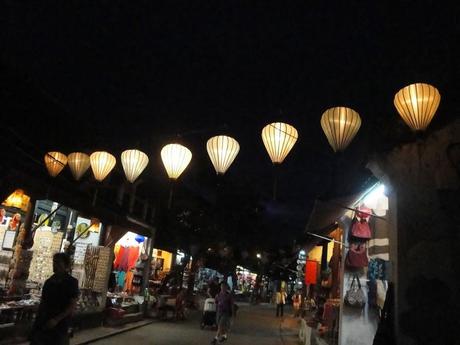 And we had dinner by the river. Apparently this place is a lot cleaner than all the other road side stalls I've eaten.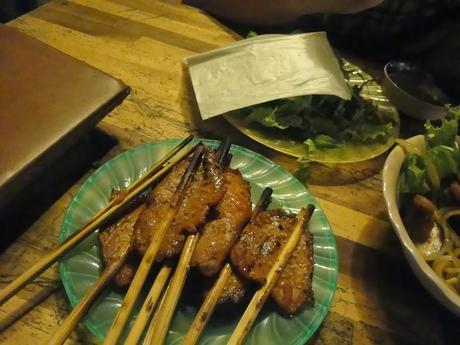 This was an interesting dish. We had to wrap the pork up in rice paper and cabbage. Resembles a little like the Korean BBQ where we eat the meat along with the cabbage.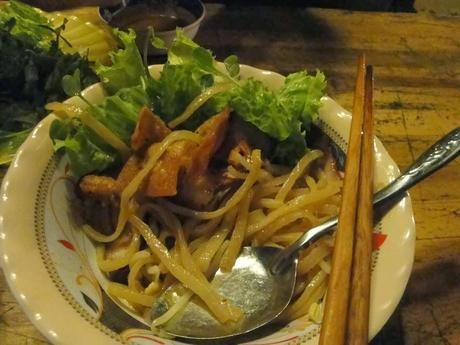 Cau Lao. A local dish but it wasn't my favourite. I prefer Pho.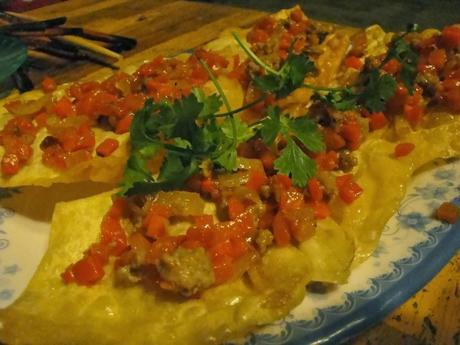 THIS ONE IS A MUST EAT!!! Local Wanton!!!! It was soooo good that we had another plate as soon as we finished the first. AH I wish I can have it now!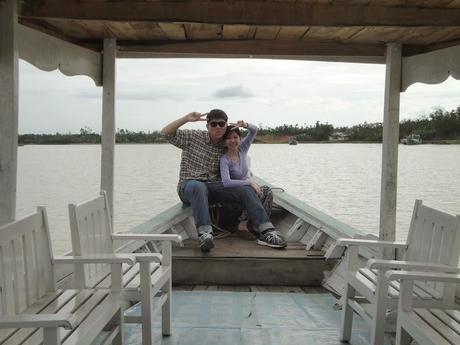 The next day we took a ferry to other tourists site.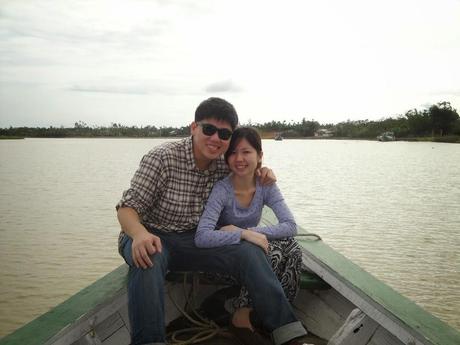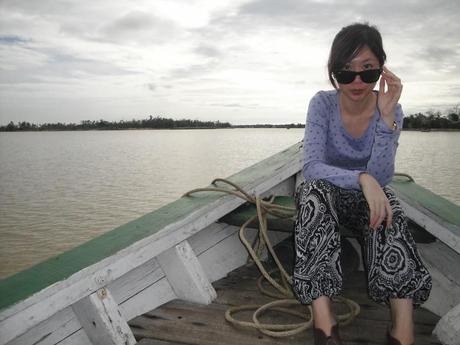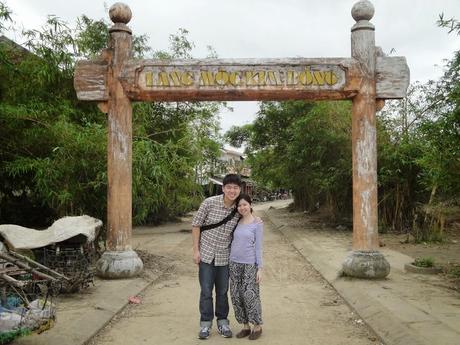 At the Carpenter Village!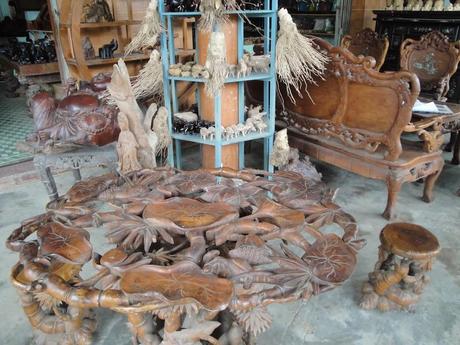 All hand made. They have awesome craft work. I kid you not.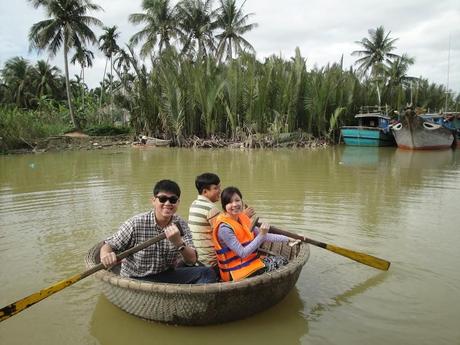 We also did basket rafting along with a guide. The guide could not speak English so we had a hard time communicating with him. But he's damn energetic and high throughout the ride and that makes us laugh. lol.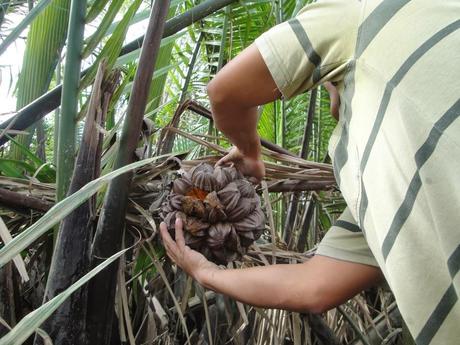 Along the way we spotted sea coconut!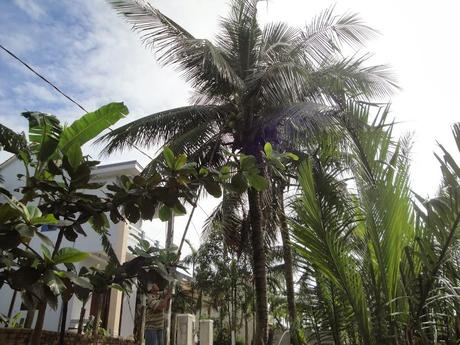 Coconut trees!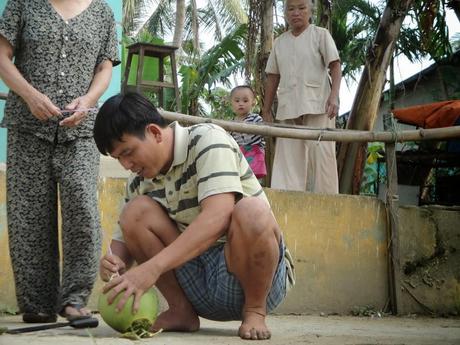 Plucking coconutsfor us!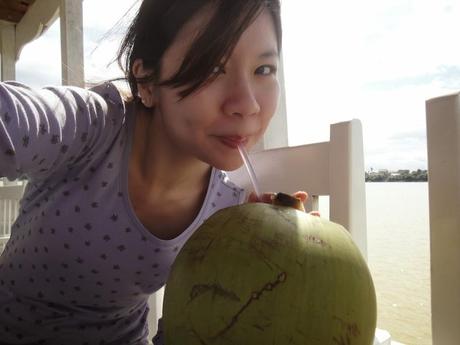 I tell you, this is the most expensive coconut drink I've ever drank.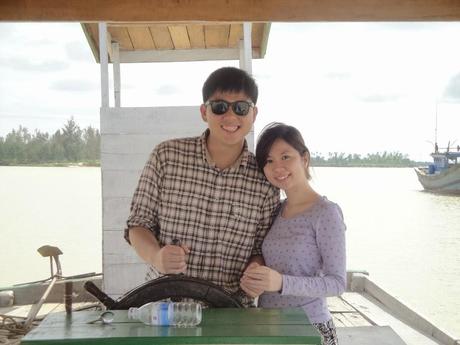 Bf got the chance to drive the ferry too!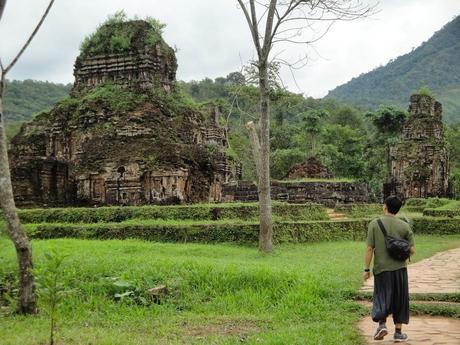 We also went to Myson. That place is beautiful!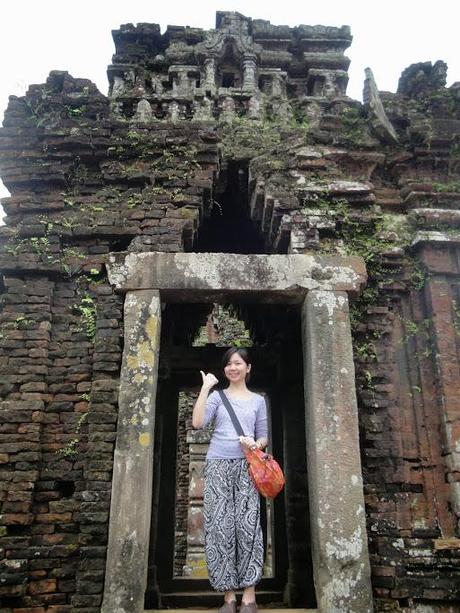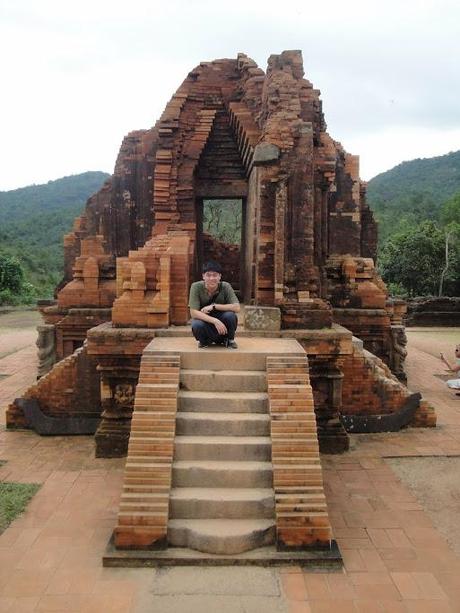 It is a is a cluster of abandoned and partially ruined Hindu temples.
After we came back to the old town, we went to this cafe called "Reaching Out".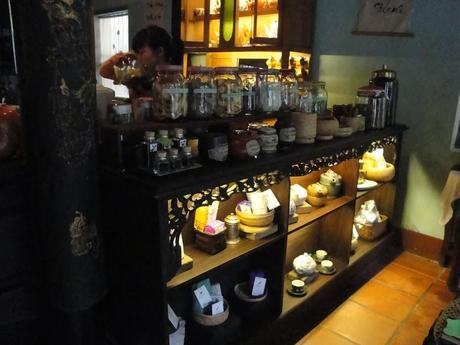 It is a cafe that hires people with disabilities such as deaf, mute, and even down syndrome. They either work there as a waitress/cashier or work as an artist, creating beautiful art pieces such as tea set and bags.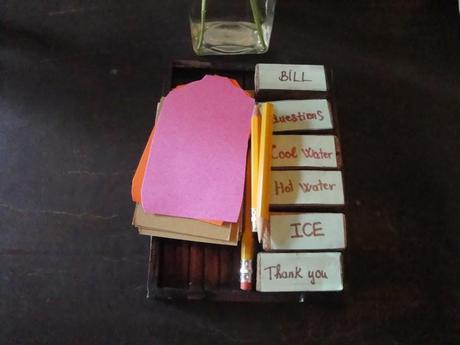 Because the waitresses there are deaf, they communicate with us using the above methods.We will point to the bricks or write our questions down on the paper.
The cafe is silence, everyone whispers when they need to talk. And there was a banner that says "enjoy the silence".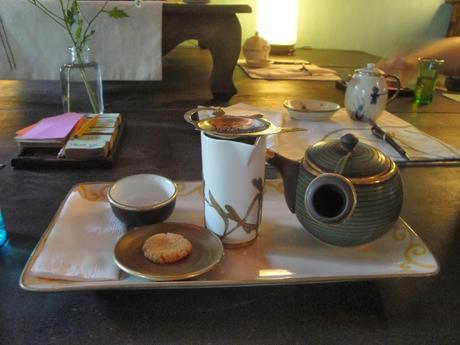 Beautiful tea set.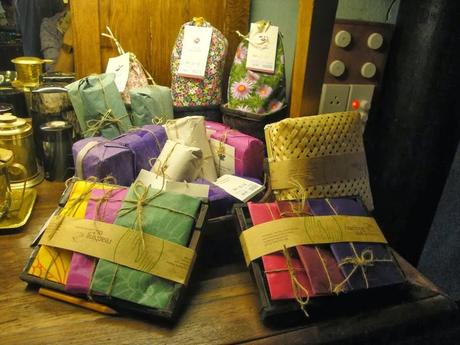 Beautifully packaged tea. I bought some to give away as Xmas presents. They were a little expensive but worth every penny.
We also ended the trip with a nice shiok spa!! Hehe.
I did body scrub and it was awesome!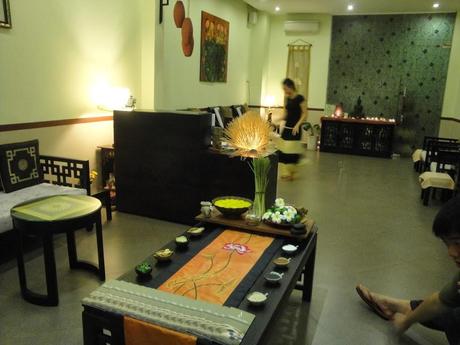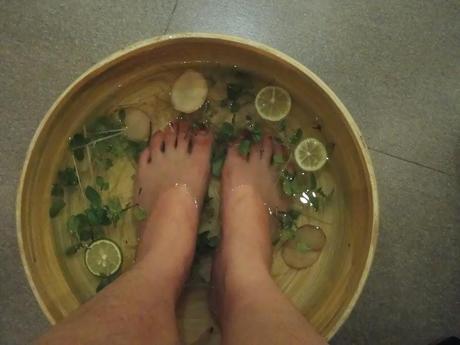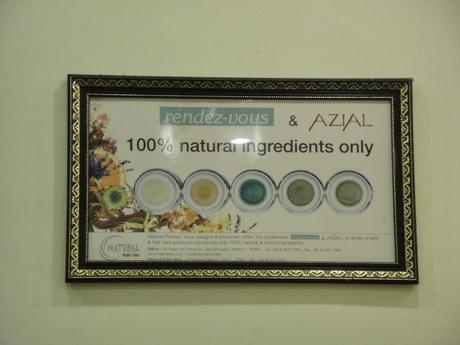 That's the end of my Vietnam posts.
I enjoyed the trip but I think I need to go with the right people to enjoy the activities more. Otherwise I will just be following blindly and not really knowing where I am going or what I am doing.