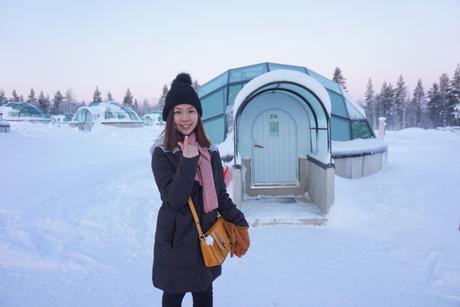 We've seen lots of videos on Facebook regarding the beautiful glass igloo in Finland and we were really lucky to have booked a stay in this beautiful igloo! We could only check in at 2pm and we were already there in the morning supposedly for our reindeer ride which got postponed to a later timing.
In order not to miss out the scenic day time look of the place, we decided to check out the place prior to our ride.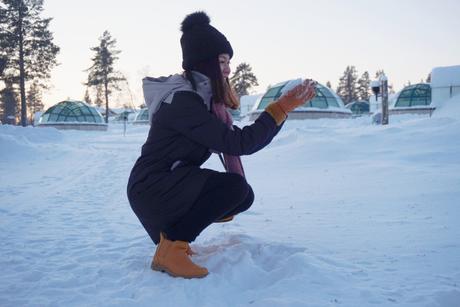 We behaved like 2 kids all over again, playing with snow and trying to build snowman which failed terribly.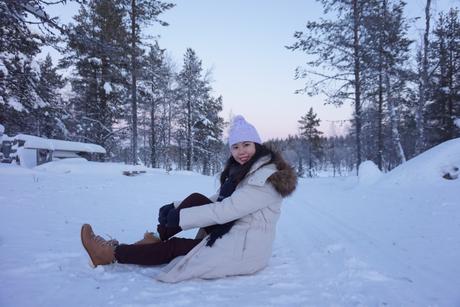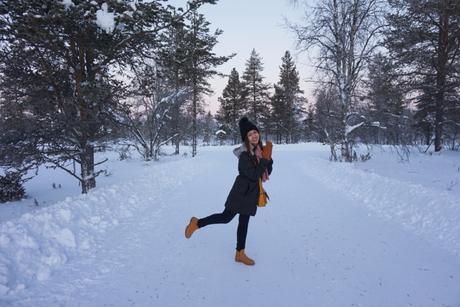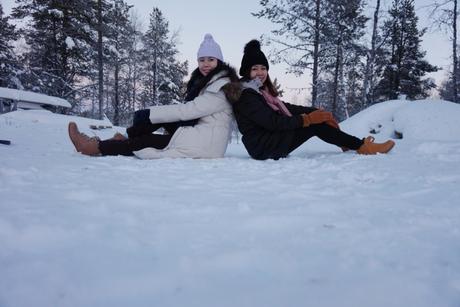 So let me tell you, not all cameras work in such extreme coldness. I was really lucky that my camera could held up in such terrible coldness. It's already so amazing that in -27 degree, it allows me to to take so much pictures! After the last shot, my camera died officially and we started to feel really cold so we decided to head back to the reception.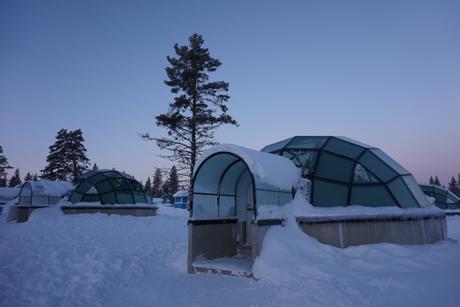 We got a bit lost and couldn't seem to find our way out until we spotted a staff nearby and approached him for help. Seriously, my hands and feet were really numb from the coldness. Both of us are really bad with directions.
After our reindeer ride, we headed back to the restaurant for our 3 course dinner. We had curry and rice! Omg! It was my first night having rice after missing it for so long! I had some wine to go with and I also ended up finishing Jo's spirited hot chocolate because she couldn't take alcohol.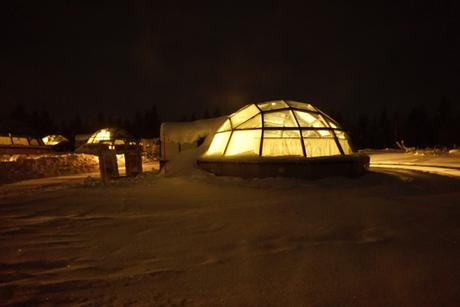 At night, we were finally ready to check in. We lugged our luggages on a sleigh and towed it across the white snowy pathway, freezing at the same time. I put my heat pack in my gloves and pressed against it while pushing the sleigh, hoping to get some warmth. But our heat pack didn't exactly work well in coldness. It got warmer in warm temperature and colder in colder temperature.
Some people complained about having to do that themselves when the stay is already so expensive. However, both Jo and me felt that it was an interesting experience that we could never get anywhere.
When we were finally outside our igloo, we couldn't open the doors because the lock has been covered with thick snow. We didn't want to walk back again for help but we got lucky because some guests past by and I approached them for help.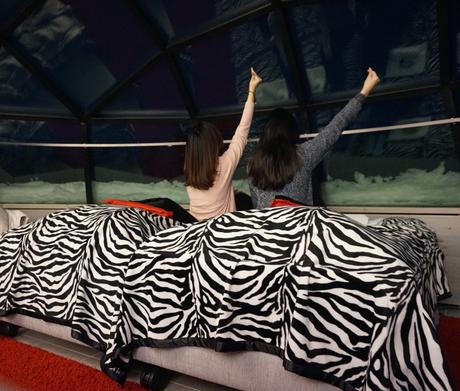 We were so excited to be in the igloo finally! The beds could recline and we had the best view of the sky above our head. It was such a dreamy experience! We had a warm steamy shower before resting on our bed.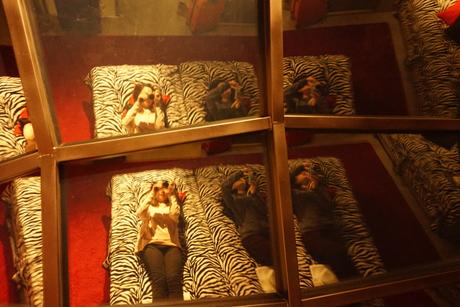 We had no wifi so I was somehow disconnected with the rest of the world. I took the chance to unplug for a moment and just enjoyed the moment. I played some music and we just sang on the bed while admiring the sky till we fell asleep.
In the morning, the sky was still dark. I put on my glasses and what greeted us was a sky bed of stars. It was amazing and truly beautiful. We wished the moment could last.