I've been nominated for the Versatile Blogger Award by the lovely Lucy at Luceeloves! I am so, so happy and appreciative that people have been reading and enjoying my blog, especially because I have been up and running for just over 3 weeks now! I love writing about the pretty things I buy and started a blog to make new friends as well :)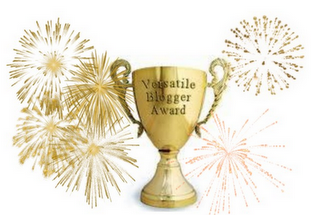 Here's a few things about myself to help you guys get to know me better, and some nominations of who I think deserve this award as well :)
I'm obsessed with make up - I literally have bags full of it. My bathroom is like a small boots store!
My hair is my thing - I always have to have it styled nicely, and it's always been my main feature I like to look after.
I'm a die hard Kardashians fan - I have all the Keeping up seasons, and the spin offs! I love how tight knit the family is, and the beautiful clothes and accessories the girls wear.
I'm a piano, violin and viola teacher and go round loads of schools in Greater Manchester teaching little ones, which is really rewarding.
I've always really wanted to go to Japan - I love the cute kitchness of it, and ever since I saw lost in translation I've wanted to stay in a big posh hotel and travel out of the city to see the monastries and beautiful gardens.
Here are some nominations for my fellow bloggers:
Lucy at luceelovesLucie at hummingbirdandtheroseEssie at essiebuttonLaura at petitschatonsEmma at milkteefVictoria at lilyloveslolaCharlotte at what-charlotte-didRebecca at autumnleavesMs Red at msredsbeautyblogMarie at marieelovesAmelia at tigerlilyblog
Once again, thank you so much! I really appreciate everybody who comes to have a look andenjoys reading my posts :) xx