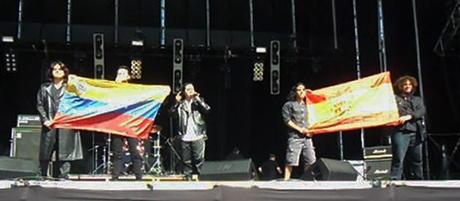 After the last intense weekend in which I have gone to the Spanish festival Viña Rock 2014, I come back again to MetalWind. I have seen finally to Aphelium band on the Viña Rock's stage, my friends from Venezuela have presented their fantastic Symphonic Power Metal for the first time in Spain and they have really offered us a great show.
Despite the short show of presention in Spain, around 25 minutes, these guys have displayed their fantastic music to the Spanish public opening the second day of the festival under a scorching sun and with a final message to the Spanish public, the union of Venezuela and Spain through the rock and metal music.
My friend Anibal from Rebel Sounds and I have enjoyed the Aphelium's show with great songs like "Fate Of A Promise" or "Cleopatra", which are fantastic tracks highly recommended. After that, Aphelium members show us that the music connects countries beyond borders and they displayed Venezuelan and Spanish flags in the last minutes of the show sending us a beautiful message: "We are brothers of rock and metal, Venezuela and Spain united by music."
I have been talking with Aphelium's members after their show and they were glad for this first show in Spain, this presentation to the Spanish public was a positive experience for the band, after some Aphelium's interviews and photos with many Spanish mass media, we have been talking with Saurom's vocalist, great man! I have also enjoyed so much Saurom's live, it was definitely an amazing show and they were fantastic on the stage. I also send greetings to Saurom band, great live, guys!!
I have also taken pleasure in other shows in this Viña Rock edition, bands like the demolisher Angelus Apatrida, Rosendo (the patriarch of Spanish Rock), Tierra Santa, Reincidentes, Boikot and many many more who have offered us a great moment in the Viña Rock festival 2014. I send greetings to all the bands who have shared stage during these intense three days!