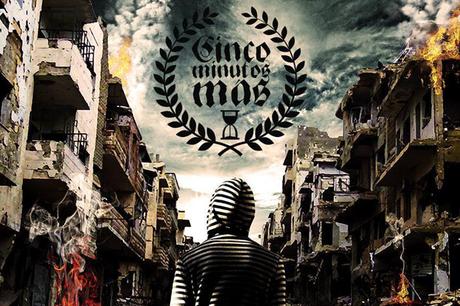 Hello Metalheads! I bring you this time a new Venezuelan band called Cinco Minutos Más, which offers us a great Post-Hardcore sound with their fantastic debut EP entitled "No Queda Más".
Cinco Minutos Más band was born in 2012, when Ruben Labarca (drummer) and Leonel Avila (guitarist) decided to create a new musical project with their own compositions, based in Post-Hardcore music and achieving a very fresh, melodic and cool sound highly recommended.
Shortly after José Luis Bacalao (guitarist) join the band and, in the early 2013, Moisés Valbuena arrives as bassist, completing the line-up Ruben Salas on vocals.
The band suffered some line-up changes and César Villarroel came as new vocalist a few months later, when Salas decided to leave Cinco Minutos Más. Shortly after, in the early 2014, Salas come back and we can see the band with two singers printing to Cinco Minutos Más a great dynamism on vocals.
These guys have released in 2014 their debut EP called "No Queda Más", which contains four tracks with a really very good sound that I think it supposes a great debut from the band. Songs like "Esclavo" or "Verdad" are fantastic tracks in the EP, alternating melodic and growling voices and giving as result a powerful sound. "Esencia" song is also a great track and it's one of my favorites in the EP, you can enjoy it by clicking the following link.
CINCO MINUTOS MÁS – Esencia (VIDEO)
by MetalWind
Completing the recording we can find the brutal track "Dos Años" which closes in my opinion an amazing EP that you should not miss. "No Queda Más" EP is no doubt that it's a great arrival from these guys to Venezuelan musical scene.
They are now preparing new material and I hope we can enjoy soon a new great album from Cinco Minutos Más. By other hand they are currently searching for a new vocalist. César Villarroel and Moisés Valbuena have left the band and they have started a new musical project called Navegante, I hope we can hear soon good news from this new band.
Ok, guys I invite you to discover to Cinco Minutos Más and their fantastic debut EP. These guys offer the EP as free download from the following link.
CINCO MINUTOS MAS – "No Queda Más" EP
Enjoy it and leave your comments!
I send greetings to Cinco Minutos Más, very good work, guys!! I also send greetings to my friend César Villarroel and I send my best wishes to his new project called Navegante!!
Follow Cinco Minutos Más:
https://www.facebook.com/5minutosmas
https://twitter.com/5mmband
https://www.youtube.com/channel/UC55Xp3-b65d3udfYExQZoqw