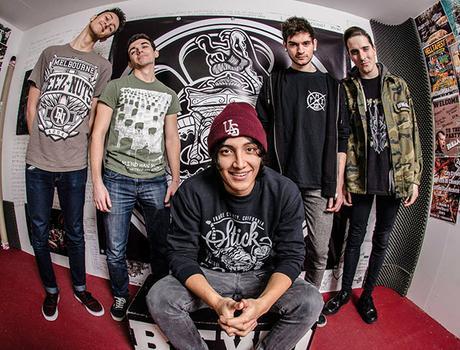 Hello Metalheads! I bring you today a Spanish Hardcore-metal band called Brothers Till We Die with a great sound that you should not miss.
The band was born in 2012 in Madrid and these guys started their adventure in the musical world playing with local bands around Spanish geography. Their first release was a demo with four tracks, in which we can find an interesting cover from the Kate Perry's song "ET", as well as the fantastic "In The Middle Of The Night" or the destroyer track "God, give long life to my enemies so they can see all my victories" with a brutal sound really very good.
After this demo released in 2012, Brothers Till We Die continue playing and working on the creation of more material to offers us, and they release in 2013 a new album entitled "Ars Longa Vita Brevis", in which we can find great songs like "What We Are", the great "Nowadays" or my favorite "Homies Help Homies". I think this is a good material from these guys that I invite you to listen to it if you have not done so yet.
In 2014, the band releases a nice acoustic version of "What We Are" song with the collaboration of Irene López Valdivia on vocals with a result very cool. These guys finally release in December 2014 their new album "We Will Never Grow Up" recorded at Goldfish Studio, in which we can see the apparence of some guest vocalists.
This new album contains ten tracks which not disappoint to all Hardcore lovers. Opening the album there is "Unstoppable" song that, after an evocative begining, it makes honor to its name resulting a demolisher track very recommended, giving way to another fantastic hit in your face called "Backstabbers".
"Lionheart" track counts with the great collaboration of Robbert, vocalist from Wasted Bullet band and we can enjoy a new guest on vocals in "2 MD" song, there is Guillermo from Spanish band This Thing Called Life.
"Real Eyes Realise Real Lies" and "Castor.Pollux" are really good songs in the album, which I like so much and I absolutely recommend you to listen, but I have to say that my favorite track in the album is ".​.​.​But the Princess is in Another Castle", I think it's fantastic and there we can see the collaboration of Alfon, vocalist from Spanish band Fear My Intentions. I have created a lyric video of this song that you can enjoy in the following link.
BROTHERS TILL WE DIE – .​.​.​But the Princess is in Another Castle (VIDEO)
by MetalWind
The song that gives the album its titled has a very nice brutal sound and closing the album there is a bonus track entitled "No Passion, No Compromise" which will not disappoint you.
Ok Metalheads, "We Will Never Grow Up" album is in my opinion a very good Hardcore album from Brothers Till We Die and I recommend you to pay attention to it. These guys have been working hard in new compositions and we will can enjoy soon their new release, I'm talking about the new EP called "BLOOD.DEATH.SUFFERING.PAIN". You can listen now the new song entitled "Cain Et Abel" by clicking in the following image.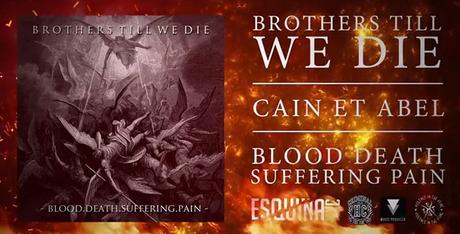 After their participating in the Band Contest of the Resurrection Fest 2015, Brothers Till We Die will be playing in the Ritual Stage of the Resurrection Fest X Edition, this will be in a few days and I will stay there!! I send greetings to Brothers Till We Die band, great job, guys!! See you in the Resu!!!
Enjoy Brothers Till We Die and leave your comments!
Brothers Till We Die:
https://www.facebook.com/BrothersTillWeDie
http://twitter.com/BTWD_band
https://www.youtube.com/BrothersTillWeDie