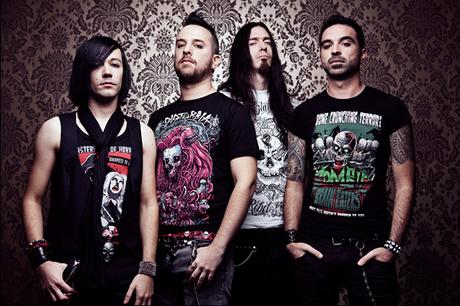 Hello Metalheads! I bring you today a great Goth Metal band called Icon and The Black Roses which has released an amazing new album entitled "Thorns", which you should not miss!!
Icon and The Black Roses started in 1999 under the name of Blue Obsession and time after, with some changes in the line-up, the band decided to call itself "Icon". These guys recorded their first demo entitled "4 Winter Songs" and they achieved a deal with Dark-Wings Records in 2001 to release their debut EP. After that, Dark-Wings Records decided to extend the release to a full album and the band enter to the studio to record the extra material and finally their full-length self-titled album was born in 2004.
This first album achieved a very good feedback, the band wins the award for the best new act for LOUD's readers and their music was being played on radio stations worldwide, charting on a number of European stations.
"Icon and The Black Roses" album was a very good release in which we can find great songs like "Endless", "Angel" or my favorite track in the album "Set Me On Fire", without forgetting the fantastic cover "Running Up That Hill" from Kate Bush, which sounds really amazing!
After this good begining as a band, Icon split for personal reasons and some years after, it rises from its ashes in 2011 with a new line-up under the name "Icon and The Black Roses", ready to spread Glitter, Metal and Roses all over the world. And these guys are really achieving it without doubt, you just have to listen this fantastic new album called "Thorns".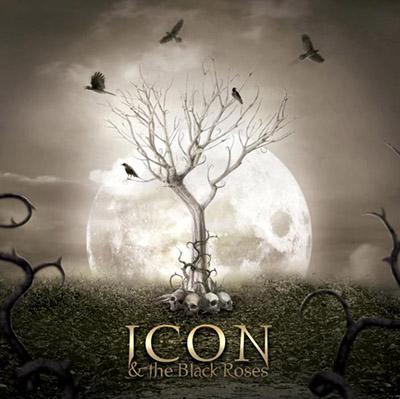 "Thorns" album contains ten tracks with a very fresh sound and good production, awesome melodies, powerful guitar riffs and nice keyboards line with excellent Johnny on vocals. I think that Icon and The Black Roses definitely should have returned to stay and I hope they continue offering this great sound.
With influences from HIM to Paradise Lost, "Thorns" album is a great material from these guys, which is full of good vibrations and emotions, with well-crafted harmonies and catchy melodies, that make you fly over the ten tracks in album, given as a result an excellent release absolutely recommend.
Opening the album there is "Lost" song with amazing keyboards, very good guitars and great melody with influences of HIM, I think this is a fantastic and catchy track in the album.
The impressive begining of "Innocence" gives way to another good melodic tune full of melancholy and the "The Painter" spreads great power and energy with very good guitars and cool keyboards creating an atmospheric background sound.
"Wings of a Dreamer" with nice drums and surrounding keyboards is another fantastic and melancholic piece, and "Moments Of Madness" is an amazing track which will make you fly without doubt.
"Devil Made You" has exellent chorus and a good development resulting a catchy and nice song. The begining of "Healing Touch" offer us a promising song and it not disappoint, it's full of emotions and it's very intense with great Johnny on vocals. Really, the melodic voice of Johnny is fantastic in the whole album, all you have to do is listen to the next song entitled "Sometimes" and you'll see what I am talking about or "Silence Is Everything" track that closes this amazing album called "Thorns".
After listening to the album it's difficult to choose a song, all tracks are fantastic and they mantain a very good line, but I have left to the end a song that I really love, it's entitled "With Or Without you" with a powerful sound and catchy melody, which I think is a great song in the album. You can enjoy it by clicking the following link:
ICON AND THE BLACK ROSES – With Or Without You (VIDEO)
by MetalWind
Ok Metalheads, I absolutely recommend you to listen "Thorns" album, I think Icon and The Black Roses has made a great job that you should not miss. Discover "Thorn" and leave your comments!
I send greetings to Johnny Icon and to all band members, fantastic work, guys! I also send greetings to Ülle Elise, thanks for introducing me to these guys!
Follow Icon and The Black Roses:
http://www.iconandtheblackroses.com
https://www.facebook.com/IconAndTheBlackRoses
https://twitter.com/icontbr
Send Newsletters to your fans from ReverbNation.com