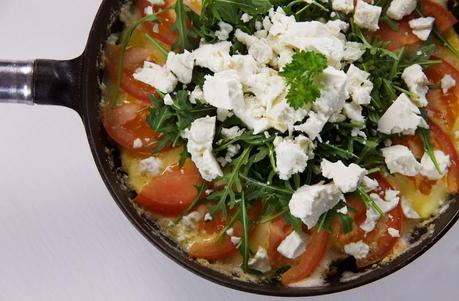 For one week we're doing vegetarian LCHF every day at our house. Tuesday we had an omelet with Feta cheese and arugula lettuce (rucola lettuce), served with an avocado.
As you may already have noticed yesterday, we're doing lacto-ovo vegetarian, i.e. including dairy products and eggs.
Continue reading for the recipe and nutritional value of 80 and 3 energy-percent carbohydrates.
Which vegetarian dish is your favorite? Feel free to leave a comment.
Recipe
Omelet with Feta cheese and arugula lettuce, 3 servings.
6 eggs
3 tablespoons heavy whipping cream
salt and pepper
butter to fry in, about 2 ounces (50 g)
1 cup (2.5 dl) grated cheese
5 ounces (150 g) Feta cheese
a handful of arugula lettuce
1 tomato
3 avocados
Stir together eggs and cream, salt and pepper to taste. Melt butter in a frying pan and pour in the egg batter. Fry on low heat and pull the egg-cream batter towards the middle as it solidifies. When the batter is almost solidified, sprinkle with grated cheese and let melt. Add tomato slices, lettuce and crumbled Feta cheese. Serve with an avocado.
Nutritional Value
16 E% protein
80 E% fat
3 E% carbohydrates (7 gram carbohydrates per serving)
More Vegetarian LCHF
More
More
Diet Doctor's LCHF
Healthy Tasty Green Chips!
Picnic at Diet Doctor's House Dinner at Diet Doctor's