Last night, we had our Yoga Teacher Training Christmas Party and I was to make a dessert. My goal was to make a vegan dessert because there are a couple of vegan friends so I wanted to make sure they'd have something to eat!!!
My friend, Peggy, let me borrow some vegan books, and there is one that I LOVE -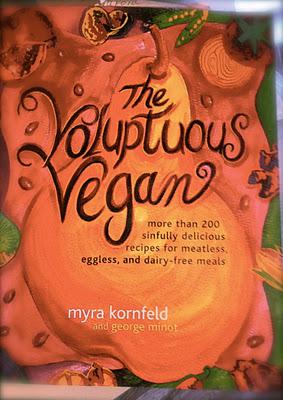 It has vegan recipes but they seem fairly normal. Some vegan books have the craziest food that doesn't sound appealing at all, but these are just normal recipes with vegan ingredients. It was hard choosing a dessert, because they all sounded good to make. I decided to go with the Apple-Walnut Crisp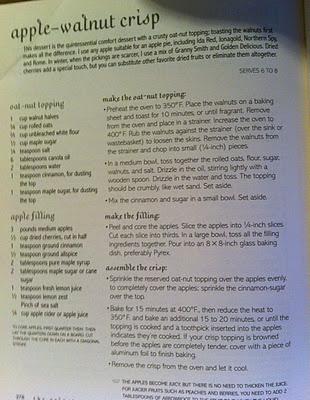 The Ingredients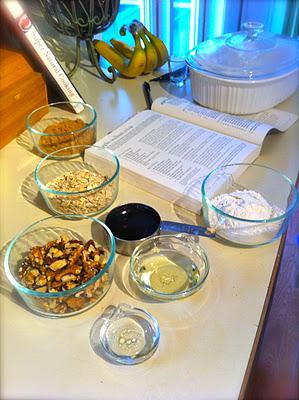 This is just for the topping - it got a little messy after this
Oat-Nut Topping

1 cup walnut halves
3/4 cup rolled oats
2/3 cup unbleached white flour
1/2 cup maple sugar
1/4 teaspoon of salt
6 tablespoons canola oil
2 tablespoons water
1 teaspoon cinnamon, for dusting top
1 teaspoon maple sugar, for dusting the top
Apple Filling

3 lbs medium apples
1/2 dried cherries, cut in half
1 teaspoon ground cinnamon
1/2 teaspoon ground allspice
2 tablespoons pure maple syrup
2 tablespoons maple sugar or cane sugar
1 teaspoon fresh lemon juice
1/2 teaspoon lemon zest
pinch of sea salt
1/4 cup apple cider or apple juice
Substitutions 

I want to put this in here because as I continue to use cookbooks which use whole ingredients, I'm having to learn how to substitute ingredients. Not everything is readily available in Greenville, even with a Whole Foods, Earth Fare, Creative Health and Trader Joe's SO.... I'm learning as I go.
A great reference is 
Joys of Baking
. She has an alphabetical list of ingredients that can be substituted. I found this yesterday when I was looking for a maple sugar substitute and was excited to see how extensive the list is.
Maple Sugar - I could not find this yesterday, although, I was at Publix and couldn't get to a health food store, so I had to improvise. There are a couple of substitutes but let me tell you my mistake and what NOT to do.
Brown Sugar is not vegan. This is because it is typically white sugar mixed with molasses. White sugar is bleached somehow using animal bone. I don't think the brown sugar I had was made this way because it was brown cane sugar and it was not bleached, but since I can't say for sure, it made the dessert no longer vegan. I was very sad. So in the future, you can use raw cane sugar, as the recipe uses as a later ingredient and maple syrup.
1/2 maple sugar = 1/2 cup regular sugar & 1/2 cup maple syrup
IMPORTANT - YOU MUST REDUCE YOUR LIQUID, typically by 1/4 cup. My recipe didn't have that much, but I read another blog that said reduce by 3 tablespoons, so that's what I did. Instead of using 6 tablespoons of canola oil, I used 3.
Make the oat-nut topping
Preheat the oven to 350 degrees. Place the walnuts on a baking sheet and toast for 10 minutes, or until fragrant. Remove from the oven and place in a strainer. Increase the oven to 400 degrees. Rub the walnuts against the strainer (over the sink or wastebasket) to loosen the skins. Remove the walnuts from the strainer and chop into small pieces. (I used my chopper)
In a medium bowl, toss together the rolled oats, flour, sugar, walnuts, and salt. Drizzle in the oil, stirring lightly with a wooden spoon. Drizzle in the water and toss. The topping should be crumbly, like wet sand.Set aside. 
Mix the cinnamon and sugar in a small bowl. Set aside
Make the filling

Peel and core the apples. (I have a apple core thing and I LOVE it. It really helped because 3 lbs is a lot of apples and to sit there and cut them would've taken forever). Slice the apples into 1/4 inch slices. cut each slice into thirds. In a large bowl, toss all the filling ingredients together. Pour into an 8x8 inch glass baking dish. Preferably Pyrex (I used my pampered chef stone baking dish). Next time I make this, i'm going to cut the apple pieces smaller. 
Assemble the crisp

Sprinkle the reserved oat-nut topping over the apples evenly to completely cover the apples; the cinnamon-sugar over the top
Bake for 15 minutes at 400 degrees, then reduce the heat to 350 degrees and bake an additional 15 minutes to 20 minutes, or until the topping is cooked and a toothpick inserted into the apples indicates they're cooked. If your crisp topping is browned before the apples are completely tender, cover with a piece of aluminum foil to finish baking. 
Remove the crisp from the oven and let it cool
All the oven temps are Fahrenheit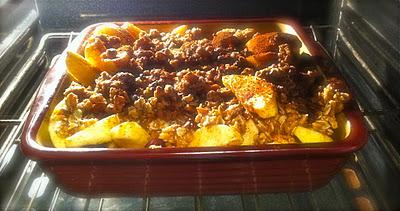 I did have to cover with foil the last 5 minutes and really could've cooked it another 5 minutes just to soften the apples a little more. 
It ended up being really good and a lot of people ate it. I will definitely make it again. 
WARNING - don't try to do this in a hurry. It's fairly involved and takes a lot of times. But it's worth it in the end.