Hey everyone. Today I am going to review Vega Make up professional foundation brush. Finding a decent makeup brush in India from a drugstore brand is a difficult feat to achieve, and I am glad Vega has a professional line of makeup brushes apart from their regular ones.
PRICE: 600 INR.
So is it worth the money spent?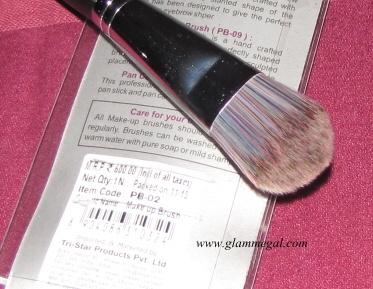 VEGA FOUNDATION BRUSH
I will say yes. If you go by the regular makeup brushes that Vega sells you might not be tempted to buy anything from VEGA. I wasnt. But at my recent trip to Mumbai I saw this brush up close at the store and had to double check if it was VEGA or some other brand.
The look of the brush is quiet slick and attractive. Black matte handle and gray synthetic bristles provide an elegant contrast.

VEGA PROFESSIONAL FOUNDATION BRUSH
The bristles are synthetic and quiet dense. They are very soft as well, so this brush doesnt irritate the skin at all. For a good quality flat foundation brush it is essential that the bristles are both soft and dense but not too dense so that it makes blending the foundation hard. Vega professional foundation brush has the perfect balance.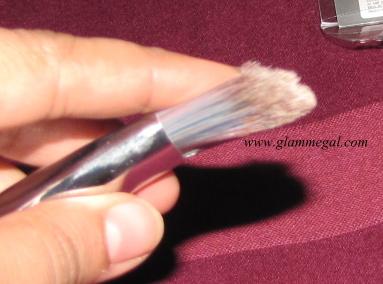 VEGA FOUNDATION BRUSH
How to apply foundation with flat foundation brush?
Dispense some foundation on the back of your hand and using the brush pick up a little product at a time and apply it on one side of the face and using downward strokes blend the foundation into the skin. Repeat on the other side of the face. Blend using light strokes until the foundation is properly blended. The key to applying foundation perfectly is to slowly build the product on your face and not over do it.
I am glad to have found this brush. You can buy VEGA professional brushes easily at many online stores. Here is the link FLIPKART.
YOU MIGHT CHECK THESE REVIEWS AS WELL :
Do check out Vega professional brushes if you havent already , for good quality affordable make up brushes.
Until next time…
You Might Also Like
COLORBAR SMUDGER BRUSH REVIEW AND USES
ELF BLUSH BRUSH REVIEW 4 IN 1 BRUSH
Loreal Nutri Shine Lipstick Strawberry Juice Review and Swatches
LOREAL INFALLIBLE EYESHADOW COSMIC BLACK REVIEW , SWATCHES AND FOTD
LAKME 9TO5 LIPSTICK TEA BREAK SWATCHES AND REVIEW
ZOYA NAIL POLISH HEIDI REVIEW AND SWATCHES
T MART : 12 COLORS EARTH TONE EYESHADOW PALETTE, DUPE ALERT
MAYBELLINE LIP POLISH GLAM 2 REVIEW AND SWATCHES
KRYOLAN MAKEUP BRUSH REVIEW : ART NO. 1717
Four Loreal Caresse Lip Stain Swatches
Tags:
makeup brush, makeup brushes, review, vega