MAC lipsticks need no introduction to any makeup enthusiast. In fact MAC lipsticks are the most googled and most searched lipsticks.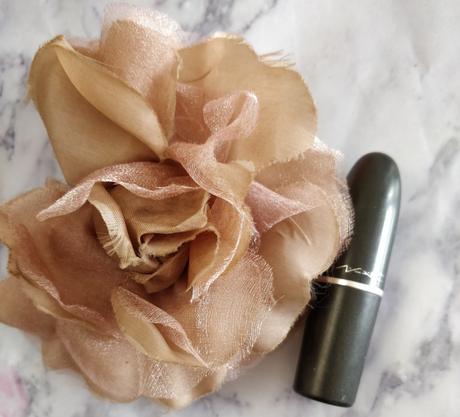 MAC Rebel lipstick
I am doing a MAC Rebel lipstick review, swatches and also a very affordable dupe of MAC Rebel. I do not have too many MAC lipsticks but this one I couldnt resist. MAC Rebel lipstick is a cult favorite and amongst their top selling MAC lipsticks.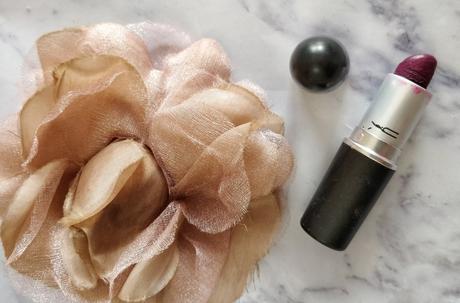 Rebel by MAC
What MAC says about Rebel
A creamy Lipstick formula with a soft cushiony feel, medium-to-full buildable coverage and a satin finish. M·A·C Rebel Lipstick – the iconic product that made M·A·C famous. This creamy formula features a soft cushiony feel, medium-to-full buildable coverage and a satin finish.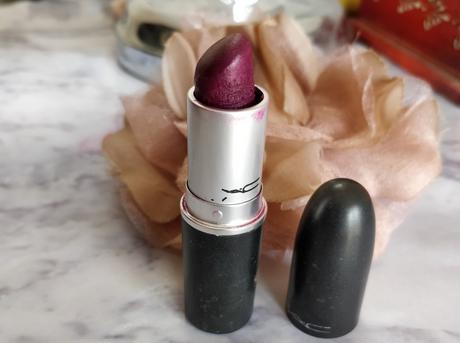 MAC Rebel Lipstick
Price : MAC Rebel lipstick retails for 1500 INR
Packaging:
MAC Rebel Lipstick comes in standard MAC packaging. Black lipstick bullet that is now synonymous with MAC. The name of the lipstick written on the bottom.
Texture:
MAC Rebel lipstick has a satin finish. It is not glossy but it is not flat matte also. I am not a fan of MAC matte lipstick and that is the reason I dont have MAC Ruby Woo. Shocking I know!
But Mac Rebel is a satin finish and glides on the lips effortlessly. Its easy to glide on the lips but also its not too buttery where in it bleeds and or slips. It just has the right amount of pull where its not drying and its not slippery either. MAC satin lipsticks are their best formula.
Pigmentation :
Rebel is very pigmented. One swipe is all it takes to give you an opaque finish. But you can definitely  layer it up for a more intense look.
It stays on your lips for 3 to 4 hours, and also leaves behind a berry colored stain on your lips. Its easy to reapply as well.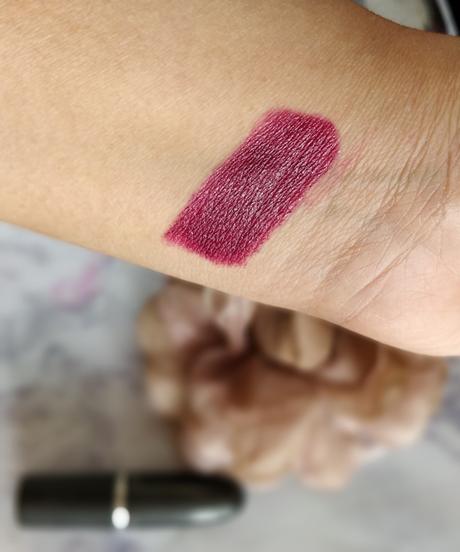 MAC Rebel lipstick
Color :
MAC Rebel lipstick is a berry plum shade which is universally flattering on all skin tones. MAC Rebel lipstick is a satin finish lipstick , it has a sheen on it which after some time of wear turns to a semi matte finish.
Rebel doesnt settle in fine lines on the lips, stays put for hours and doesnt bleed on the lips.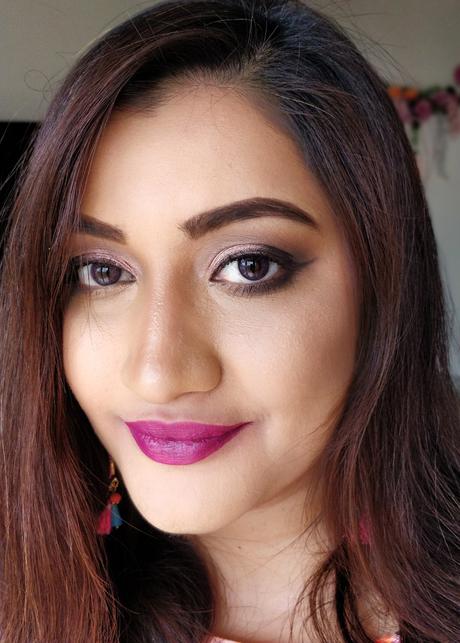 The color quiet intense but if you dont want it to be quiet as dark you can always apply a thin layer and blot it with the tissue and wear MAC Rebel lipstick as a stain. It looks equally lovely as a stain.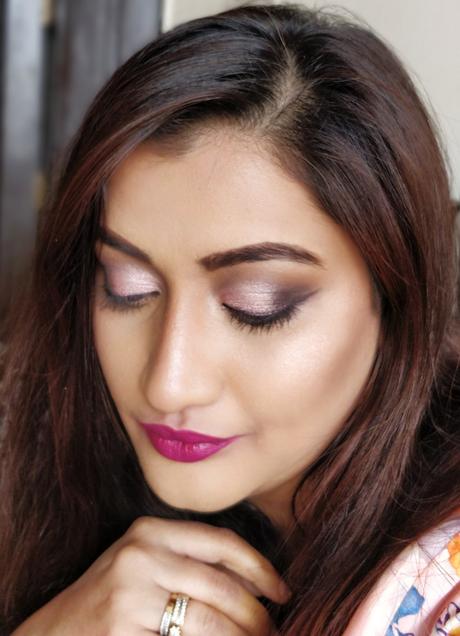 MAC Rebel lipstick is a perfect plum shade for this time of the year. I love how it looks against the Indian skin tone.
MAC Rebel is a great lipstick for medium to deep dark Indian skin tone and is equally flattering on light skin tone.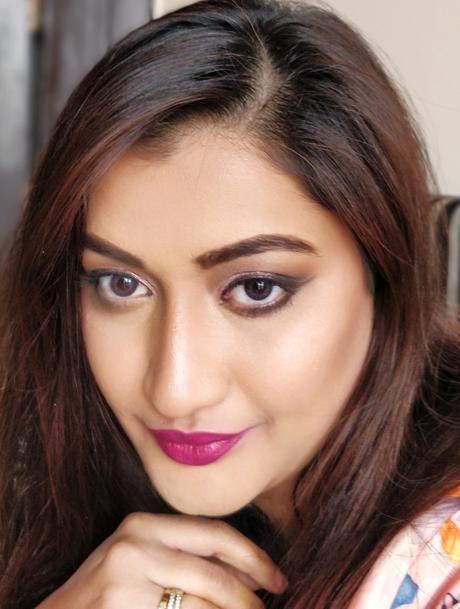 MAC Rebel lipstick
Dupe for MAC Rebel Lipstick
Now it is a beautiful shade , but it is definitely pricey. An exact dupe from Wet n Wild is Sugar Plum Fairy. Its an exact dupe of MAC Rebel and the lipstick is now available in India on Nykaa. So you can pick your pick.
I have done a video using MAC Rebel you can check it out here.
MAC Rebel lipstick is a deeply pigmented lipstick and hence does stain your lips, but its easy to remove the lipstick with a makeup removing wipe, if you however still do have any stains you can remove those with the help of a little bit of oil.
The texture is smooth and it glides on the lips beautifully, without any tug or pull, unlike MAC retro matte finish lipsticks, which I love the colors from that range but they are drying and harder to apply.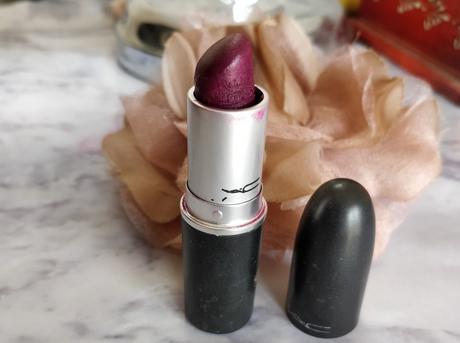 MAC Rebel Lipstick
MAC lipsticks are lusted and loved by all and sundry, and Rebel from MAC is one such universally flattering lipstick. I do recommend MAC Rebel lipstick if you are not afraid of bold colors.
In fact even if you dont wear dark lipstick , you can apply a thin layer and then wipe it off with a tissue, the stain it leaves behind is a beautiful berry color which look equally beautiful.
So I would say MAC Rebel lipstick is for everyone from  blushing to bold .
Related
Related Posts via Categories
Sugar Smudge Me Not Liquid Lipstick Review Swatches
Estee Lauder Pure Color Envy lipstick review Impulsive
Lakme 9to5 Primer + Matte Lipstick Review, Swatches
Colourpop Ultra Matte Liquid Lipstick Bumble and More Better Review, Swatch
NYX Liquid Suede Cream Lipstick Vintage Review
Bourjois Rouge Edition Velvet Lipstick Nudeist 07
LOREAL COLOR RICHE LIPSTICK 290PLUM PASSION REVIEW, SWATCHES AND FOTD
COLORBAR VELVET MATTE LIPSTICK PEACH CRUSH REVIEW, SWATCHES
Tags:
lipstick, lipstick for dusky skin, lipstick for medium to deep skin, mac lipstick, mac nc 40, mac rebel dupe, mac rebel lipstick, wet n wild sugar plum fairy