HOW TO HIGHLIGHT AND CONTOUR
So today is going to be my updated post on how to highlight and contour. First things first, highlighting and contouring are essential parts of any makeup look but not mandatory. Makeup has no rules, so if you find contouring and highlighting your face to be intimidating you can totally skip this step. However, if you want to chisel out your features and draw attention to certain features on your face then keep on reading how to highlight and contour.Highlight and contour is a broad spectrum to cover in one blog post. But I shall try to not over complicate it. In the picture below you can see clearly what areas you need to contour and which ones you need to highlight. But what needs to be understood first is where and where shouldnt you contour.
How to Contour
Forehead : Contour your forehead if its broad or bigger compared to the rest of your face. You dont want the attention to be on your forehead and/or you want to make your forehead appear smaller. If your forehead is NOT broad, you can/should skip contouring your forehead. , I focus the majority of contouring on the forehead in the center of the forehead but do apply a thin coat on the sides of the forehead as well.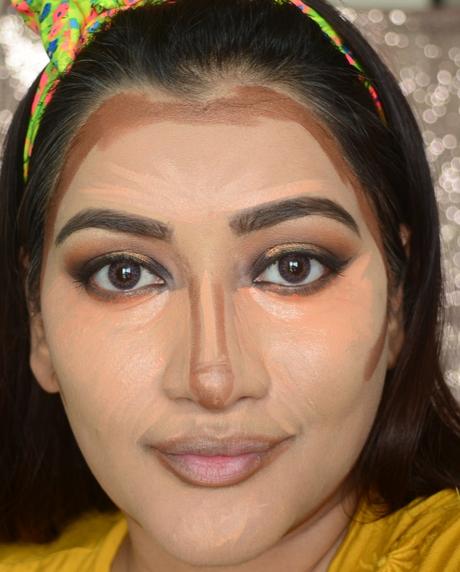 How to contour
Cheeks : This is the most popular and most abused contouring area. Here is  where you can go horribly wrong or beautifully right. Again you should contour as per your face shape. If you have a long face you shouldnt bring your contour too down under your cheekbone and stop mid way to your cheekbones.
If you have a round face and you want to give the illusion of a longer face then you might want to extend the contour near to your upper lip area not quiet touching it ofcourse.
If you have a square face then you might want to use a slant contour which is sharp, but not bring it way too down, because that might make the cheekbones look droopy and not lifted.
Jaw Line : If you have a sharp jaw line, you may want to completely skip contouring the jaw line. If you have a round face, or double chin you can draw a contour starting from the ear lobe and join it on your chin making a sharp line, refer the picture below. Also draw a "v" on the chin to give the illusion of a sharp chin. Again refer the picture below.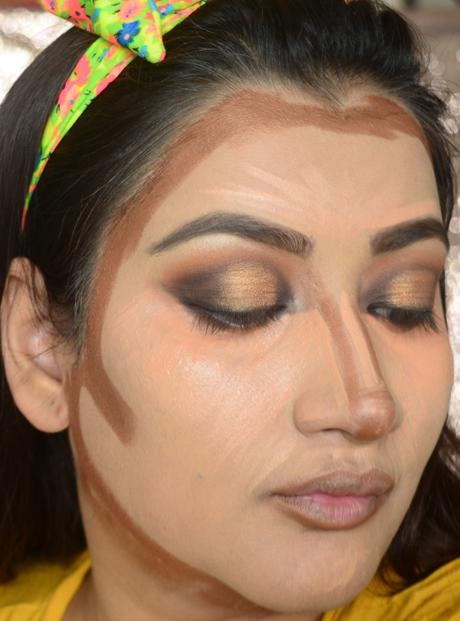 How to highlight and contour
Also add contour below the jawline to add shadow under the chin to make it appear more sharp.
Nose: There needs to be a dedicated article on this, but I am trying to not over complicate things , I shall do a detailed video on how not to and how to contour your nose, because I used to do it horribly wrong. Contouring your nose doesnt mean drawing two parallel lines on the nose . You want to draw two parallel lines as close to each other as you can given your nose shape, because if you have a wide nose and then you add two lines exactly on the widest part you are only adding to the width not concealing or camouflaging it. The trick to a perfect contour is use of highlight side by side.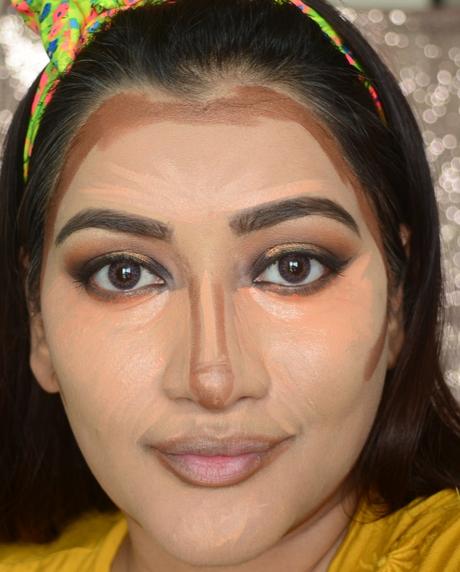 How to contour your nose to fake a nose job
So the way you contour your nose is find your problem area with nose first, if you have a wide nose you try to contour on the inside rim of the line of the nose rather than the outside line of the bridge of your nose . Refer picture below.
If lower part of your nose is broad you want to cut it by drawing a horizontal line across the nose.
To further cut down the width of the nose make two indents on the sides of the nose to further pinch it. And lastly apply contour below the nose to make it appear smaller, if its already small skip this step and instead highlight the tip of the nose to elongate it if you have a smaller nose. I shall discuss how highlighting can help enhance contouring in a little bit.
Lips: To add more dimension and depth to your lips you can outline your lips with contour,refer the picture above.If you have big lips and would want to camouflage them then do not do this step.
How to Highlight
But without light there is no shadow. So to make the illusion of shadows on your face successful you need to add some highlight. In this blog post I am using cream and powder contour and highlight. But you may use either or both as per your convenience or liking.
So moving on to the highlight. So you basically highlight all the areas you didnt contour. You contour the perimeter of your face and nose and you highlight the center of your face and nose. Simple. So we begin by highlighting the under eye.
Under eyes: If you have deep dark circles you might first want to color correct and conceal them before highlighting them. Read this post on how to cover dark circles. Once you have done that then you apply a concealer/highlighter under your eyes and make a triangle all the way from your eyes to the sides of your nose. Refer the picture below.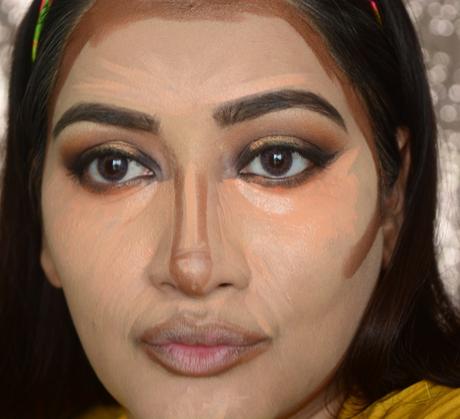 My undereye area looks orange due to color correcting it all works out fine after blending .
Chin: If you have a small chin then you might want to apply the highlighter covering a bigger area in a triangle shape, if you have double chin and wouldnt want to bring the focus to the chin area then you contour it more and highlight it little.
Cheeks : Under your cheek contour and above your jawline is a tricky area , and it can get muddy very easily and the whole face can look ashy. So you can clean up that area by applying a small of amount of highlighter between the jaw line and the cheek contour.
Forehead: The center of the forehead going all across both the eyebrows is ideally where you should highlight. I f you have a small forehead its best to highlight up until the hairline to bring as much light as possible.
If however you have a large forehead, then highlight only half way and make sure to blend the contour with the highlight seamlessly. You may also want to contour the sides of your forehead to further narrow the forehead in appearance.
 Nose Contour : Here is the trick that will elevate your nose contour game. Highlight your nose from the outside, all the way up to the line on the bridge of the nose. Refer picture below. This will make the contour more sharp and the illusion more realistic.  Also another important point to remember is to highlight on the center of the nose in the thinnest line possible, dont highlight the entire center portion of the nose, even if its wide, because you want to highlight and contour your nose to make it appear slimmer, so even if it is wide using this trick will make it appear as small as you possibly can. Refer to the pictures below and see how much difference there is even before blending, you can make out after blending how much the difference would be.
I have done a very detailed video on How to highlight and Contour on my Youtube channel and I would urge you to go and check the video. Its very informative and very detailed. I am sure you will find it informative and useful. How to contour and highlight your face might seem intimidating but once you get a hang of it, its easy and the results are so fascinating , you can really enhance your features if you correctly highlight and contour your face.
Now moving on to the products required for highlighting and contouring. Over the years I have tried a lot of products for highlighting and contouring and have figured out what works and what doesnt work for me. I am going to list down some of my most used and most loved products for highlighting and contouring.
Makeup Products for Contouring and Highlighting 
NYX Bright Idea Illuminating Stick Topaz tan Price INR 750 . Its super easy to blend, has decent pigment and is forgiving while blending hence good choice for beginners. Set it with a powder for longer wear time or else you can totally skip the powder if you are going for a natural finish look . In the pictures above I have used NYX Topaz Tan.

Nyx Bright Idea Illuminating Stick Topaz Tan

LA Girl Pro Conceal Concealer Toast Price 535 . Another gem of a find, its long wearing and good for all skin types. The only thing is you need to blend it quickly because it sets fast, but its very long wearing and matte. This is what I have used in the video above.

LA Girl Pro conceal concealer Toast

NYX Highlight and Contour Palette Price INR 2000. This is a powder palette I always use it to set my cream highlight and contour.

Nyx Highlight And Contour Palette

MAC Studio Fix Powder NC 40 Price 2500. I use this to set my under eye highlight. Its very pigmented and adds extra coverage to the under eye area. Its perfect for you if you have deep dark circles.

Mac studio fix powder NC 40

LA Girl Pro Conceal Concealer Creamy Beige Price 535 . I use this shade to do cream highlighting and then set it with MAC Studio Fix powder or NYX Highlight and Contour palette powder.

LA Girl Pro Conceal Concealer Creamy Beige
This is a very detialed article on everything you need to know about How to contour and highlight. I hope this article answers all your questions about How to highlight and contour.
Related
Related Posts via Categories
MAKEUP 101 BACK TO BASICS : POWDER
MAKEUP 101 BACK TO BASICS SERIES: CONCEALER
MAKEUP 101: BACK TO BASICS SERIES : FOUNDATION
STARTER KIT: MUST HAVE MAKEUP BRUSHES
Maybelline foundations in India | Maybelline Foundation Guide
Top Foundations for Indian Skintone for dry skin
Summer Makeup Tips for long lasting makeup
Real Techniques Miracle Complexion Sponge
The Balm Mary Lou Manizer Review and Swatches / Dupe for Mary Lou Manizer
Tags:
how to contour, how to fake a nose job, how to highlight, how to highlight and contour, how to make lips look big, mac nc 40, nyx highlight and contour palette, nyx topaz tan