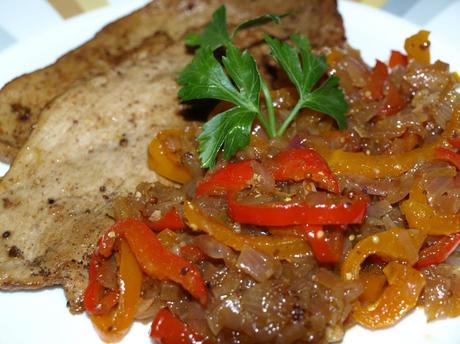 For this recipe I used veal for scallopini, so no need to bother beating the meat. I also made some modifications, which I will mention as I go along. The listed quantities yield 6 servings, so I halved them:
1 1/2 pounds veal slices (about 1/4 inch thick)
1/4 cup lemon juice
2 tablespoons olive oil
2 teaspoons grated lemon peel
2 garlic cloves, minced
1 teaspoon sugar
1 teaspoon salt
1 teaspoon paprika
1/2 teaspoon ground mustard (I replaced with 1 tsp grainy Dijon mustard)
1/2 teaspoon ground nutmeg
1/2 cup all-purpose flour (I didn't use it)
6 tablespoons butter, divided
2 medium onions, sliced
2 medium sweet red peppers, julienned
1/2 pound fresh mushrooms, sliced (didn't use )
1/2 quart chicken broth
2 teaspoons cornstarch (I omitted it)
2 teaspoons water
Place veal in a 13-in. x 9-in. x 2-in. dish; set aside.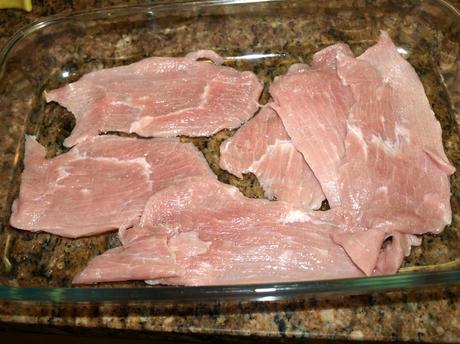 In a medium bowl, combine the lemon juice, oil, lemon peel, garlic, sugar, salt, paprika, mustard and nutmeg; reserve 2 tablespoons.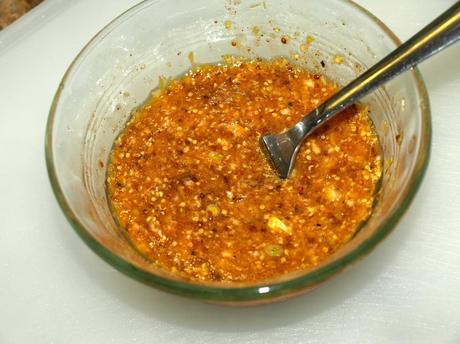 Pour remaining marinade over veal. Let it stand for 30 minutes at room temperature.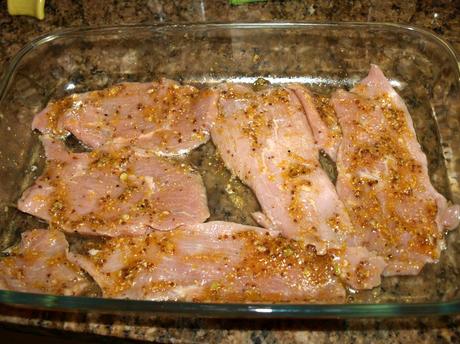 Discard marinade from veal. Place flour in a shallow dish; coat veal with flour, shaking off excess (I skipped this step). 
In a large skillet, brown veal slices, two at a time, in 4 tbsp butter, then set aside.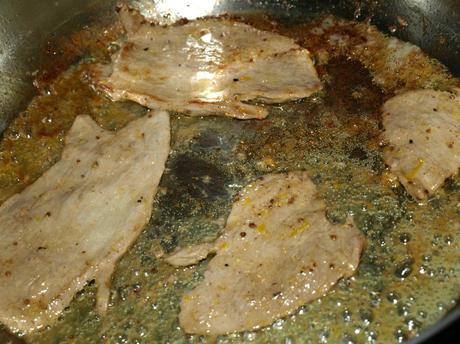 In the same skillet, saute the onions, red peppers and mushrooms in remaining butter until tender, stirring to loosen browned bits.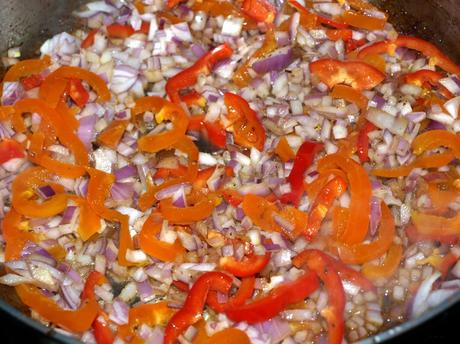 Stir in broth and reserved marinade; cover and simmer 10 minutes.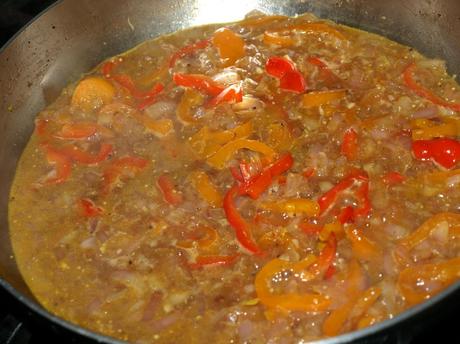 Combine cornstarch and water until smooth. Stir into vegetable mixture. Bring to a boil; cook and stir for 2-3 minutes or until thickened (again, I skipped this step and allowed the mixture to thicken on its own). Serve with the veal.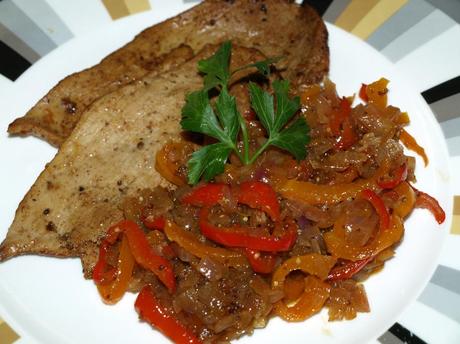 Enjoy!