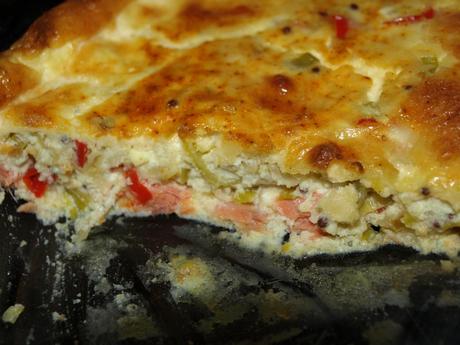 This crustless quiche is easy to make and great for any meal. The smoked salmon lends a touch of elegance, and the leeks can be substituted with onions or shallots. 
Ingredients:
- 3 eggs - 1 1/2 cup milk or cream - 6 oz smoked salmon - 1 large leek, white and light green parts sliced (about 1 cup of slices) - 1 small red pepper, chopped  - 3/4 cup shredded cheese - almost any kind or combination is fine, but not too much strong-flavoured cheese such as Parmesan - 1 tsp dry mustard (I replaced with Dijon) - 1/2 tsp thyme - pinch of cayenne pepper or a bit of hot sauce - paprika, salt and pepper
Preheat the oven to 375 F.
Saute leeks in a little olive oil. When they begin to soften, add the peppers. Add a little salt and cook for 3-4 minutes. Just before taking off the heat, add the thyme.
Meanwhile, crumble the salmon in a pie plate (I used a 9-inch Pyrex). Cover with the vegetables when done, and then sprinkle with the cheese.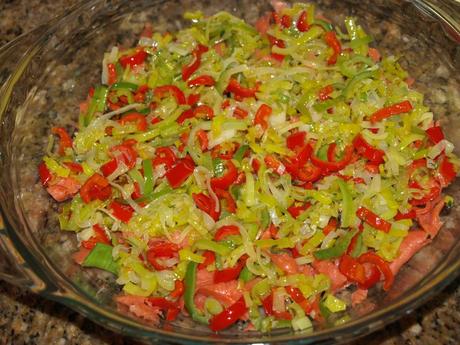 Also meanwhile, blend eggs, milk (or cream), mustard, cayenne or hot sauce, salt (about 1/2 tsp, but less if salmon is salty) and pepper. 
Pour the egg mixture over the rest of the ingredients and sprinkle with paprika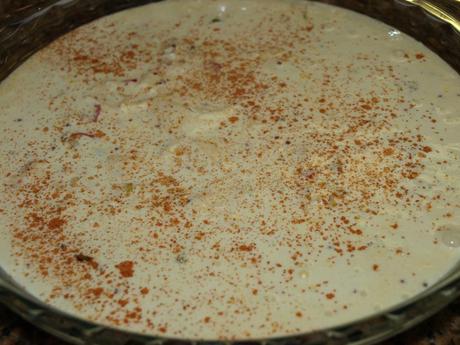 Bake for 45-50 minutes. Start checking after half an hour. If it's getting too brown but the center is too liquid, cover with foil. When done, the center will still be a bit loose.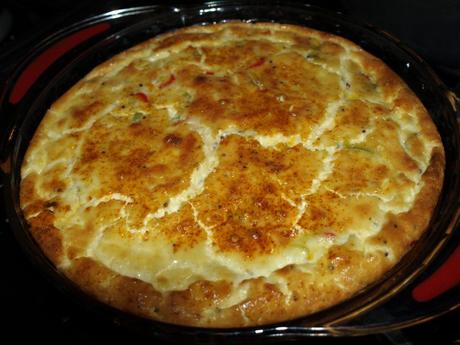 Take the quiche out of the over (to avoid overcooking). In 5 minutes, the center will be set, too.
Enjoy!