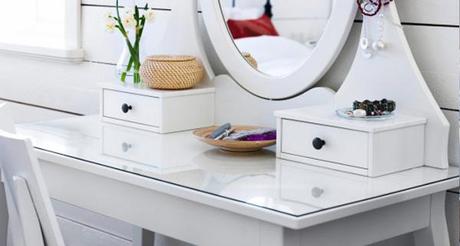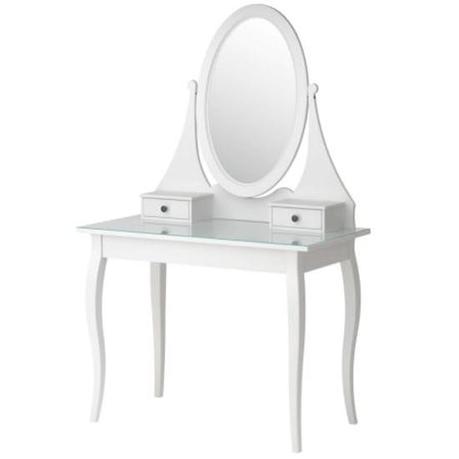 IKEA Hemnes Dressing Table
This next one is a personal favorite of mine, not too femine and the design shouts Asian even though it may not be Asian.  Out of all the tables I show you here, I like this one also because it has a hefty drawer.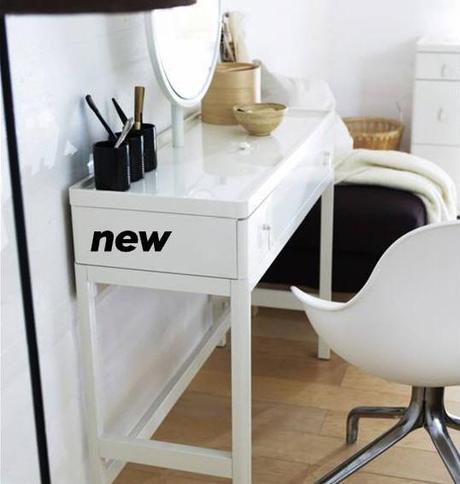 photo: apartmenttherapy.com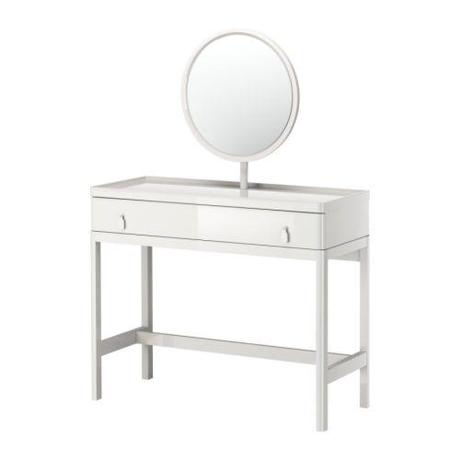 IKEA Vinstra Vanity table
Then there are the more feminine and traditional among us.  Anyone for a bit of Laura Ashley?  Read more to jump to the full post and more lovely spaces.
By now you're wondering…uhh, Julia, why white?  Well I've always preferred lighter shades of furniture (a pain to keep clean in the city though), but I also have a logical reason for preferring a white or bleached wood dressing table.  White bounces any light available off itself, it pulls in more light into a space and kills looming shadows that also project on the face…hence why you see the styrofoam boards at low budget shoots.  So during the daytime I get more light from my space and onto my face which in beauty always aids in preparation.  Dark surfaces around can tend to pull shadows in.  I like this, too because apparently the mirror and top drawer part of the body is not attached to the table so you can reposition it to your heart's content.  This table reminds me of scenes from those Jane Austen novels.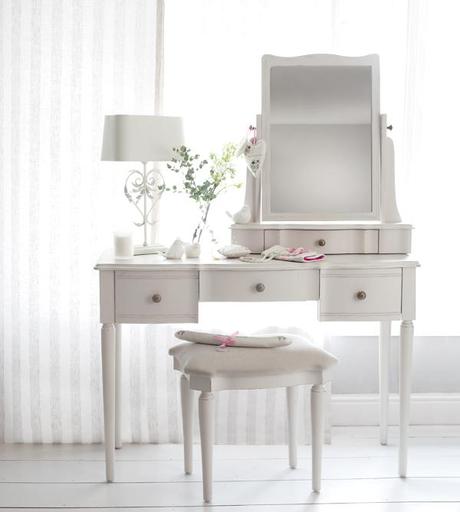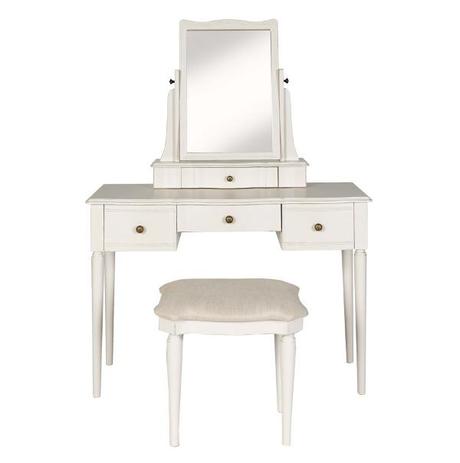 Laura Ashley Ellesmere Dressing Table, Mirror, and Stool set
Note: Not all tables are by IKEA and photos are not mine, just random ones I searched.  I'd also like to throw in a Laurey Ashley rug for good measure.  It needn't be pink…but I like this rug design.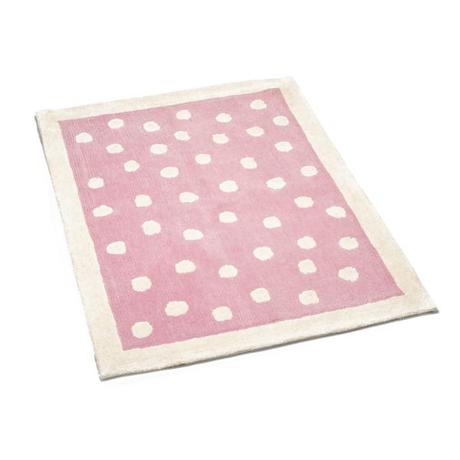 I don't know where this next one is from, but I love what was done with the vanity space and this is perfect for someone super petite.  I just find the mirror rather lacking in height, like majorly, by about half LOL.  This is perfect for non-makeup fanatics who still need a space to get ready but like to keep it simple.  I'm also liking the stool slash ottoman.  There are also a special few like this that have secret storage cubbies beneath.  I'd prefer this little setup to be bigger though, it borders on NERVOUS dressing table material, you know how sometimes furniture can look so charming then when you take a seat and your knees enter everything trembles, shakes, or shifts like it's too lightweight or afraid of you?  That totally turns me off.  Furniture needs to be just heavy enough and ready for me and what I put on it, LOL.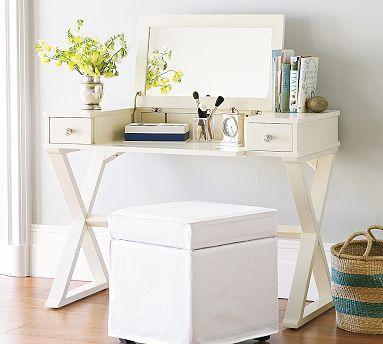 This one I lost the source to, sorry I'm not 100% sure but I think this is a wardrobe by Pottery Barn.  Though walk-in closets can be charming once you're old enough but I'd rather provide any future teenage ladies I might have with something like this, so the clothes they amass do not take over the room and ultimately, their lives.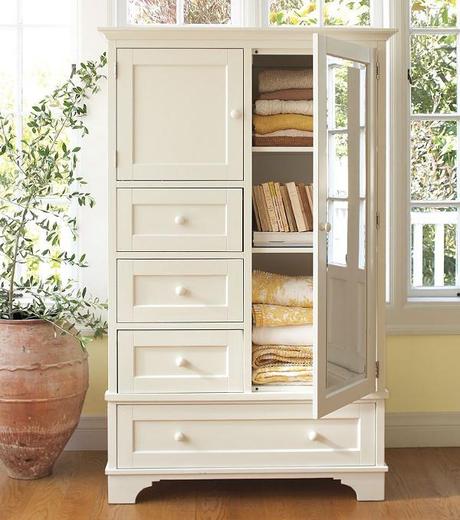 It's a beautiful wardrobe with a built in full-length mirror and you can obviously store some eye catching storage boxes on top.  I'd probably alter the right side cabinet and remove the shelves then install a hanger rack so dresses and pants can hang properly instead of books and bedding.  Right now my room isn't ideally laid out, it's better but there are some things I want to change and many things I need to get rid of (non-beauty related stuff) even since my last spring cleanup.  Do you have a personal area where you can prepare and get ready?  There is one YouTube Beauty Vlogger whose space I admire because it's humble and not erupting or bursting at the seams with excess makeup and skincare that's inevitably bound to go bad.  That space belongs to Vivianna of ViviannaDoesMakeup.com, and it's because of her that I've started exploring different interior layouts and storage options. Read to the end, I've included a video for you.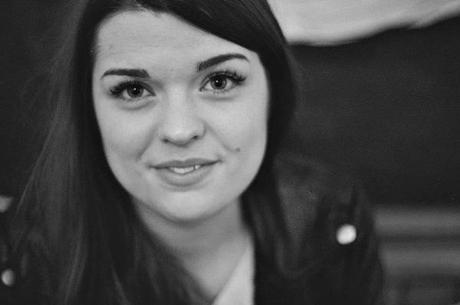 Vivianna is also just the sweetest, simplest, most approachable British beauty enthusiast to watch on YouTube.  Even though she enthuses endlessly and sometimes repeatedly bout her favorite beauty products and does hauls she doesn't annoy me when she presents them on camera and the way she speaks through the screen is serene and sincere and nowhere near strung out on beauty.  If there were three words to describe her I'd say soft, feminine, and light and as a result I'm absolutely hooked on her favorites and "whats in my…" videos.  Throw in the fact that we share practically the same foundation shade and you have me waiting for every upload she posts.  Watch Vivianna's Beauty Collection and Storage video here.