In our fast paced lives everything is about priorities and in all the hustle bustle I often find ignoring my needs or being too lazy to look after myself sometimes. Who doesnt love a relaxing facial or the regular mani pedi and waxing done regularly but going to the salon is like making an appointment with yourself. What if I tell you that you cant make excuses anymore because Vanity Cube At Home Salon service ; you just need to make the call or better yet just go to the app and select your services.
How it works? You download the app and fill in your credentials. Then you select the services you require and then you get a confirmation call from Vanity Cube. They have a wide array of services from facials, to waxing to hair color and much more. Vanity Cube offers packages too, so you can go through the app and select your desired services.
I had booked an O3+ Whitening Facial , a Loreal hair spa and a classic pedicure. A warm friendly girl arrived on time and then she proceeded to set her equipments. She was very warm and courteous throughout the appoitment making sure I was comfortable at all times. The products were all neatly placed.
I really want to mention the detail to hygiene that was provided. Disposable mats were placed for the services to make sure no mess is left behind. Also all the products used were displayed neatly so I knew exactly what was being used.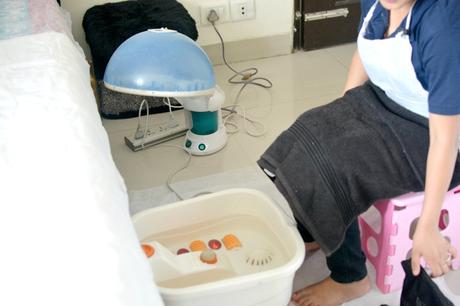 Pedicure
The pedicure session was relaxing and the girl took care of the water temperature at all times to make sure I was ok with it. She took her time to finish the pedicure nothing felt rushed.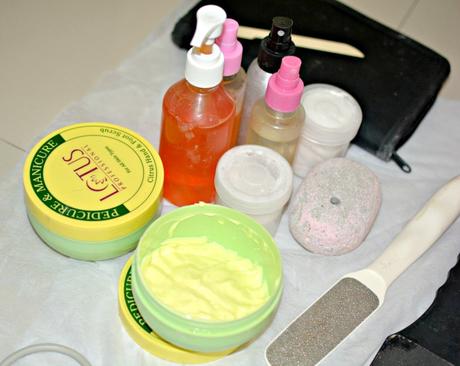 Vanity Cube Pedicure set up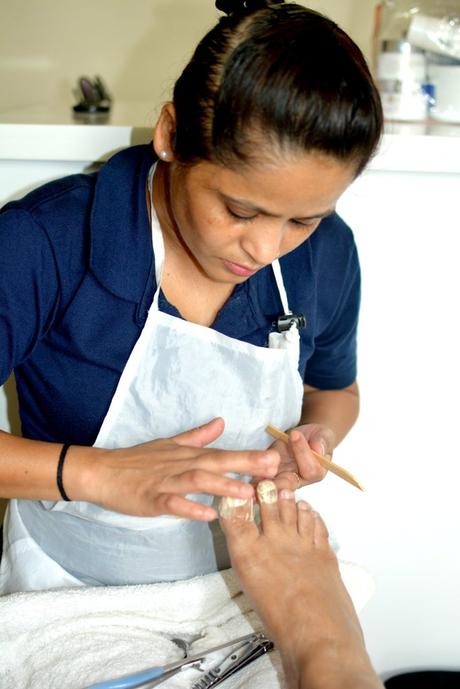 Pedicure
Then for the hair spa, after the application she proceeded to give me a very very relaxing head massage and also massaged my neck and back which I realized were aching for some tender love and care. Needless to say I was overjoyed.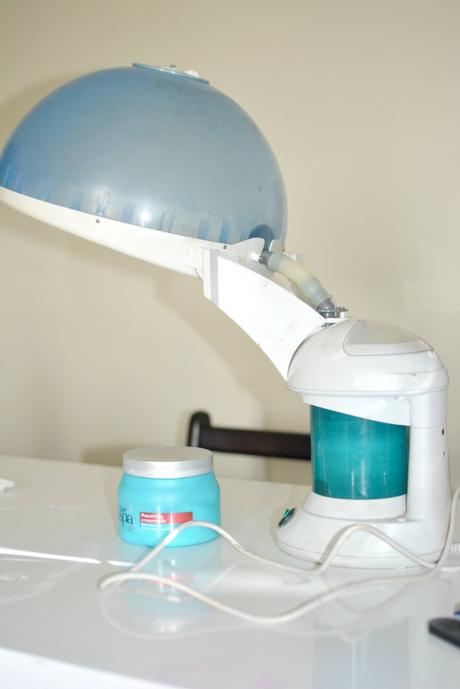 L'oreal Hair Spa
The facial was the most relaxing experience, all the steps were explained to me , since its a bit advanced facial which requires two separate face packs, one of which is a rubber type of a face mask. I thoroughly enjoyed my services and was go glad I took the time out to book the services.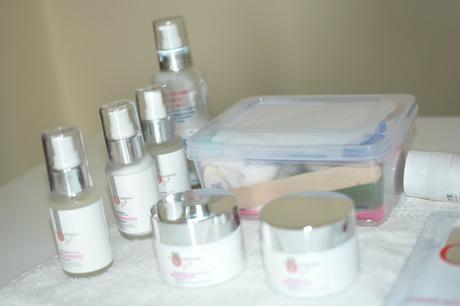 O3 + whitening facial
Vanity Cube has some really affordable services which you can easily compare from other at home salon service providers. But wait thats not all , on top of the already reasonable priced services offered by Vanity Cube I have a special discount for all you wonderful people . USE CODE : SUGANDHA20 to avail a 20% discount on your services. So enjoy your Vanity Cube At Home Salon service.
Related
Related Posts via Categories
WOE BE GONE SOAP BY BURST OF HAPPYNESS
ORGANIC HARVEST SUNSCREEN SPF 30 REVIEW
QUEEN HELENE MINT JULEP MASQUE THE BEST THERE IS REVIEW
THE BODY SHOP VITAMIN E CREAM EXFOLIATOR : REVIEW
Lakme 9to5 Primer + Matte Lipstick Review, Swatches
Himalaya Herbals Pure Skin Neem Facial Kit with Face Massager
Top Foundations for Indian Skintone for dry skin
MAC Prolong Wear Nourishing Waterproof Foundation NC 35 Review, Photos
Tags:
skin care. at home salon service, vanity cube