My FIRST camping festival…and I survived!!
Earlier this year, just before V Festival tickets were released, Lucy and I decided we HAD to go. Beiber, Rihanna, SIA, Bastille, Little Mix, Big Sean…how can you miss out on a festival with such big names? So as soon as tickets were released, Lucy got us both camping tickets, and she also sorted us coach tickets not long after too – such a good organiser!
A week before V festival, Lucy also made me a packing list – what would I do without her? – and we went shopping for some final bits & pieces to finish getting the essentials, wellies, welly socks, a rain mac – yes, I know how can I not own a rain mac when I live in England? 
Friday morning we were on a coach on our way to V Festival at 10.30am, and arrived about lunchtime. Lucy knew a couple of guys who were going too, so they saved us a spot for our tent, and we were soon pitched – Lucy has a pop-up tent, so easy for setting up! – and getting ready to partttaayyy!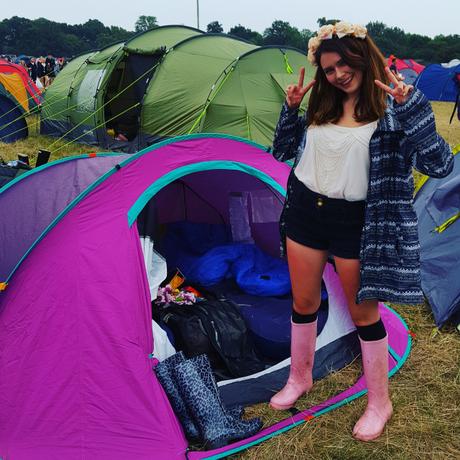 The guys Lucy knew were in their own group of girls and guys, all so lovely, so we pre-drank all together and headed to the arena, as a group, on the Friday evening for the DJ sets.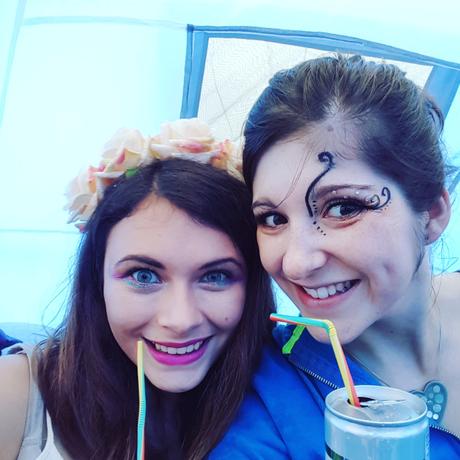 Friday's festival make-up – the first attempt. Mine went a little smudgy… just the practice run.
The queue to get in was a little ridiculous, it took about half an hour to get through the queue into the arena, which when you're camping we thought was pretty bad. But once we were in, Lucy and I grabbed some food – chicken for the first night, which was pretty good – and the rest headed to the bar, before we watched and danced the evening away to the DJs who were performing on the MTV stage.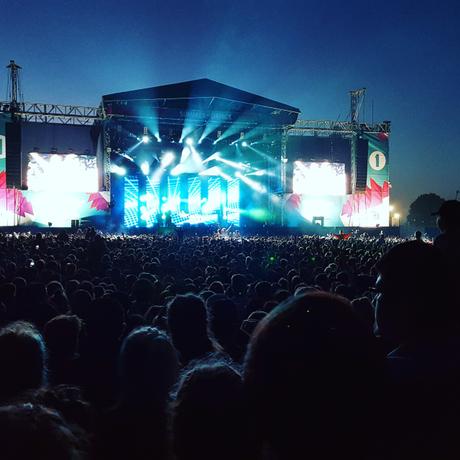 The DJs were ok, not really my thing, and I didn't rate the headliner as well as the DJs before him. We left before the end and headed back to our tents to chill all together and wind down ahead of the next day.
Saturday, the whole camp was up super early, I think the tent next to our group was up at 6.30am!! We tried to sleep a little longer, ear plugs in, and got a tiny bit more sleep before giving up. We brought out our picnic rug after a trip to the toilets, and picking up a weetabix breakfast bottle (they were giving them away free to all campers!), and started planning the day ahead over brekkie. We got ready, did our make-up – I was loving the festival style, and was in charge of make-up for most of the girls over the weekend – and started drinking before heading back to the Arena for the day's line-up.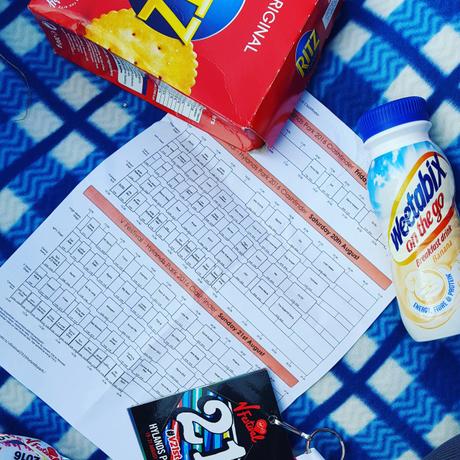 All the festival essentials – brekkie, Ritz crackers and a clash finder to organise our day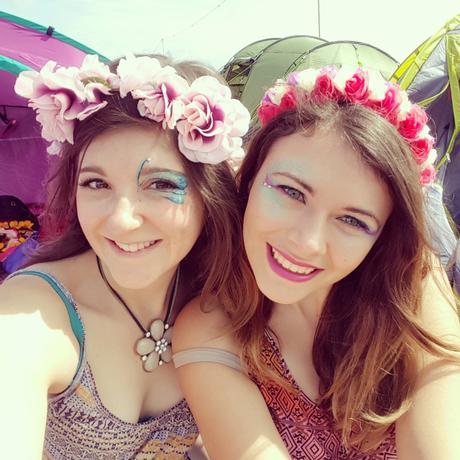 Saturday's Festival make-up – loved my butterfly!
The queue was just as ridiculous to get into the Arena, but once we were in we had an amazing day.
James Morrison was amazing. He has such a sexy voice and is incredible live. He sang all his biggest hits – I loved it.
We listened to Stormzy whilst having a food break – noodles with stir fried veg, which was super tasty – and he was pretty good too. I love Shut up!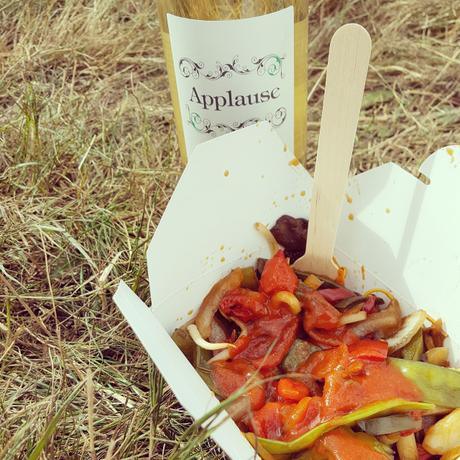 We then watched Jess Glynne, who was absolutely outstanding. One of my fave acts of the weekend by far. She gave a great show, and looked fab.
Bastille was fab live too – even though I'm not a huge Bastille fan and didn't know all of the songs, I still thoroughly enjoyed the set.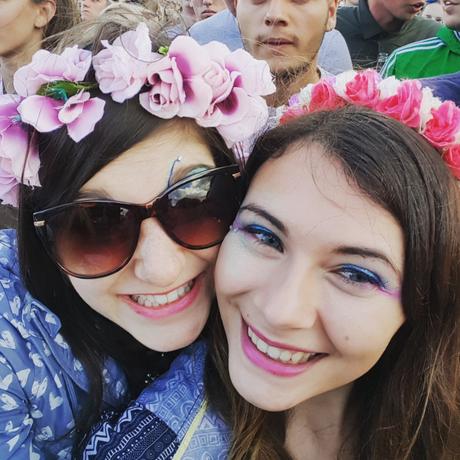 A quick selfie in between showers…
SIA was amazing! I love the fact that she doesn't show her face so that she can actually live a normal life too. Maddy, her dancer was incredible – Lucy's been a huge fan for ages and couldn't believe it when she came out on stage – and the whole set was just mind-blowing. Her voice…just WOW! It was a great set for singing along to too, and Lucy and I were pretty close to the stage so had a good view.
Finally, Saturday was headlined by Justin Beiber. Lucy and I had managed to edge our way forward a bit, and although a tad squashy, we were in a pretty good spot. Yes, if you have read any reviews from the weekend you'll have seen that Justin Beiber did lip sang, which was a tad annoying, but we thought he still gave a great show – minus the little speech in the middle. Perhaps it was just because we were watching Justin Beiber. I mean, he is a worldwide superstar now.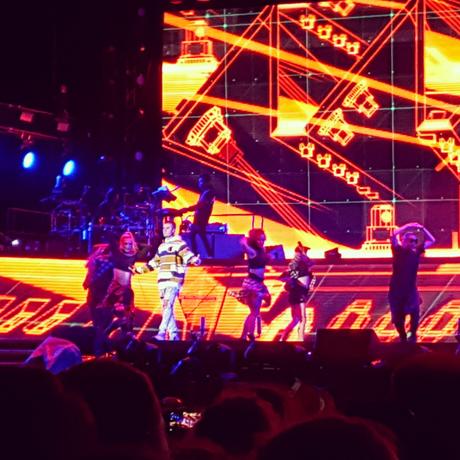 Some of our group headed off to the silent disco, but Lucy and I headed back to the tent to chill – the queue was so long and we weren't really feeling it. Ok, we might be a little old

We settled down with our Ritz crackers, strawberry pencils and soft drinks and relaxed on our air beds.
Sunday, everyone in the campsite got up a little later, meaning we managed to sleep until 9am! Score.
We did our same toilet stop and weetabix bottle collection trip, before getting ready and yet again planning our day. I was on make-up duty again – loved it – and we all pre-drank together again outside of our tents, inbetween showers. Once we were all ready we headed to the Arena for All Saints.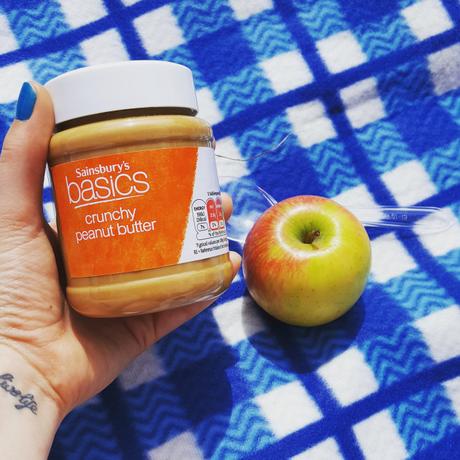 More festival essentials – couldn't leave the peanut butter behind

We only caught the last couple of songs of All Saint's set, but they were awesome! Would definitely go and see them again, even after all this time they haven't lost it.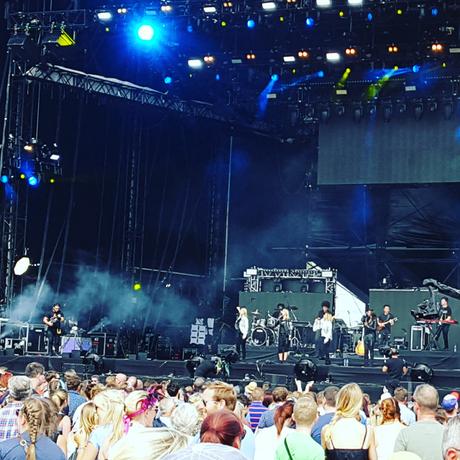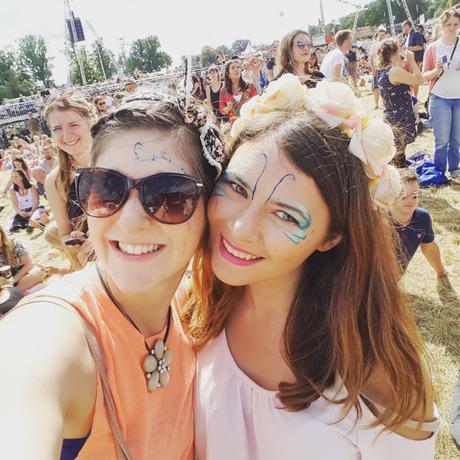 The only pic I got of Sunday's Festival make-up
Lucy and I then went off to see Sigala. I didn't realise how many Sigala songs I knew until they started playing and I couldn't help but sing along

They were so good and put on a fab performance too with backing singers and dancers.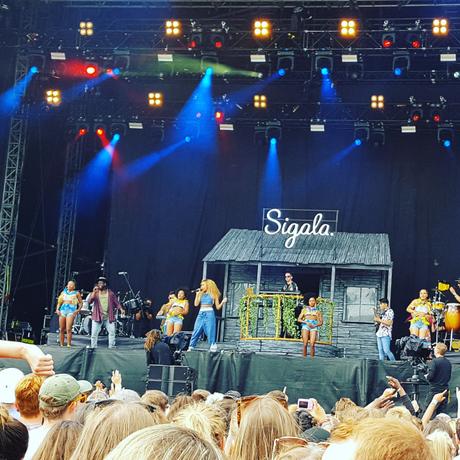 Big Sean was up next, and I think he might have been my absolute fave of the weekend, he totally made my Sunday! Big Sean was just amazing. We were quite close to the front and had a great view which might have helped, but his vocals were awesome and his whole set was just great. I loved every minute and wasn't fussed who else we saw that day, he just made it.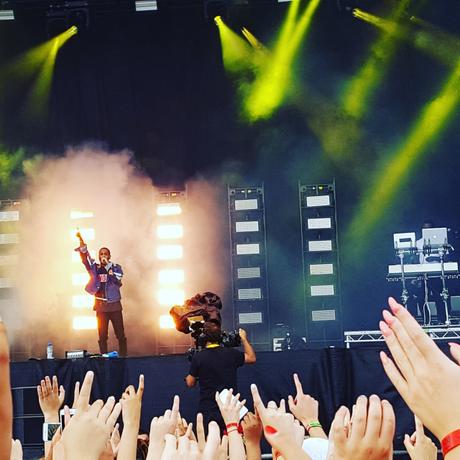 Lucy and I then headed to the bar and grabbed some food – this time a falafel and halloumi wrap with salad, which was incredibly tasty. The falafel so flavoursome, and a decent portion of halloumi too – before wandering over to watch Years & Years.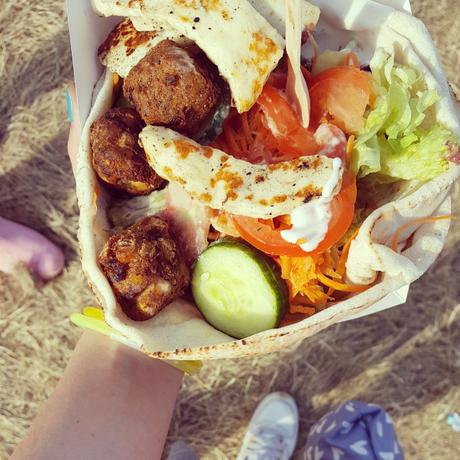 Again, I didn't know many Years & Years songs, but they were great. The main singer was fab, got the crowd going and regularly addressed us all.
Little Mix were next on the main stage. They were incredible, born performers, their whole set flowed with ease, they worked the crowd and the vocals were so in tune. They totally worked it.
After Little Mix, David Guetta was up. I'm not a big fan of David Guetta, always wondering why people would pay to see someone sit on stage and press buttons. His bass beat always seems to be the same to me too. But he was ok and because our little group was back together, we were all dancing along.
Headlining on Sunday was Rihanna. Global Superstar. She was late, obviously, and when she came on stage I started questioning her timing – she looked like she couldn't even lip sing in time to the sound track. She also looked a little out of it. But she did play most  of her big hits which we'd hoped for, so we made sure to stay for those before heading back ahead of the rush.
We stayed Sunday night and got up early Monday morning (6.30am) to pack up and head off for our coach back. It was a great time to head back, getting away before the traffic and being back in London for 10.30am – we then had the whole day to shower and relax.
Overall, I had an amazing time with Lucy at V Festival.She was a fab camping partner, helping me out with my packing list and camping worries. Most of the acts were incredible and I definitely won't be forgetting the experience!
I would highly recommend it, and as it's only a couple of days it's an easy festival for first time campers. The only downside is the queuing to get in.
What's your favourite festival?
Chloe xx