I've finally got round to finishing my posts on Vietnam! What a crazy couple of months it's been since being back - 2020 really has been something, hasn't it?! Whilst I know travel is a bit unpredictable right now, I've been told many of you are still looking for inspiration for when we can fly away again. So I wanted to help with the bucket list ideas, and any planning you might be doing to prepare for that moment we're told it's safe to take a new adventure! First up in my Vietnam series.. Hoi An. It really did steal our hearts!
Hoi An was the second stop on our travels through Vietnam in March. With only two nights here, we had to cram in as much as possible.
Ideally, we would have had longer, but we'd planned to see as many locations as we could within our two-week trip. If we had more time, we'd definitely have spent it here.
Hoi An is one truly beautiful place. It's well known for its ancient city. But it's not just this which made us fall in love with this place. There's a mix of architecture styles from different eras throughout the city, including historical monuments. Whilst, through the middle, runs the Thu Bon River, which is stunning day and night. Hoi An also has a much slower pace to any of the other places we visited whilst in Vietnam, which was lovely - something I certainly missed as we ventured up the country. There were slightly fewer mopeds, meaning the roads weren't quite as crazy, and everyone seemed to have more of a laid back aura about them. Oh, what I would do to go back here.
Even though we didn't have much time here, we still squeezed in so much. Here is our rundown on the things you should definitely have on your list for Hoi An.
My Son sanctuary tour
Pronounced 'Mee-Sun', these temples were once the religious and political capital of the Champa Kingdom. Built between the 4th and 13th century, the My Son temples had spiritual origins with Indian Hinduism. During the Vietnam War, the My Son temples were hit and now the site is mostly remains. You can still see some of the bomb craters around the site too. However, they are re-building some of the temples on sites towards the rear. In 1999 My Son became a UNESCO Heritage site.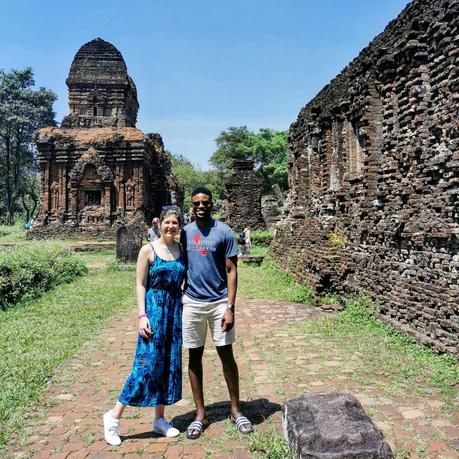 My Son is located in the mountainous border of the Duy Xuyen District of Quang Nam Province, which can be easily reached from Hoi An. There are a number of tour companies offering trips to My Son. We booked one of the cheapest options through Get Your Guide and couldn't recommend enough. The My Son Tour by Bus and Boat picked us up from our hotel just before 8am. We jumped on the coach with a reasonably large group of others, and after a few more pick-ups, were soon on our way. My Son Sanctuary is only about an hour from Hoi An centre.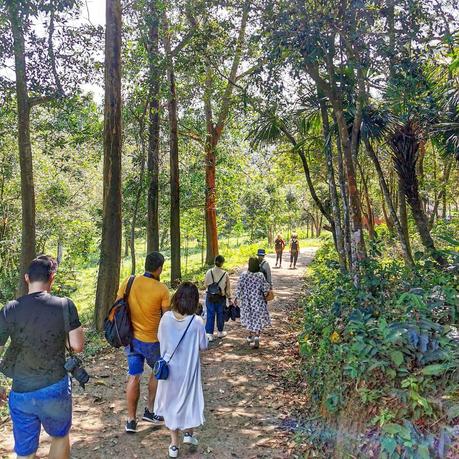 The tour guide gave us time for a quick break when we first got there, then we were on our way. There's a bit of walking involved so do be prepared for that. But there is an electric shuttle up part of the route too. Although it was very hot, it was a nice walk up, and well worth it...
I was awe-struck.
I stared a while and took it all in. The tour guide then told us all about the history of the Champa people, the site, and the meaning behind parts of the structure. We learnt about Linga (the male) and Yoni (the female), whom in Indian Hinduism was bigger, more important and kept the money. In fact, men followed women in this way of life. We learnt that the sanctuary was built in the shadow of the mountain, which represented the female too. It was fascinating!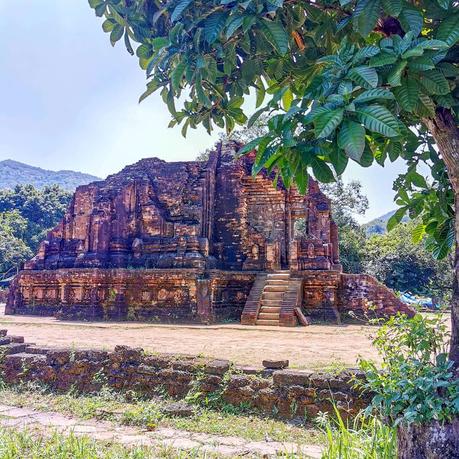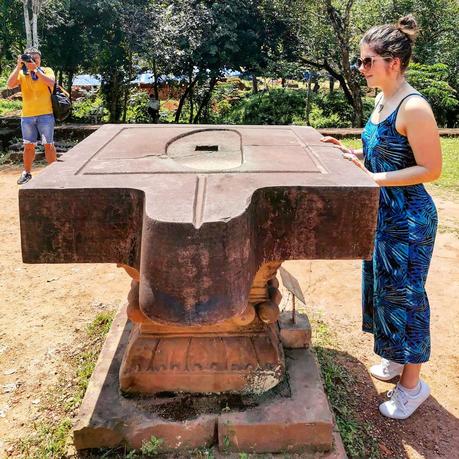 There's one main site and then several coming off this central area. In each site we stopped to hear multiple stories before having time to wander and snap a few pics! We thought it was a great balance of knowledge and our own time to explore.
When we were done at the My Son Sanctuary, we jumped back on the coach and headed to the boat which was about halfway back to Hoi An. I was a little nervous the boat would be little and too unsteady for me, but it wasn't. We took our seat and were served a delicious vegetarian lunch. We admired the views whilst whizzing back towards Hoi An and the Japanese Covered Bridge where the tour ended.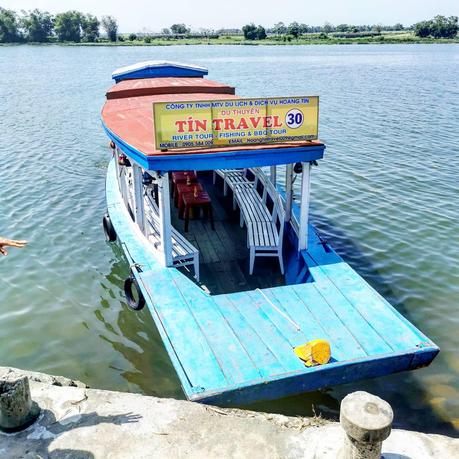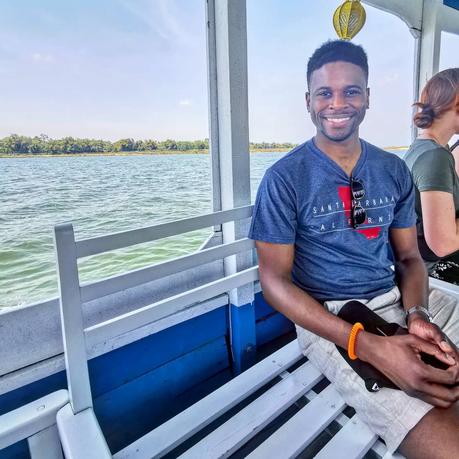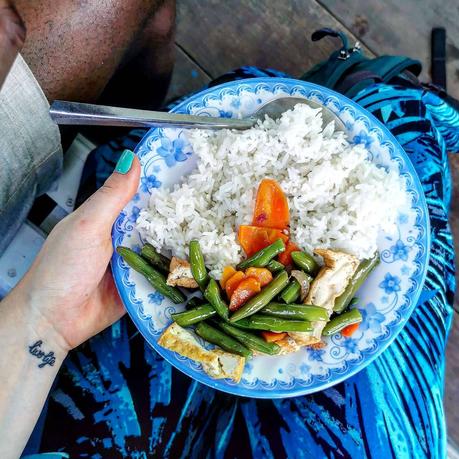 It was a fantastic tour, and we'd definitely recommend you do this if there's just one tour you do whilst in Hoi An! It's just under £10pp including lunch, but excluding the entrance fee (150,000 VND or £5.14).
Walk around the old town - along the river
The Old Town is absolutely stunning. It's actually a UNESCO world Heritage site itself too. There are so many things to see which can be discovered by just strolling through.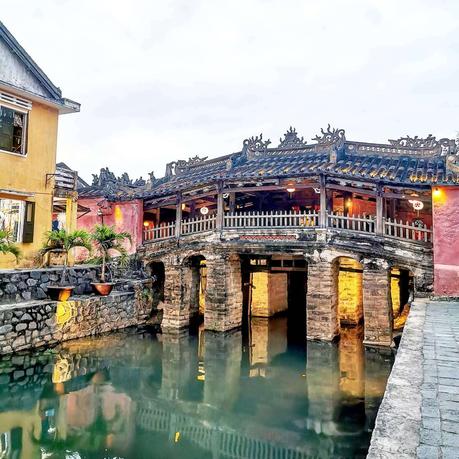 The Japanese Covered Bridge is one that must be seen - don't pay to walk through though as some nights it's free, so just go back the next night and try again.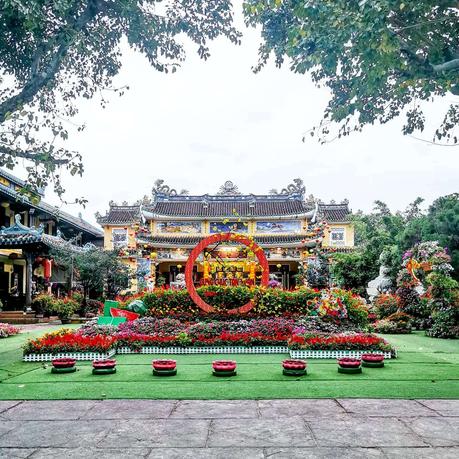 The Chua Phap Bao Pagoda is truly a sight to be seen! It's one incredible pagoda with so much going on in the gardens. Tip: do make sure your shoulders and knees are covered up so you can go for stroll through the garden.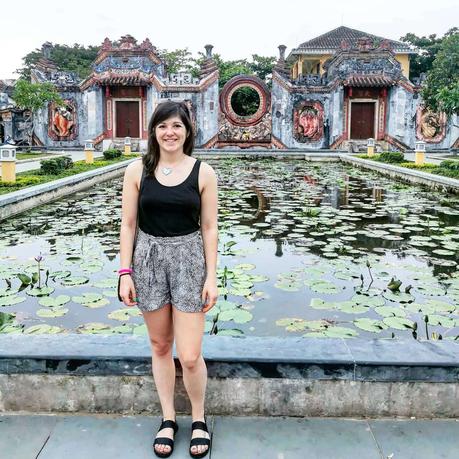 Tam Quan Ba Mu Temple - Built in 1626, it's been through many restorations, but this three gate temple is beautiful. People of Hoi An visit the temple to ask for a peaceful life, happiness and health for their children.
Thu Bon River - This river runs through Hoi An, and as mentioned is beautiful during the day. However, in the evening it's magical. The bridges are lit up, lanterns float down the river, as do boats, and only pedestrians are allowed in the area. Do be warned, you will get pestered by sellers, especially by the boats, but they're not too bad. We loved being along here.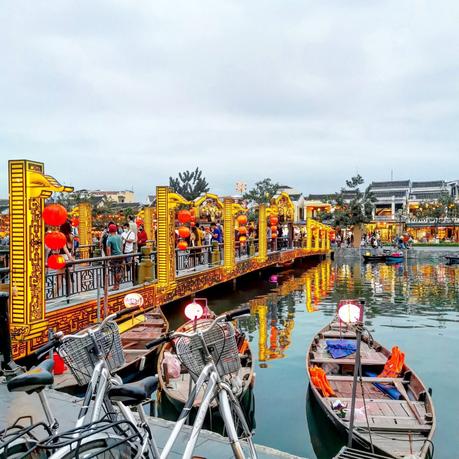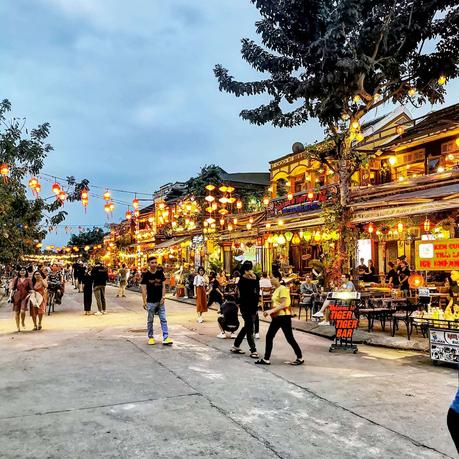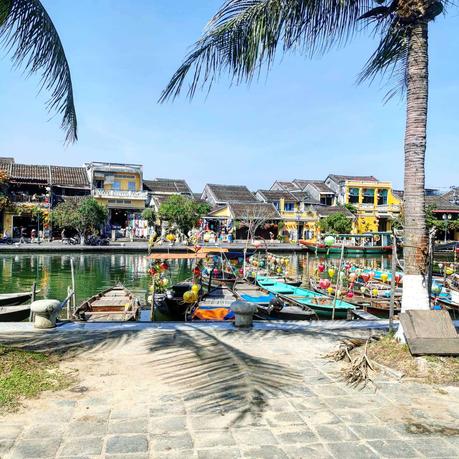 Have a drink by the river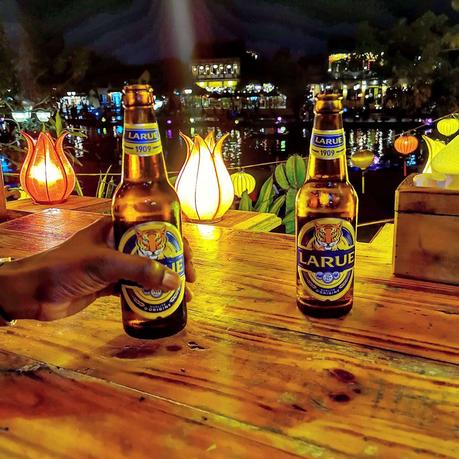 To really take it all in, we highly recommend having a drink along the river. There are a number of bars and restaurants along the front with roof terraces which make for a great viewpoint. We loved sitting down with a beer, people watching and admiring the views. What's even better, beer in Vietnam is ridiculously cheap (roughly between £1.20 and £1.70) - so it doesn't even cost that much to stop for one or two.
The Hoi An Roastery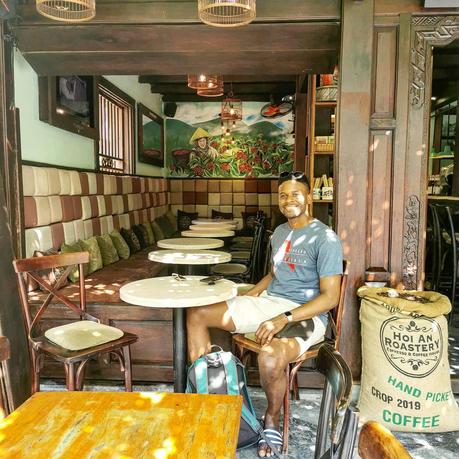 Vietnam is the second-largest producer of coffee in the world, known for its production of Robusta. So if you're a coffee fan like myself, this is a MUST. The Hoi An Roastery uses beans from farmers in the highlands near Da Lat and Quang Tri (they really care for their farmers!), but roast locally in Hoi An. We went to Roastery number 2 on Hai Bà Trưng - they started small but have really grown in scale with a number of locations in Hoi An.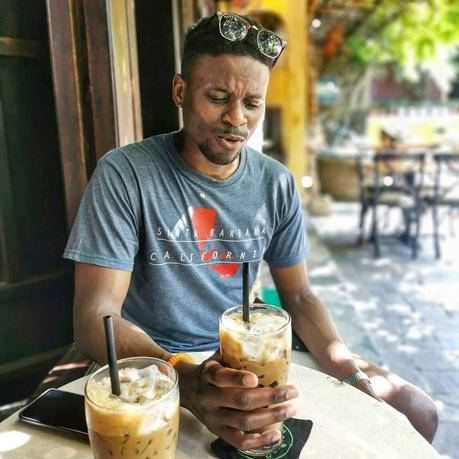 It was such a cute spot and the team were really friendly too! The menu is pretty extensive for a coffee menu, with classics we know in Europe and traditional Vietnamese coffees. We both opted for a large classic Vietnamese coffee (which is served with condensed milk). The coffees were HUGE! Chris' face upon first sip said it all.
These were amazing. Perhaps we shouldn't have gone for a large, as we struggled to sleep that night. But they're so good, you HAVE to stop for one!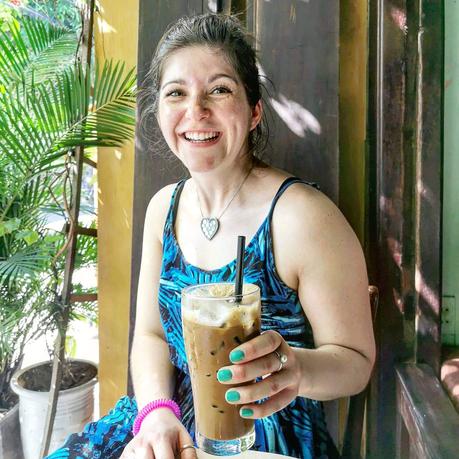 As for price, these were 89,000 VND, which is roughly £3 each. More expensive than most coffees in Vietnam, but worth the price - SO much better than a coffee that price here in the UK!
Nu Eatery
We were recommended this restaurant by one of Chris' best friends and Nicola (East London Girl). Whilst waiting in the queue, we spotted that it had actually been recommended by Lonely Planet too! Plus we had someone else behind us in the queue say how much it was worth the wait. So this had to go on the list and should definitely go on yours. The wait really wasn't that long either!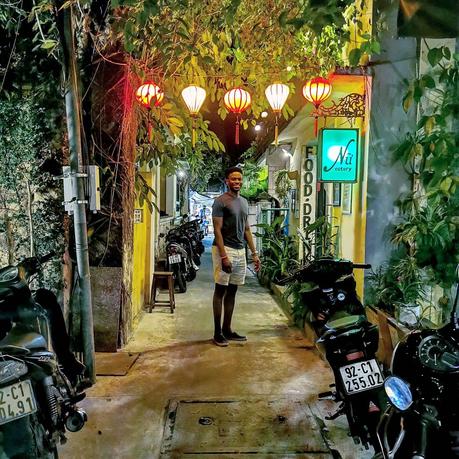 Nu Eatery is a little hidden gem - it's down a back street and hard to just stumble across, so have Google Maps out! It's cute and rustic inside - almost had the feel of someone's home. Service was friendly and very quick!
The menu is pretty concise with just a few snacks, five salads, three soups, four mains and four dessert options.
The cauliflower soup was really thick and creamy. It was lightly spiced and absolutely delicious.
The Banh Mi with pulled pork and caramelized onions was served in a brioche, with a side of salad and vegetables. It wasn't the biggest portion but was very tasty. The pork was fantastic.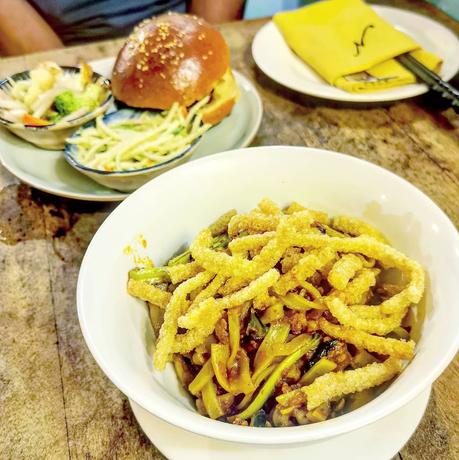 The Noodle main with rice fetuccine noodles, spicy pork, ragu and la lot was fabulous. The crunchy pieces atop really made this dish different to other noddle dishes we'd already had during our trip. It was rich, but not too much so, and was absolutely delicious.
We finished with two coffee ice creams which were creamy, and just potent enough in flavour. T hese might also be the reason we didn't sleep much that night... whooops! Too good to resist.
Our whole meal came to about 375,000VND with two drinks, which is roughly £12.85!
Massage
Definitely get a massage whilst you're in Hoi An. This is the one place we found them for ridiculously good value, and they're SO good!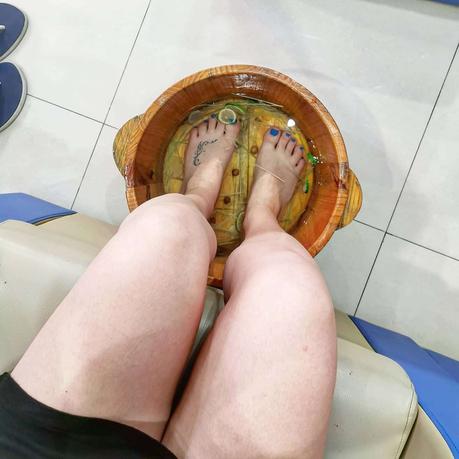 We went for a full-body aromatherapy massage at Aroma Homestay & Spa. It was right across the road from where we stayed. The team seemed friendly too and didn't jump all over you when we went to look at the prices. The full body aromatherapy massage started with a foot bath and green tea, before being led into a massage room for a full-body experience. The pressure was hard (although you could have easily asked for them to lighten up a little), and wow they got some knots out. I felt a little tender after but so supple. Definitely a new woman, and very much needed after a long haul flight.
There's a happy hour before 8 pm so it worked out at about £6.50 each for an hours massage! It was incredible value so we made sure we left a tip.
Where we stayed - Phong Phu Villa
We stayed in Phong Phu Villa for two nights whilst in Hoi An and to be completely honest it wasn't enough. We absolutely loved Hoi An and Phong Phu Villa. The team on reception were welcoming, friendly and super helpful - even when we were stuck as the bus didn't pick us up for Hue! It made the whole stay comfortable (although most of our hotels were also like this! Vietnamese people are so lovely).
The rooms were pretty big, the beds really comfortable, the bathroom was fab and we had a little balcony too! The mini-fridge was well stocked and wasn't too expensive either - we helped ourselves to a couple of beers one evening, drank the fizzy soft drinks and also used the fridge to store our water bottles (which we filled with boiled water using the kettle in the room). It really had all the necessities, and with the air-con too it was the perfect retreat after a long day in the sun.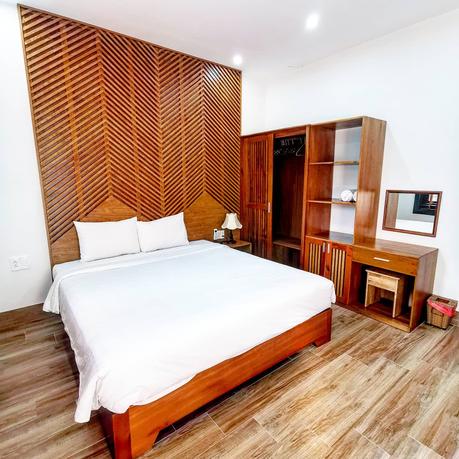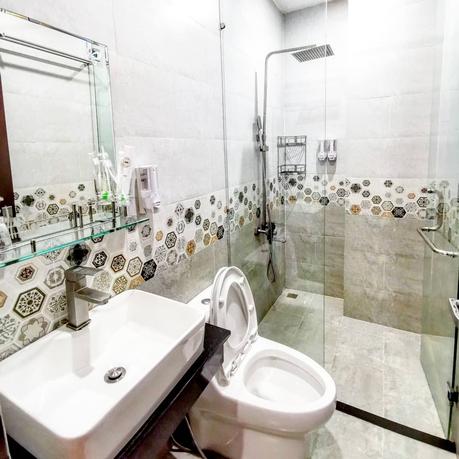 When booking our room, breakfast was included in the rate we chose, and each morning we ventured down to sit in the lobby at one of the tables. The menu was concise but there was plenty to choose from. Each dish was freshly made upon ordering, and we got a drink included too. We had both the Banh Mi with omelette and the Cao Lau (a traditional dish with noodles), and they were both fantastic! So tasty and good portions to start the day fuelled up ready to explore.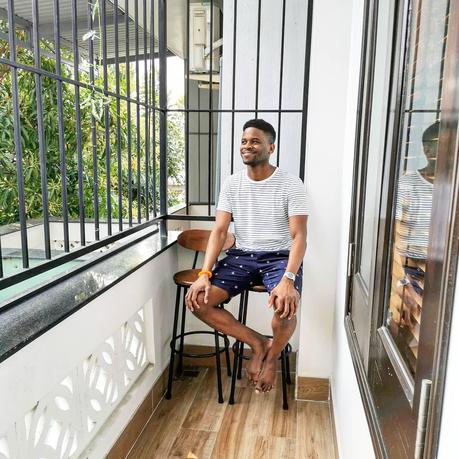 The two nights (with breakfast) cost only 1,200,000VND or roughly £41.
We'd love to go back to Hoi An and would definitely stay at Phong Phu Villa again if we ever got the chance. This city is a must for any Vietnam travel list!
Hope this helped with a little inspiration.. if you have any questions about our travels, feel free to comment below.
Is Vietnam on your travel list?
Thanks,
Chloe xx