Hue was a whirlwind stop on our two weeks in Vietnam (My post on Hoi An is already up too. If you haven't read that, you can find it here). One night and one full day, plus one evening with just enough time for dinner. Literally a whirlwind. But we fitted in so much. Whilst we loved the BnB we stayed in, we actually think you don't need that much time in Hue to experience the main highlights. Some of the locals might disagree - and one of the owners of where we stayed had so many recommendations, saying we definitely should have stayed longer. But we didn't fall in love with the city, so having had these experiences, we didn't mind leaving too much.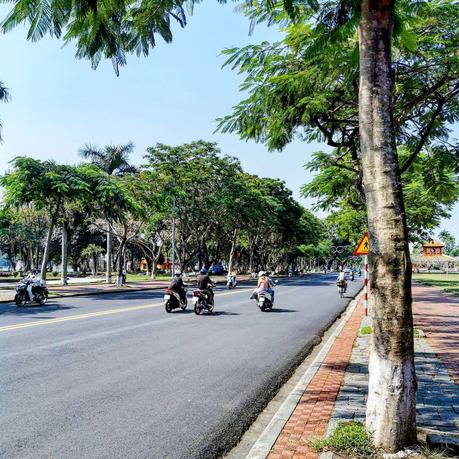 Whether you're squeezing your itinerary into one day or have a little longer, here are our highlights from our time in Hue...
Imperial City - Royal Tombs
Construction on this walled citadel began in the very early 1800s. It was to be the residence of the emperor of the time, with a number of gated courtyards, gardens and palaces throughout the city. The imperial city held the seat of power in Hue until the 1880s when they were ousted.
Over the years, the Imperial City has been hit by French-led sieges and the Battle of Hue. Only 10 major sites in the Imperial City remain out of 160 buildings due to the battle. The city was made a UNESCO World Heritage Site in 1993, and the buildings which remain are being restored.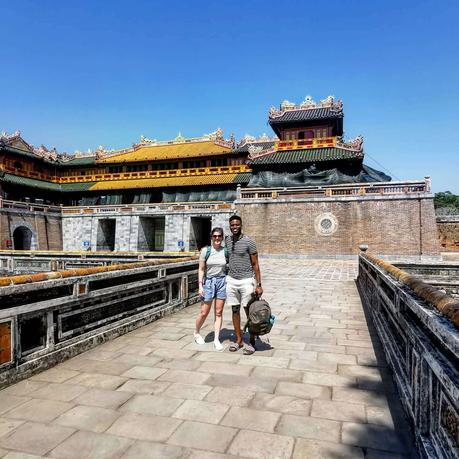 From the moment you step inside, it's breath-taking.
I don't even think I have the words to describe quite the feeling or sensation as we strolled the grounds. Just getting to walk around and see the buildings and architecture, the detail and read and learn about the meanings behind everything, and the history of the Imperial City was incredible. I still can't believe we got to do this.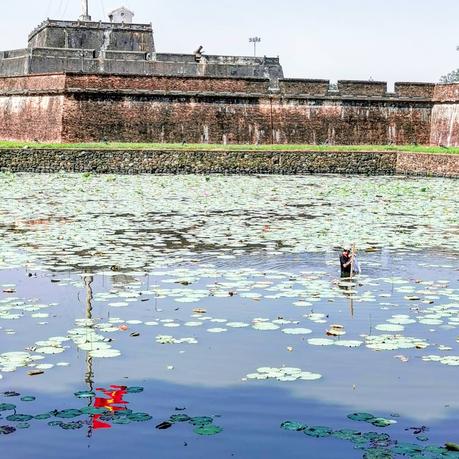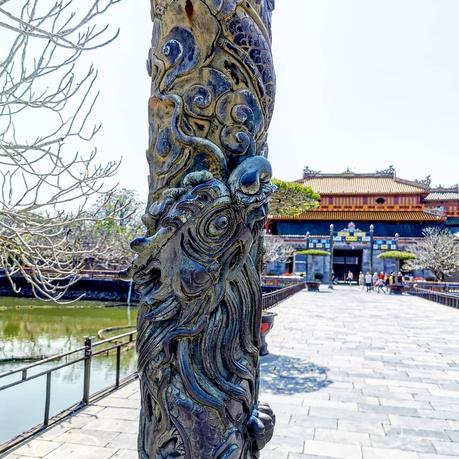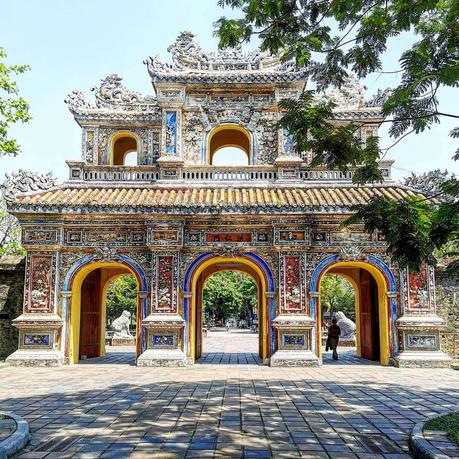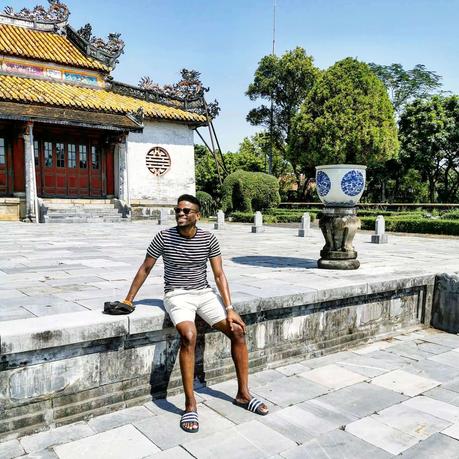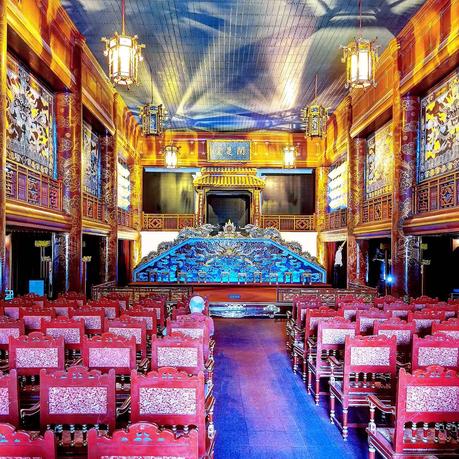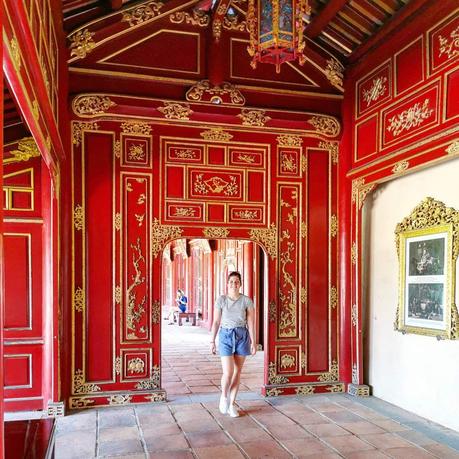 There were tombs, gates, and the most beautiful and well-kept gardens. We watched a video in one of the buildings about the history, and the Nguyen people - it was so captivating. We also saw people in the theatre sanding down and restoring one of the columns too - which shows it's still ongoing.
It was so hot in Hue the day we explored, and the Imperial City is quite open so do take water with you and keep hydrated. There is a shop on-site though and toilets if you need either! There are also a few galleries which were fascinating to wander through.
We spent about an hour and a half exploring the royal palaces before heading back. But we could have easily spent longer here.
It's 200,000VND per person to enter, which is about £6.70 and highly worth it! Tip: you need cash to pay for tickets, so go to a cash point beforehand as there aren't any in the immediate proximity. There is one not too far though, which you'll be able to see on the main road.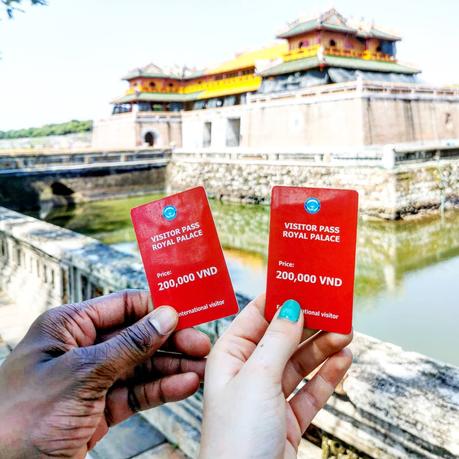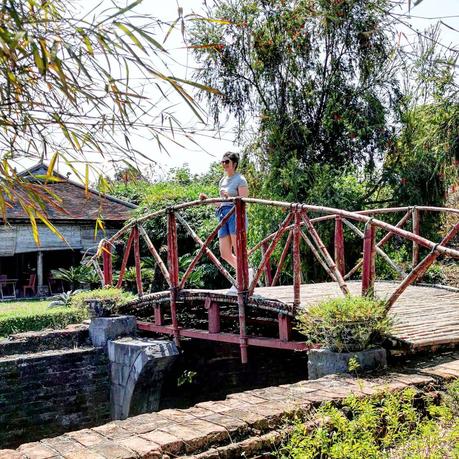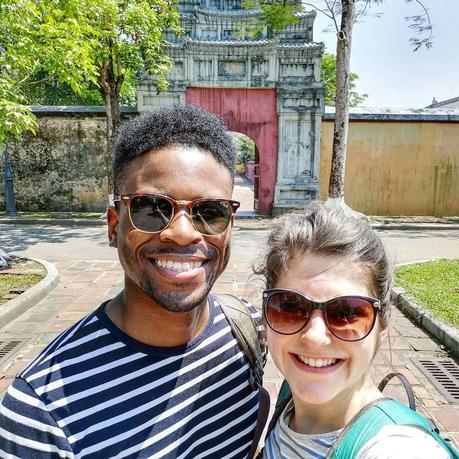 Khai Dinh Royal tomb
These next three places were all explored through a tour with I Love Asia. Unfortunately, due to the Coronavirus situation when we were in Hue, we couldn't get the scooter tour we'd planned. However, we managed to get a driver who took us to the spots to explore ourselves.
The Khai Dinh Royal Tomb was built between 1920 and 1931 for the twelfth Emperor of the Nguyễn dynasty. It's a mixture of eastern and western architecture and is absolutely stunning.
There are a lot of steps up to the royal tomb, so be prepared for a workout, especially if it's hot. But when you get to the top it's worth it. You're first welcomed by the architecture, and then as you cross the first section, there are some incredible statues on each side. Finally, as you make your way up more steps, you get to the tomb. Inside it's filled with the most incredible detail, golds and metals. It's magnificent and very surreal to be stood inside.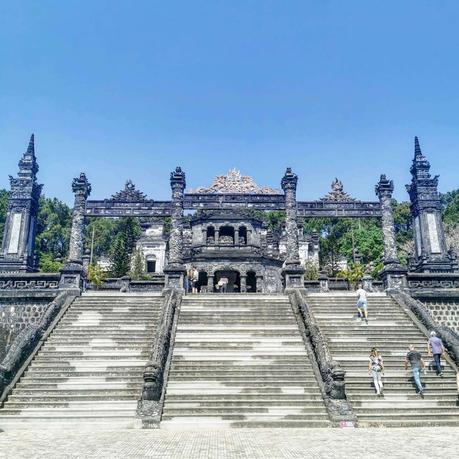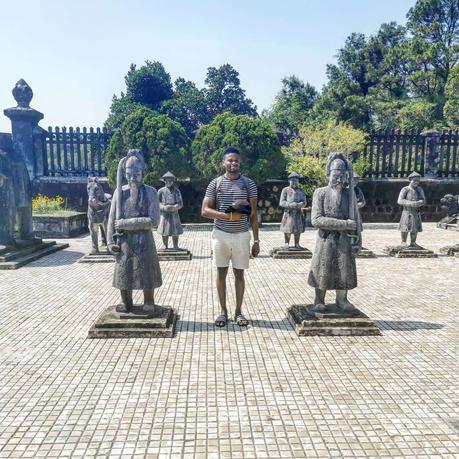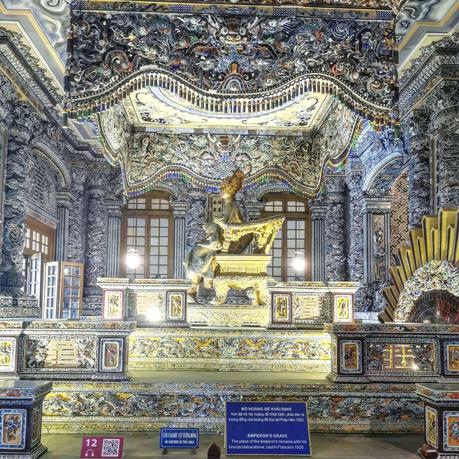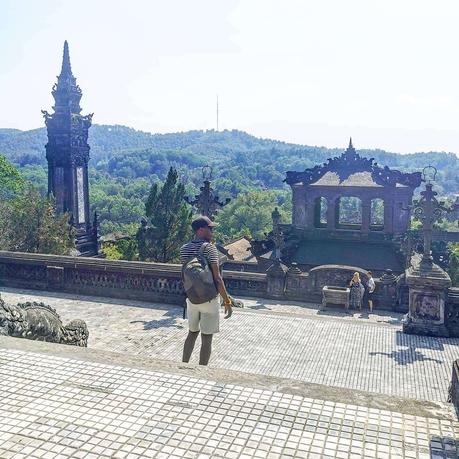 At 150,000VND each to enter, which is roughly £5, it's not too bad and definitely one to experience if you can get there.
Thien Mu Pagoda
The Thien Mu Pagoda is a 21m high, seven-storey, pagoda which is iconic in Hue. Each of its storeys is dedicated to a manushi-buddha (a Buddha that appeared in human form).
The pagoda was built in 1601 by one of the first Nguyen lords. It's said that the lord ordered construction after he was told of the local legend - the old lady (Thiên Mụ or the 'Celestial Lady') who had sat at the site, claiming that a lord would come and build a pagoda on the hill to pray for the country's prosperity. She then vanished after making the prophecy. This is why what gives it it's name - Thien Mu Pagoda.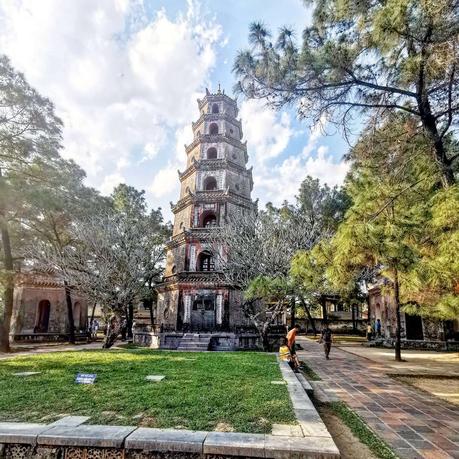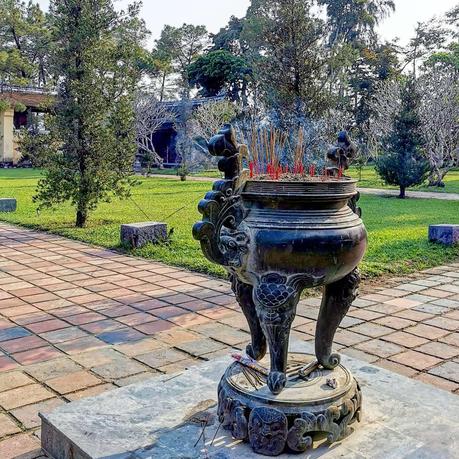 Since then, the buildings have been rebuilt several times.
The modest building in the middle is the actual temple, which is still used by Buddhists today with incense burning out the front. After wandering the gardens and admiring the fountain at the back, and the architecture and statues we managed to catch a ceremony. Wow. It was one out-of-this-world experience. I watched whilst the gongs went, and the chanting started. It was something I can't even put into words. I still to this day can't believe we got to experience this, at one of the most iconic buildings in Vietnam.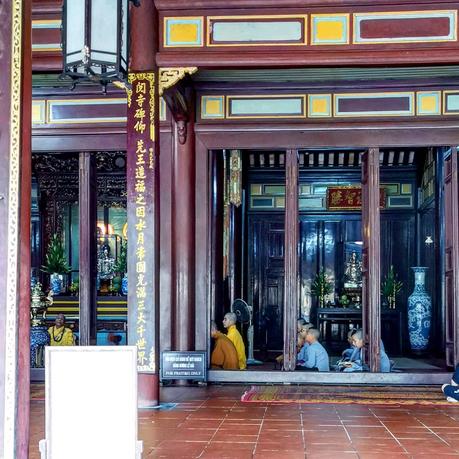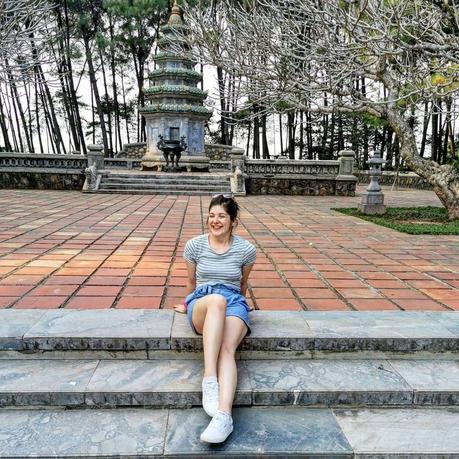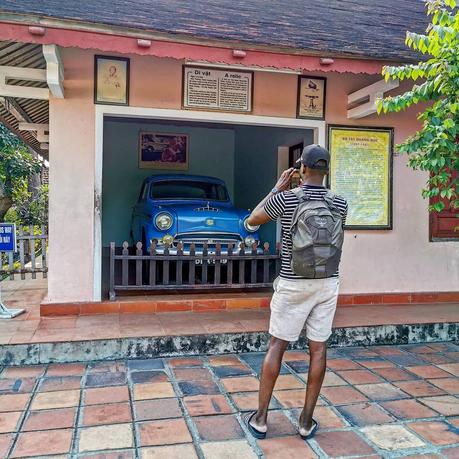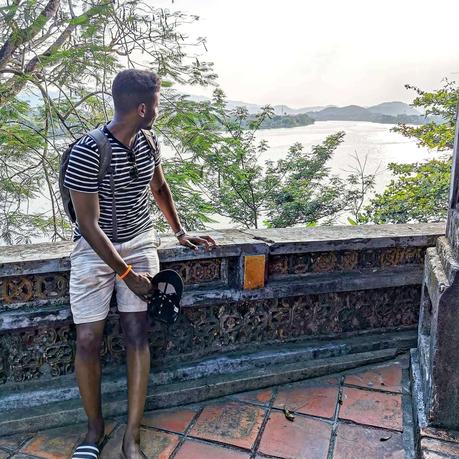 This HAS to be on your list for Hue!
Vong Canh hill
Vong Canh Hill is a hilltop spot along the perfume river. Up on the hill you'll find remains of old bunkers from the Vietnam War, which are pretty cool (but obviously represent something not cool). But you'll also find the most incredible views along Perfume River with mountains in the background.
We wandered around looking at the bunkers before finding a spot for the most romantic picnic ever. This was one truly incredible spot and I highly recommend you come here for the views. If you can bring a picnic, even better!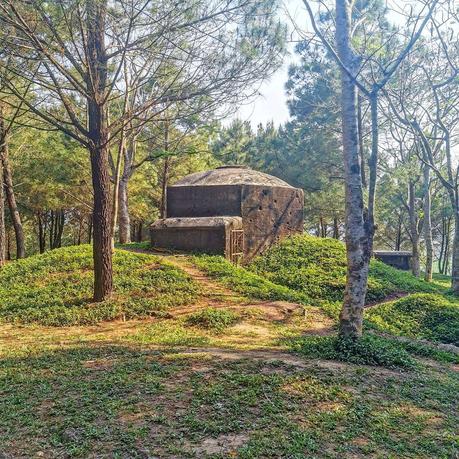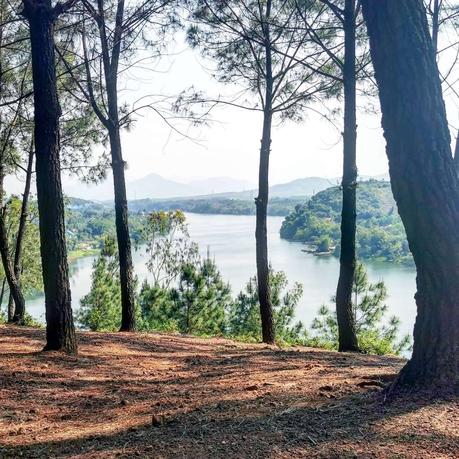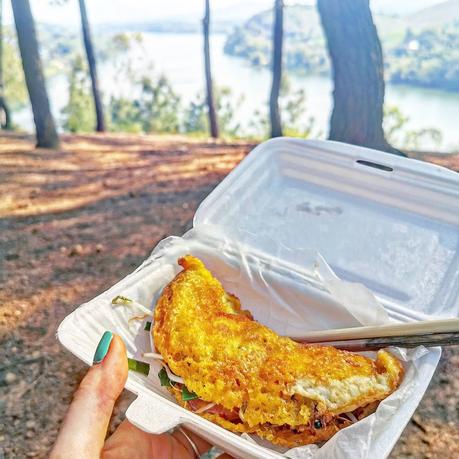 Purple Hue Bnb
This was the second of the cutest places we stayed - the other being in Ho Chi Minh City. Purple Hue Bnb is a little more difficult to find, off the beaten track down a side street and not well signposted, so do download a Google map of the area to help you find it.
This charming BnB is run by three sisters, all of which are warming and welcoming, asking that you just make yourself at home. When we finally arrived after our trip up to Hue didn't quite go as planned, Uyen checked us in and gave us plenty of recommendations. She also gave us her number and let us know to reach out if we needed anything at all! It made us immediately feel like part of the family. One of the other guests was lounging around in the kitchen when we first arrived, and he was also very friendly - it really did feel like being welcomed into a big family home.
Our room was pretty spacious, with a gorgeous big bed, hanging rail, low table and cushions.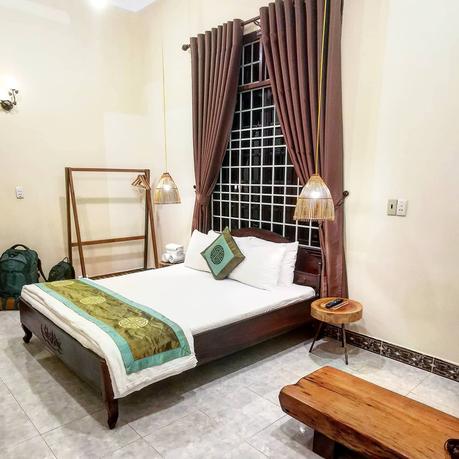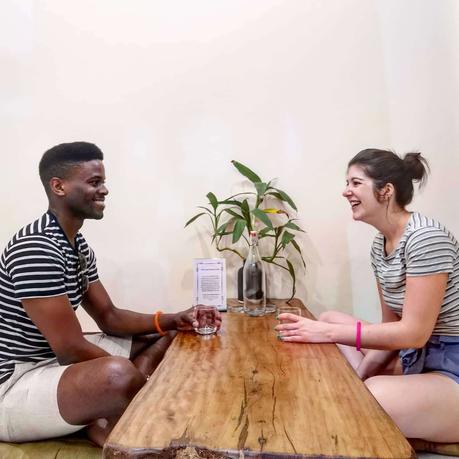 We had a private bathroom connected to our room, which was small and basic but did the job. It was very comfortable and well air-conditioned! The sisters had also left us a little gift in our room - two coffee filters - which was so sweet!
Breakfast was included in the room rate at Purple Hue BnB. The morning we rose here, we were offered waffles with fruit and condiments as well as coffee or juice. Whilst I know it was an American breakfast, it was still fantastic. The coffee was strong and superb too - really set us up for the day.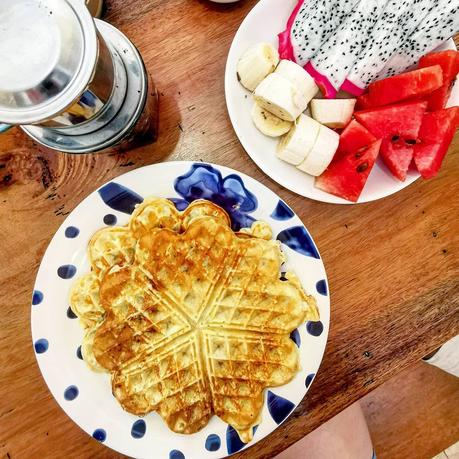 One night stay at Purple Hue Bnb was 390,000VND which is roughly £13.50. We would definitely have stayed another night had we not had a sleeper train to catch. In fact, we'd have much preferred another night here, rather than on that train. If Hue is on your travel list, we highly recommend this cute spot!
Nina's Cafe
Uyen from Purple Hue Bnb recommended Nina's Cafe for dinner. She described it as a spot which was great for tourists but still offered the authentic Vietnamese experience. Another spot slightly off the beaten track and down a side street. Google Maps is a god send here!
Nina's Cafe was pretty small inside but was super cool with photos, prints and fabrics donning the walls. We almost purchased a tin tin print from Nina's Cafe - and kind of wish we had! There was a huge menu and some set menu options too. As we hadn't eat much during the day (due to the kafuffle around getting to Hue, and things not going to plan), we decided to go all out.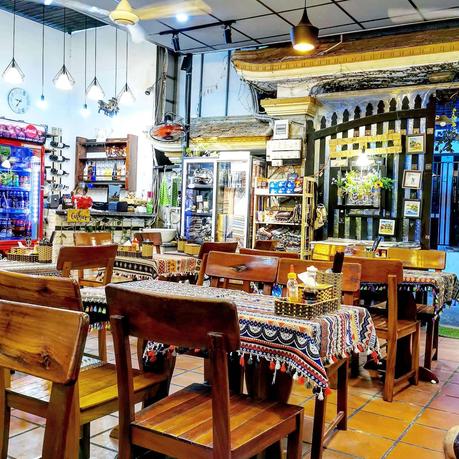 The Khoai Pancake was one of our favourite dishes of the whole trip!
These thick egg pancakes are stuffed with pork and prawns and served with green leaves, cucumber and beansprouts on the side. The way to eat this being to wrap part of the pancake, along with the sides, in pieces of rice paper and dipping in the peanut sauce before eating. They were absolutely dreamy. So much flavour anyway, but adding the peanut made them even better. That peanut sauce is something else.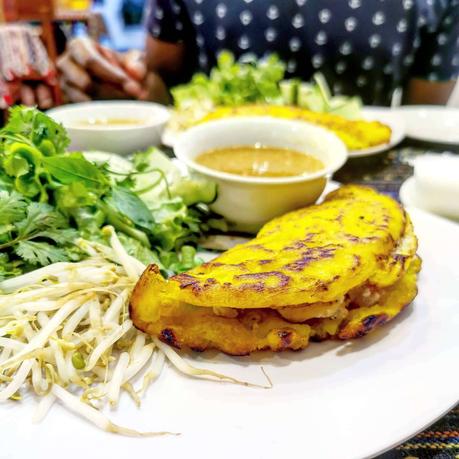 I also had the Bon Bo Hue, a beef noodle soup with crab meat too. The crab meat was not how I expected it to arrive, coming as meatballs rather than flaked. There was plenty of meat and the flavour was fabulous. I only added a touch of soy.
Chris had the Pork Noodles with Peanut Sauce (yep, more!), and a prawn rice cake side/starter which also came with his set menu. He thoroughly enjoyed both of those too, and I bet you can imagine how full he was after that. We each also had a beer - when it's so cheap over there, we couldn't not. For the whole feast, it only came to about £13! Incredible value, outstanding food, it's definitely one for anyone's list for Hue!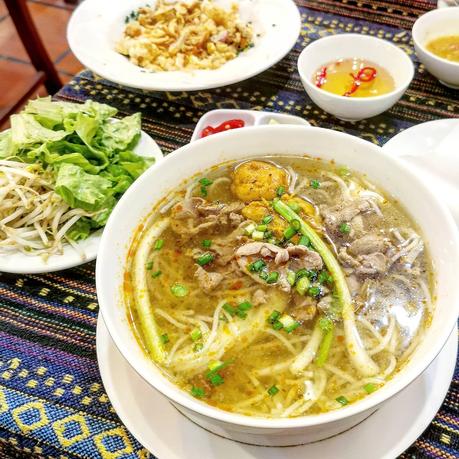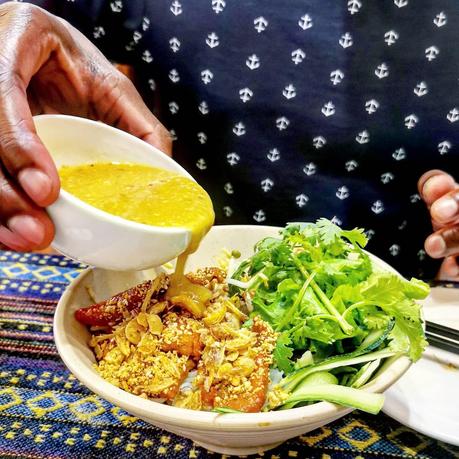 And that was our whistle-stop tour of Hue. Whilst we didn't fall in love with the city itself, it's definitely one to stop in for the experiences. I still have to pinch myself when I remember some of these. It really is utterly breath-taking, out-of-this-world. I'm so glad I could share this with Chris too!
Is Hue on your travel list? Where else are you hoping to visit?
Chloe xx
* We received a discount on the I Love Asia Tour. All views our own.