Makar Sankranti, the Festival of Kites, is popularly known as Uttarayan. Uttarayan is a combination of two Sanskrit words, 'uttar' meaning north and 'ayan' meaning movement towards. Uttarayan occurs on Posh Vad Pancham and celebrates the sun's northward movement.
Uttarayan Special Recipes
1. Undhiyu Recipe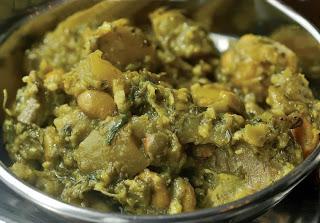 Undhiyu
is a Gujarati mixed vegetable dish that is a regional specialty of Gujarat, India.
Servings: 6 - Persons
Preparation Time: 45 Minutes
Cooking Time: 25 Minutes 
Ingredients
2 tsp Tamarind Paste

30 gram Sugar

100 gram Yam

6 small Potatoes

100 gram Sweet Potatoes

½ cup Broad Beans ( Surti Papdi )

½ cup Pigeon Peas ( Tuver Dana )

4 baby Brinjal

5 tbsp Oil

6-7 Green Chilies

1 tsp Turmeric Powder

Pinch of Asafoetida

1 tsp Cumin Seeds

1 tsp Mustard Seeds

1/2 cup Fresh Coriander Leaves

3 Inch Ginger

½ tbsp Garlic Crushed

Salt to taste
For Muthiya:
1 cup Wheat Flour

1/2 cup Fenugreek Leaves

1/4 cup Gram Flour

2 Green Chilies

Salt to taste

1/2 tsp Cumin Seeds

Oil to fry

1/2 tsp Fruit Salt

Water as required
How to make Undhiyu

Step 1: For muthiya, firstly mix all the ingredients except oil and make dough. Make small pieces from dough and roll them. Now fry rolls in hot oil. Keep aside to cool it
Step 2: Peel the potatoes, yam and sweet potatoes. Cut the yam and sweet potatoes in cubes. Slit the potato, brinjal without cutting its stem 
Continue Reading... Undhiyu Recipe
2. Jalebi Recipe
Jalebi
is one of the most popular Indian desserts. They are just like funnel cakes but soaked in a sugary syrup.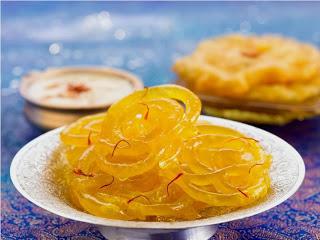 Servings: 10 - 12 Persons
Preparation Time: 10 Minutes
Cooking Time: 40 Minutes  
Ingredients
1 cup All Purpose Flour

1 tsp Gram Flour

3/4 cup Yogurt

1/4 tsp Baking Powder

1/8 tsp Yellow Food Color

Ghee for fry

1 cup Sugar

1 cup Water

Few Strands Saffron
How to make Jalebi
 
Step 1: Mix all purpose flour, gram flour, yogurt, yellow food color and baking powder to form a batter 

Step 2: Set aside for 2-3 hours to ferment then pour the batter onto a cloth or ketch up dispensing bottle
Continue Reading... Jalebi Recipe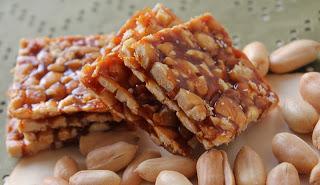 3. Peanut Chikki
Servings: 8 Persons
Preparation Time: 15 Minutes
Cooking Time: 25 Minutes
 
Ingredients
500 gram Peanut

400 gram Jaggery / Sugar

50 g Butter / Ghee
How to make Peanut Chikki
 
Step 1: Heat a pan, roast the peanut then remove the skin and crush it 

Step 2: Heat another pan and melt jagery/sugar and butter in it until it becomes brown in color
Continue Reading... Peanut Chikki Recipe