Corn Jalapeno Fritters could be great snacks, light dinner or appetizer. This crispy and tasty fritters are simple and tastes more good when eaten with sauce or creamy chutney. These fritters are really perfect giving the diferent flavours of array of ingredients. Thrive your loved ones with corn fritters in this rainy season with an additional creamy chutney whose recipe given as follows.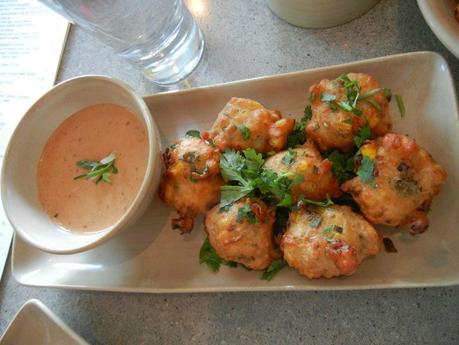 Serving: 12 Preparation Time: 10 mins Cooking Time: 20 mins
Ingredients
Fritters:

1 cup Flour
1 tsp Baking powder
1 tsp kosher Salt
1 tsp smoked Paprika
1 tsp Sugar
1tbsp ground Coriander
2 beaten Eggs
3/4 cup whole milk
2 tbsp Lime juice Zest
3 tbsp cut corn Kernels
1/2 cup diced red bell Pepper
4 chopped Scallions
1/4 cup chopped Cilantro
3/4 cup shredded cheddar Cheese
2 tbsp minced Jalapeno
Cilantro Cream
1 cup sour Cream
1/2 cup Cilantro
1/8 cup Lime juice
1/2 tsp kosher Salt
2 tsp Cumin
1 Garlic clove
How to make Corn-Jalapeno Fritters
Step 1:
 In a bowl, mix flour, baking powder, kosher salt, smoked paprika, sugar and coriander well.
Step 2:
 In an another bowl, whisk milk, eggs, zest and lime juice, then whisk the wet into dry mixture and make a smooth batter.
Step 3:
 Mix in corn, bell pepper, jalape単o, cilantro, scallions, cheddar well.
Step 4:
 Heat oil in a skillet, then add rounded spoonfuls of fritter batter and cook on each side until crispy and golden brown.
Step 5:
 Transfer the fritters to a sheet pan and cook them in a preheated oven.
Step 6:
 Process cilantro, cream, salt, cumin and garlic in a food processor until blend and become smooth.
Step 7:
 Serve corn jalapeno fritters with above chutney.
MORE RECIPES