With simple ingerdients, the salad comes out fabulous. Unexpectedly, amazingly tasty salad made of pear, argula and panecetta would be a great kick for your dinner or lunch, so get ready to buy the ingredients and start preparing the delicious salad that could be ready in a couple of minutes. The recipe of Pear, Argula and Pancetta Salad is given as follows.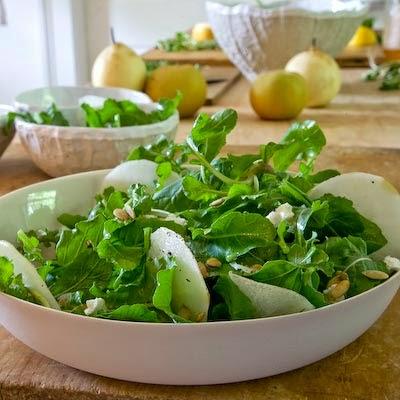 Serving: 6 Preparation Time: 10 mins Cooking Time: 20 mins
Ingredients
1/4 cup olive Oil
2 tbsp balsamic Vinegar
1/4 tsp Salt
2 ounces Pancetta
2 cored and thinly sliced ripe Pears
1 5 ounce package Arugula
6 thin slices red Onion
1 ounce crumbled Gorgonzola Cheese
1/4 cup toasted pine nuts
Freshly ground black Pepper
How to make Pear, Arugula, and Pancetta Salad
Step 1:
 In a jar, combine oil, balsamic vinegar, and salt well by shaking. Set aside.
Step 2:
 In a skillet, cook pancetta until crisp, then drain pancetta and reserve drippings.
Step 3:
 Add pears to the reserved drippings and cook until pears are tender and lightly browned.
Step 4:
 In a bowl, combine arugula and red onion, then pour it over arugula mixture and toss gently.
Step 5:
 Divide arugula mixture among plates and arrange pears on top.
Step 6:
 Sprinkle pancetta, cheese, pine nuts, and pepper.
MORE RECIPES