Rich gnocchi with fresh lemon, sweet peas and healthy spinach is flavorful and hearty meal. The delicious Italian dish is easy to make and a great start for luxurious dinner, if you are looking for. Also, you can add shrimp to it, in order to make it a wholesome dish. Prepare the Lemon Gnocchi With Spinach And Peas with recipe given as follows.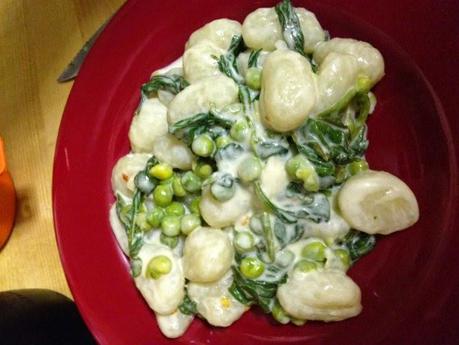 Serving: 4 Preparation Time: 10 mins Cooking Time: 20 mins
Ingredients
1 cup frozen Peas
8 ounces heavy Cream
1 smashed Garlic clove
DeLallo Natural Fine Sea Salt
3 cups packed baby Spinach leaves
1 tsp grated Lemon zest
1 1/2 tsp Lemon juice
1 package DeLallo Potato Gnocchi
1/4 cup grated Parmigiano-Reggiano
How to make Lemon Gnocchi with Spinach and Peas
Step 1:
 In a skillet, add peas, cream, garlic and salt, then simmer it until tender.
Step 2:
 Stir in spinach and cook uncovered until leaves are wilted and then mix in lemon zest and juice.
Step 3:
 Meanwhile, boil salted water, then add gnocchi and cook until they float to the top.
Step 4:
 Drain gnocchi and reserve about 1/2 cup of pasta water.
Step 5:
 Toss gnocchi with hot sauce and reserved pasta water to coat well.
Step 6:
 Top with grated Parmigiano-Reggiano and serve lemon gnocchi with spinach and peas.
MORE RECIPES