When Urban Decay came out with their holiday collection, I've been dying to get two things, the Vice 2 Palette and the Shattered Face Case, (it was a bonus that Naked 3 came out during the holidays too!). Since I got myself the Vice 2 and the Naked 3, I thought I might just pass up the Shattered Face Case but just after Christmas, Urban Decay put the Shattered Face Case on sale for $29! That is quite a steal since it retails regularly for $44 so I immediately bought it off the Urban Decay website.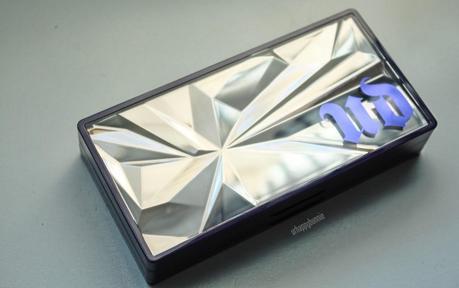 As usual, Urban Decay packaging is gorgeous and this one, mimics a shattered glass, hence it's name, Shattered Face Case.It has that trademark Urban Decay logo and purple color for the rest of the case. The case is made out of hard plastic that is sturdy, durable and compact so it's perfect for traveling. The case is dual-layered containing 5 eyeshadows, 2 blushes, a highlighter, a pencil eyeliner and a jumbo lip pencil. With that amount of product I'm already getting my money's worth.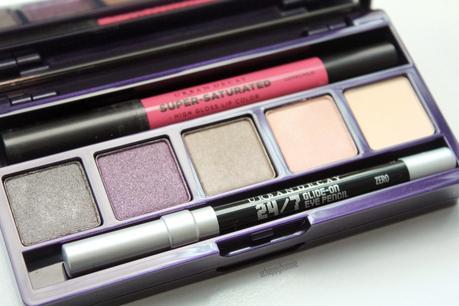 Shakedown, Remix, Nameless Minor Sin, Bleach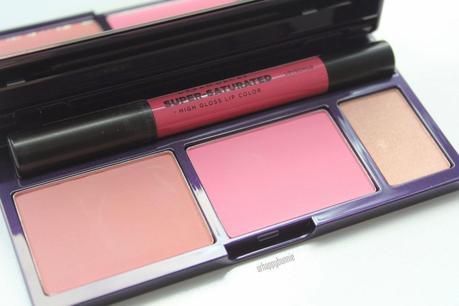 Overexposed, Temper, Glint
As you can tell by now, I'm a huge Urban Decay fan and their eyeshadows are amazing - always buttery smooth, blends easily and highly pigmented.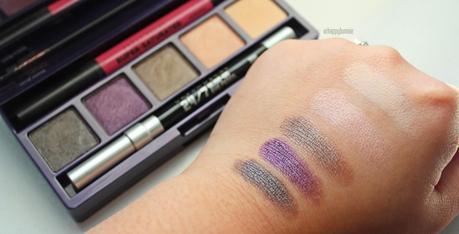 The top portion of this face case contains products for the eyes which are the eyeshadows and the eyeliner.  The first shadow starting from the left is Shakedown, a grayish brown shade with a satin finish. It is a shade that is perfect for a smokey look. Next is what I describe as a royal purple and it's called Remix. It has what Urban Decay calls, "micro-tonal glitter" which is really pretty but once applied is not very noticeable. This shade gives you a nice pop of color since without it this palette is just a neutral smokey kit. The middle shade is called Nameless, a medium brown satin shade that has a bit of gray to it but not as intense or as dark as Shakedown. The fourth shade is Minor Sin a champagne pink satin shade, reminiscent of Sin but toned down since Sin is more shimmery. The last shade is called Bleach, a matte, yellow-beige highlight that reminds me of Foxy and W.O.S. combined. It is a a great brow bone highlight and I think a perfect palette should have a matte highlight and UD is on point with this.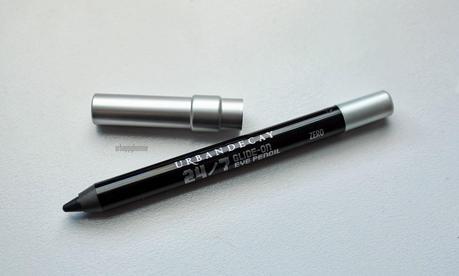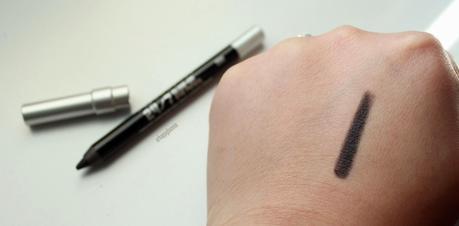 The top part comes with a smaller sized 24/7  Glide On Eye Pencil in Zero which is black. I actually have the full size of this one which I normally keep on my makeup bag. It is a really good black pencil that stays on your waterline or lash line and it doesn't smudge. I personally like the one in Perversion which is a richer black but this one does quite well.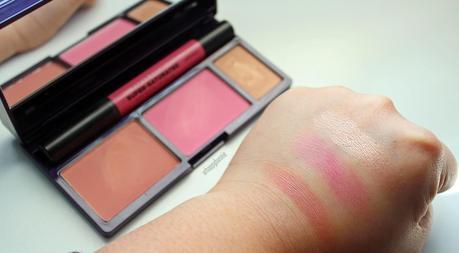 On the bottom portion of the tray, there's two blushes and a highlighter. Overexposed, the one on the farthest left, is a nice dusty rose according to the description but I think it is more of a deep peach shade. Overexposed actually acts as a good contour shade for medium skin tone even if it definitely is a blush shade because of the peachy pink color.  The next blush is called Temper, a soft baby pink shade. Both blushes are matte. The highlight shade is Glint, a peachy champagne color that is a perfect highlight shade that reminds me of my favorite highlighter, MAC Mineralize Skin FInish in Soft and Gentle.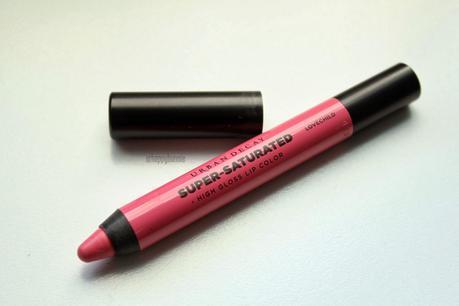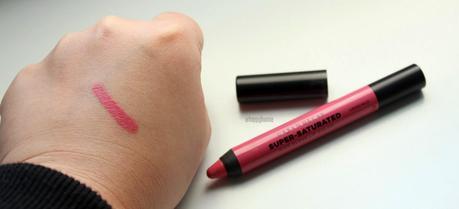 On this tray, a lip color is also included. You can actually see this pencil on the top tray as well but it is easier to pick up if you open the bottom lid.The lip color is Urban Decay's Super Saturated High Gloss Lip Color in Lovechild which is a cool, baby doll pink shade. This lip pencil goes on super creamy on moisturizing on the lips and as the name suggests, it has a glossy finish.
I give this palette a 5/5! This palette is definitely something you should pick up if you always travel or like to do your makeup on the go since it has everything. This palette is something that will take you from daytime to nighttime since you have great neutral shades as well as a deeper shadow to deepen the look for night and a nice pop of color as well with the purple. I have absolutely been loving this palette since it is definitely travel friendly and you have everything you need in one palette. This fits in my makeup bag perfectly and all I need to bring is a brow pencil, a fluffy blending brush, a cheek brush for my contour and blush and a mascara and I'm good to go! That's five products in total for my makeup bag.
I'll upload a smokey look and a daytime wearable look using only this palette so stay tuned for that! ^^