Have you heard of PINCHme? It's this exciting way of PINCHme members to try free samples from brands. Samples range from beauty, snacks, baby, pet, personal care, cleaning products and household items. No gimmicks, its 100% FREE - no credit card required, free samples, free shipping. All PINCHme.com members have to do is review the products that they receive. 
So how do you actually get your samples?
It's simple. 
> Go to PINCHme and sign up to be a member.  > Answer survey questions and complete your member profile (the more you answer questions, the more chances you get to match relevant free samples!) > On Sample Tuesday (One Tuesday of the month), PINCHme gives you an array of samples that matched you and you are welcome to select the samples that you want to try for your PINCHme box.  > No credit card required, you get your box shipped to your doorstep. >Review the products you have received. You have 30 days to answer your feedback survey. PINCHme loves your opinions on the items that you try. Constructive criticisms and tips are best! You don't need to have a blog and write about your review, simply go back to your PINCHme page and give your feedback, although social media raves and reviews are definitely welcome. #HappyPINCHer
*

Given the 100% free nature of our platform, we cannot guarantee that all members receive a box on Sample Tuesday. There are many factors that impact who qualifies for samples, including the volume of samples we have available and the targeting specified by our brand partners (at any given time).





PINCHme Sample Tuesday

will be on

June 20

so hurry and sign up and complete your surveys and profile to get the chance to pick your samples on the 20th. 
PINCHme Perks PINCHme is more than free samples! Get special PINCHme Perks including partner offers and exclusive sweepstakes. 
JOIN THE PINCHme COMMUNITY Become a part of something bigger than the box. Join over 2.8 million members across country!
_______________
*I have received these free samples for review from PINCHme*


PINCHme has kindly sent me a Blogger Box which comprises of past and future samples. Included in this box are some items for the June 20th, Sample Tuesday! 
Who's excited? I clearly am!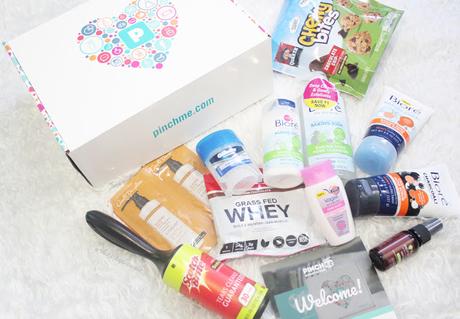 I received a whopping 11 items, the most I have actually received to sample. I'll break down each product for you as some of these I've already tried in the past as well. 
I'll start off with beauty and personal care products since that's what gets me instantly excited.
BIORE
I have surprisingly received 4 Biore products and I am ecstatic about it. Throughout the years of blogging, I have reiterated several times how I prefer Korean skin care products than Western skin care products because they are milder and suit my skin really well. I only have a handful of favorite Western skin care products and Biore is actually one of them! I have practically tried all facial cleansers from Biore and I love them all! My all time favorite product is their Blemish Figthing Ice Cleanser mainly because of it's cooling sensation. Sadly, that is not included in this sample box.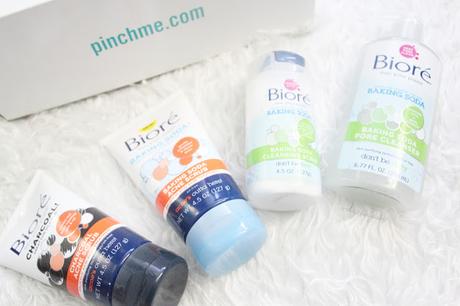 Biore Charcoal Acne Scrub

With a combination of salicylic acid and charcoal, it removes dirt and oil build up from the pores. Charcoal draws out the impurities and traps them to eliminate breakouts.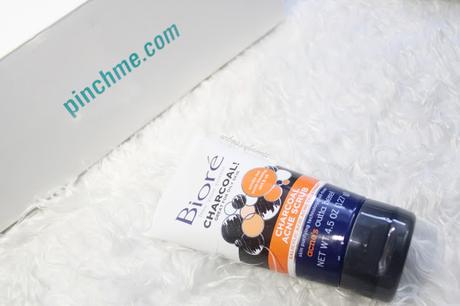 I've tried this one a long time ago and it is a great cleanser for acne prone skin. I quite enjoy this. The charcoal ingredient really works in clearing out the pores although it doesn't minimize it.  >Great for clogged pores, oily-combination skin and acne prone skin


Biore Baking Soda Cleansing Scrub

Powder to foam formula activates with water for a deep clean and gentle exfoliation.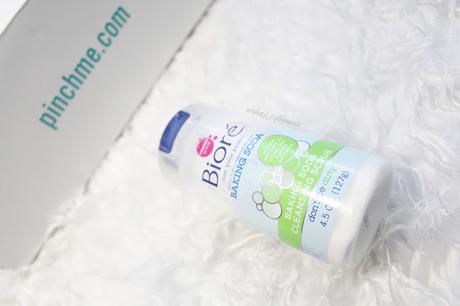 >Great for all skin types, reduces skin texture.


Biore Baking Soda Pore Cleanser

Deep cleans to remove dirt and impurities from the pores. This provides gentle exfoliation without stripping the skin too much of it's natural oils. It also gradually brightens and lightens up acne scars and hyperpigmentation.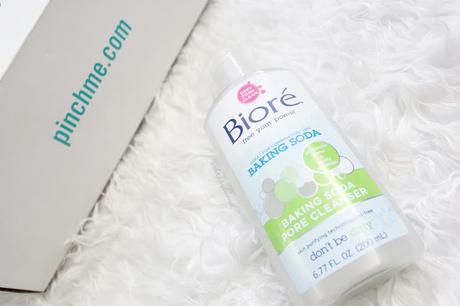 >Good for all skin types, acne scars and hyperpigmentation

Biore Baking Soda Acne Scrub

A combination of baking soda and salicylic acid to exfoliate skin and clear acne. It unclogs pores and balances skin to reduce breakouts.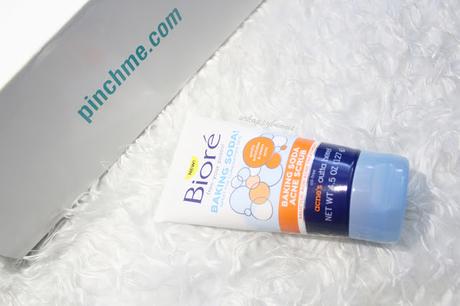 This is one of my go-to Biore scrubs whenever I get a massive break out which happens once every couple of months. It reduces skin texture, making the skin smoother, and helps hasten the life of your pimple so you get clearer skin in a couple of days.  >Good for all skin types, acne prone skin, reduces skin texture

Gilette Antiperspirant Deodorant

Fresh, clear gel antiperspirant and deodorant that provides all-day protection from wetness and odor.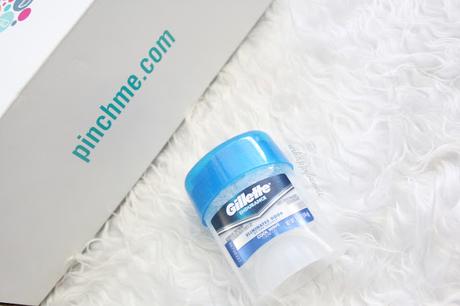 For years, I have averted to using men's deodorants rather than women's because I sweat too much for a lady. Nothing really worked until I switched over to using men's deos although the clear gel formula never really worked quite well for me. Fresh scent, like. Clear gel, dislike. Sweat test, fail. Smell test, pass. Verdict = 50/100. Personal opinion guys. 

Vagisil Odor Block

Gynecologist-tested with a clean, fresh scent that stops oder before it starts.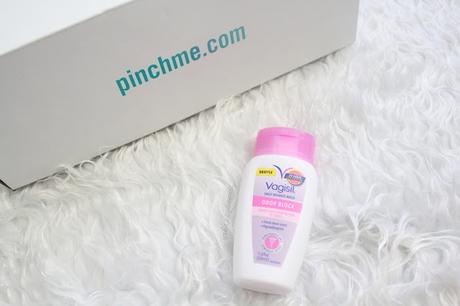 I normally don't use feminine cleansing products, mainly because I believe in just using mild soap and water so that it won't disrupt my feminine pH balance. However, summer means sweat and what other part of a woman's body is covered up and also sweats throughout the day? Yep. Your pubic region. This product works. Period. 


Carol's Daughter Almond Milk Shampoo and Conditioner

Shampoo and conditioner for damaged and over-processed hair. Made with almond oil, aloe butter and proteins, it helps strengthen hair from root to tip and helps to defend against future breakage.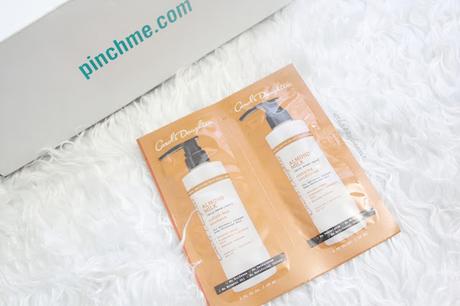 I don't dislike it, I don't love it either. What I don't like about sampling a shampoo and a conditioner in a packet is that I can't really form an opinion on the product because it's only good for one use, the most, two. This product smells great. I'm not picky with my shampoo as I am with my conditioner. I like really rich and moisturizing conditioners for my color treated and damaged hair and although this product specifically targets that area, I think it is not rich enough in my personal opinion.

Bug Protector All Natural Bug Repellent

All natural, DEET-free bug repellent that provides protection against mosquitoes, gnats and other biting insects.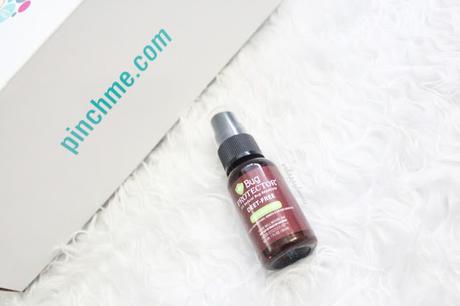 Made from ingredients like Lemongrass oil, Geranium Oil, Peppermint, Cinnamon Oil, Castor Oil and Vitamin E, I already know that this would smell good and would work, The only thing missing from this list of wonderful ingredients is Tea Tree Oil. Sprayed this on the night I received my blogger box because I was grilling barbecue at dusk and I just didn't want any bug bites. My legs and arms survived! No bites, so it does work. And I personally love how this product smells too. 


Belgian Chocolate Whey Protein

Catalyst 100% Grass fed Whey - high quality pure protein in Belgian chocolate flavor.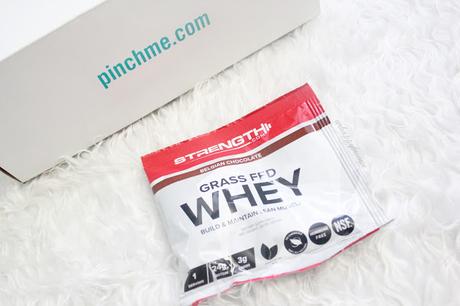 Sweet and tastes indeed like Belgian Chocolate. I love it. Definitely need that protein boost now that I'm trying to get back into fitness.

Quaker Chewy Bites

Chewy, bite-sized granola pieces with chocolate chip.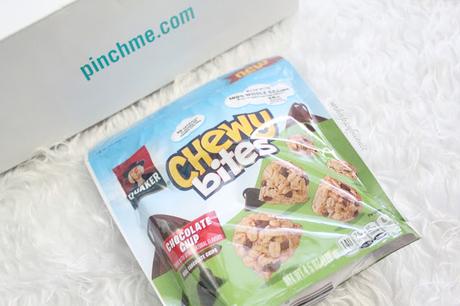 I love oats and granola bars. It's healthy and fills you up real quick so if you're extremely hungry but you're watching out for your diet, this can be a healthy guilty pleasure. You can't go wrong with chocolate chip granola bites. 

Scotch Brite Lint Roller

Remove pesky hair, fur and lint.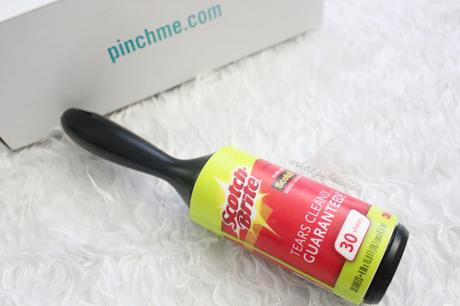 Pretty much like any other lint roller. Can't really say too much about it except that it's the branding that you'll be paying for when you get it in retail. 
_________________
Are you getting excited now? PINCHme is really generous guys. You get to try the samples that you want from the ones that match your surveys all for free during Sample Tuesdays. 
Below is the list of the samples that are going to be available on June 20, 2017, Sample Tuesday, 12Noon EST:
Food & Snacks: Hidden Valley® Simply Ranch Classic Ranch Quaker® Chewy Bites Pure Leaf Home Brewed Teas
Personal Care & Health: Bioré® Baking Soda Pore Cleanser Bioré® Baking Soda Cleansing Scrub Bioré® Charcoal Acne Scrub Bioré® Baking Soda Acne Scrub Carol's Daughter Shampoo + Conditioner LISTERINE® COOL MINT® Zero and Total Care Zero Alcohol Mouthwash Bug Protector All Natural Bug Repellent ZzzQuil Nighttime Sleep-Aid Sundown Naturals B12 500mcg Gummies Tummy Zen Total Heartburn Relief Gillette Cool Wave Clear Gel 0.5 oz. Sensodyne® Deep Clean
Home & Pets: Fancy Feast® Creamy Delights™ Wet Cat Food Cesar Dry Dog Food Scotch-Brite™ Lint Roller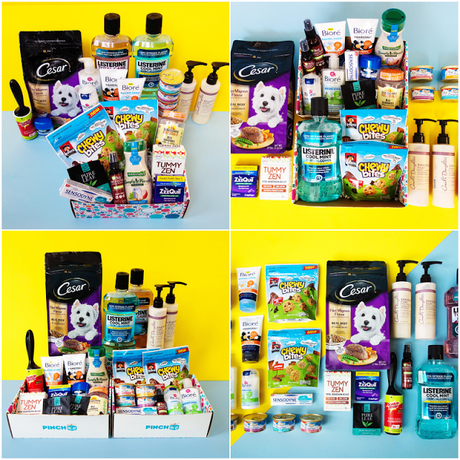 Credit: PINCHme

*

Given the 100% free nature of our platform, we cannot guarantee that all members receive a box on Sample Tuesday. There are many factors that impact who qualifies for samples, including the volume of samples we have available and the targeting specified by our brand partners (at any given time).


Join PINCHme and join the PINCHme community. Hey, it's FREE!