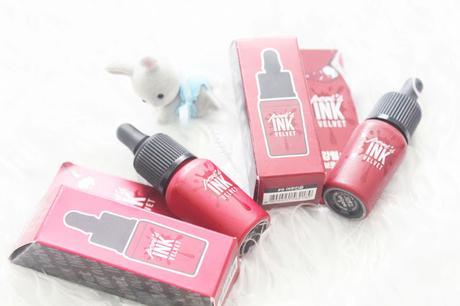 Summer calls for bright, bold lippies. I personally love experimenting with bold lip colors with neutral eyes during this season, especially long wearing ones too!
I have always been on the hunt for great lip tints. I personally don't like the watery or gel lip tints that was all the craze years back because it tends to be drying on the lips.  I came across the Ink Velvet months ago but didn't make the plunge to purchase it because I honestly don't need more lip products. I have plenty of them to last me a lifetime. I finally caved in on purchasing this since I have fallen back in love with the Forencos Lips in Love Tint and the 3CE Lip Lacquer in Pink Boom, both of which are tints with velvety textures and finishes. I was looking to get something with a similar formula but in brighter and bolder lip colors. Something similar in the Western beauty market that I really love are the NYX Soft Matte Lip Cream and the Bare Minerals GEN Nude Liquid Lip Colors. The Peri's Ink Velvet and Airy Ink Velvet has more brighter shades to choose from for the summer than the NYX and Bare Minerals.
The Peri Pera Ink Velvet is still fairly new although it is not their latest line. I believe the Airy Ink Velvet is their latest launch (don't quote me on that!) which I also recently purchased. 
The Peri's Ink Velvet boasts of a a long-lasting, 6 hour wear with a smooth and velvety texture and finish that is flake-free. "The unique formula helps both color and moisture last longer, keeping the lips soft on the outside and moisturized on the inside." It also claims to have higher color pay-off for gradient lip and full-color lips.
Main ingredients are marine collagen, hyaluronic acid, organic jojoba oil, olive oil and amica extract.
Per's Ink Velvet currently have 15 shades available: 01 Sellout Red 02 So Grapefruit 03 Incrush Orange 04 Wow Pink 05 Inktude Rose 06 Celeb Deep Rose 07 Dollish Beige Rose 08 Pretty Coral 09 Love Sniper Red  10 Oops Fuchsia 11 Spring Orange 12 Pure Peach 13 Charming Coral 14 Beauty Peak Rose 15 Girlish Red
I picked up two shades, 06 Celeb Deep Rose and 09 Love Sniper Red.
________________________


06 Celeb Deep Rose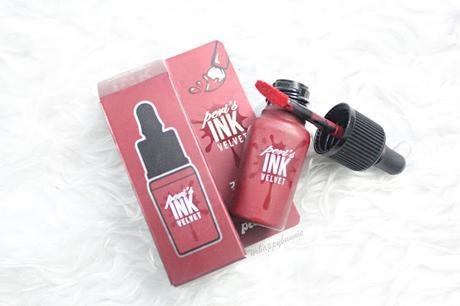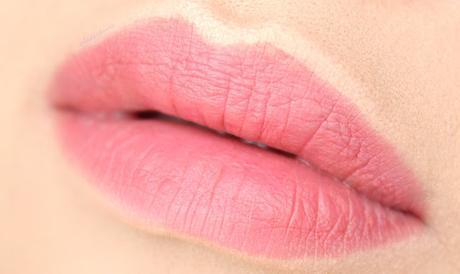 Celeb Deep Rose looks exactly as it's name. It is a muted old rose shade that is very neutral and would look good with any skin tone. 
________________________


09 Love Sniper Red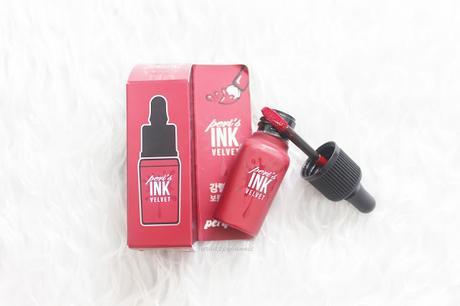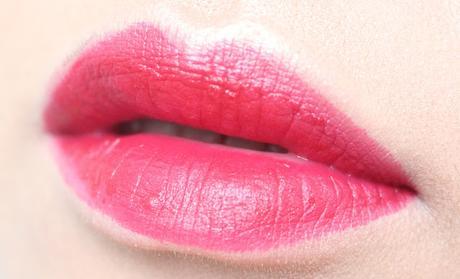 Love Sniper Red is a bright red and has a slight blue undertone.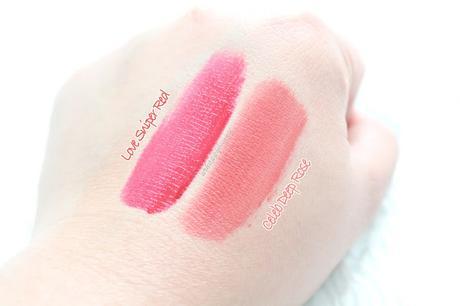 Her's a side by side swatch of the two shades. Love Sniper Red is definitely brighter and Celeb Deep rose is a warm neutral rose shade.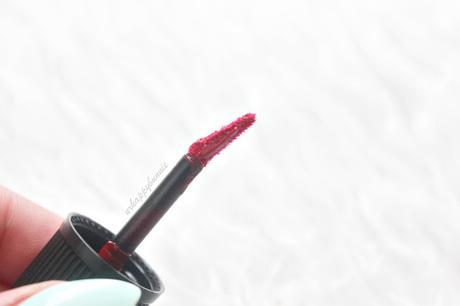 The doe foot applicator is slightly slanted and although the handle is short, it is very comfortable to hold and it is so easy to apply the lip color.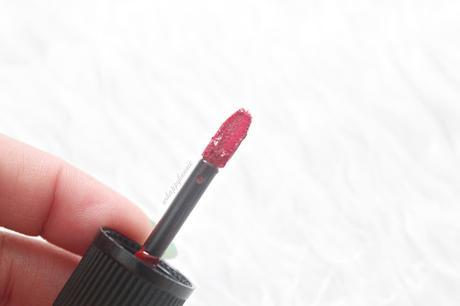 It's true, the Peri's Ink Velvet are very smooth and velvety on the lips, it has a slightly powdery finish and they are very comfortable on the lips. It almost had that whipped, mousse-like consistency. They don't feel drying at all. I've come to find that the 09 Love Sniper Red has a subtle gloss to it which isn't actually bad. I don't like glossy lips but this one is very nice. If a subtle gloss is something you dislike, you can easily blot it off with a tissue.
Let's talk about the long wear claims. For hand swatches, it is definitely a pain to remove. On the lips, I have a bit of an issue. This claims to be a long-wear, flake-free lippie and I don't necessarily think that is all true nor do I think that it is BS. If you put down a very thin layer of this product, you will still definitely get the color pay-off you want and it would indeed last up to 4-6 hours without eating and drinking. It would definitely stay put and you will still have a lip color by the end of the day although it wouldn't be as bright as when you first applied it. 
IF, you apply a slightly thick layer of this, chances are you would get crusts around your lips after eating and drinking, which isn't cute at all. The tint would still be there but the color would be patchy on your lips. Little tip here, always make sure that you remove excess product from the applicator before you apply on the lip so that you get an even coat with a thin layer. 
Doing gradient lips with this formula is fairly easy as well and I had no trouble. Layering is also doable for a more intense color pay-off but you have to make sure that you blot in between layers to avoid getting that nasty crustiness throughout the end of the day.
Verdict: 

♥♥♥♥/5


I really like this product and I have actually worn this quite a lot when I first got them but in my personal opinion the Peri's Airy Ink Velvet wins over this Peri's Ink Velvet. I'll talk more about the Peri's Airy Ink Velvet in another post. 
The Peri's Ink Velvet is a win in my beauty book but maybe only a Top 4 for lippies in the same category. 
Peri's Ink Velvet is currently on sale for $8 (originally $12) at Club Clio online.