Hey everybody! Sorry for being absent recently - very very busy at work. Still managed to find time to spend my Debenhams voucher on some make up though! I bought Urban Decay's 24-7 Glide On Eyeshadow Pencil in 'Sin', which is a neutral, pinky-gold color.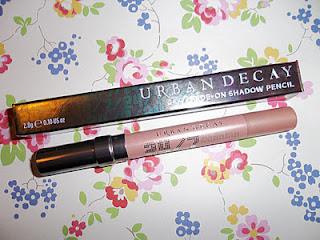 The pencil itself is chunky, and glides on easily over the eyelid. I tried to take a picture of my eye quite unsuccessfully...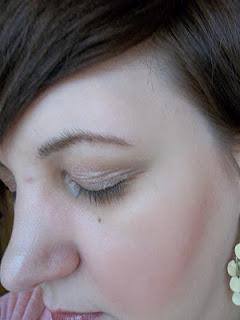 The shade itself is very, very light, but the consistency of the pencil for me is too heavy. If you glide the pencil over your eyelid it gives you a thick layer of shadow - I would suggest just lightly dotting it across the eyelid and then blending it in with a brush, perhaps a clean concealer brush (not a shadow one).  If you don't like the sound of this one, similar shades I own are Illamasqua's Pure Pigment in 'furore' and NYC's eye palette in 'Dinner and a Show'.
I always stick to the same shades with having hazel eyes and brown hair - any of you have tips on knowing which shades suit which eye colours? x