hi everyone,
so today i thought i would show you my updated mac lipstick collection, ive only had a few extra lipsticks but the post was so so long ago that i would re-show what i have.
most of these are cult favourites but i really really love these colours and you will see a running theme.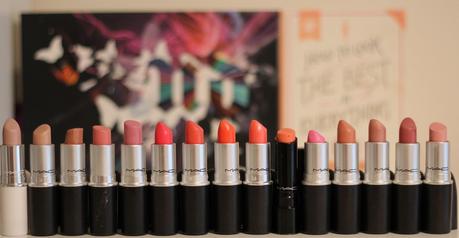 so i have 15 mac lipsticks altogether, probably way more than one girl needs, although i recon some people have more, and no lieing tell me honestly how many you have hehe. There are some well loved ones that i just can't bare to get rid of them until i have finished them completely. I know they say you have like 12 months on lipsticks, but im only using them on myself and i love the colours so as long as they don't smell funny or the texture doesn't change, i think that there still fine.
So a closer look at all of them: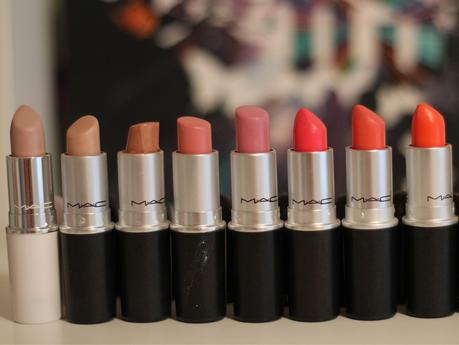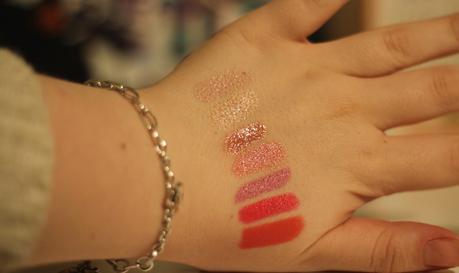 running from left to right we have:
Double spin/ creamsheen: This was from one of their Christmas collections, its a lovely glittery pale bronze
secret lover/lustre: This is a really pale colour, kind of like an over a different lipstick color with a gold glitter to it.
high tea/lustre: This one somehow get abit messed up, i think it got to hot once, and its hard to use it, but i only have a little bit left anyway so that ok, this is one of my first ones i bought, and is a lovely brown, but its not too dark, its a similar color to my lip color and has abit of a sheen to it, which is nice.
nude rose/lustre: This is a nice brown/pink similar to high tea but obviously with abit more pink.
snob/satin: Is the very very first mac lipstick i ever bought, its an amazing dark bubblegum pink color and i absolutely love it, definitely i firm favorite that i will keep continuing to buy.
impassioned/amplified: Is a really nice bright pinky/red, very very bright, but so lovely
Vegas volt/amplified:Is a cult favorite, really, an orange/red that again is very bright, beautiful on the right skin tone, and an amazing orange, it looks dark on my hand but it is bright.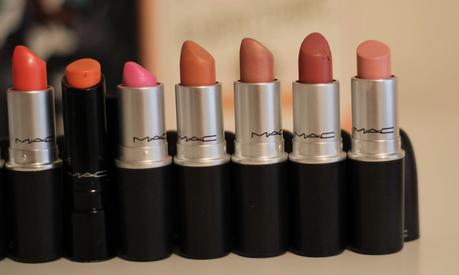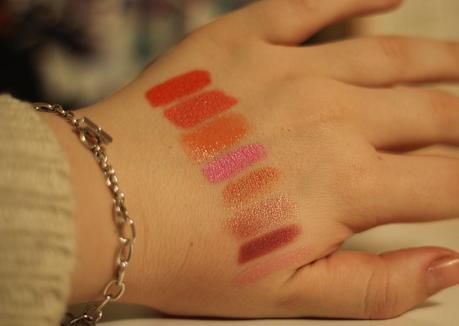 left to right:
morange/Amplified: Basically a pure orange, maybe with a hint of red to make it wearable, but for anyone who loves oranges this is definitely for you!!!
costa chic/frost: I bought it because it had the word costa in it, how sad, (i like coffee) but its actually a really nice colour
Gotta dash/sheen supreme: The only one i have in this formal, more like a glossy finish but abit more dulled down then morange, so if you like oranges but can't pull off a bright colour, this is your lipstick.
saint germain/amplified: a beautiful pink, kind of like your traditional barbie pinks, its a lovely summer colour, perfect really.
shy girl/creamsheen: similar to high tea, like a pale brown, slightly lighter then high tea.
politely pink/lustre: It's a different color to what it sounds like, its not very pink, it has a slight pink undertone but it is more on the brown side.
brave/satin: Abit dark to what im used to, kind of like a browny/red but a medium shade, it would be really nice on medium skin tones.
mlle/glaze: This was a limited edition lipstick, i don't know which collection, i bought it off a beauty blogger in one of those sales, its a lovely dark pale pink color.
Well that's all 15 of them, swatched and everything, I have more lustres than anything, i really like them, they're nice and shiney but have abit of moisture aswell, amplified aswell i love, because they hold a lot of color in them.have you ever tried any of these, please let me know, i would love to know if you have the same ridiculous collection as me, or are abit more sensible in your choices.
I just cant help it, i love mac, i love the black sleek packaging, there not too expensive which is fantastic, and no matter the formula they all have good staying power, even without a lip liner, so i can't see anything wrong with them. I will always go for a mac lipstick, no matter what. If i had to choose just one company for my lipsticks it would be them!
so which ones are your favorites? which ones do you own already??
xxxx