Want to say "Thank you" to all the guests present at your wedding in a way that will really resemble your true feeling? You can undoubtedly, offer them small goodies as mementos of the occasion. But what about the extra packaging charge for each present? Well, some DIY paper vase favor bags to pass on your thank you gift to all your invitees can save this expense. If you want some more paper designing ideas in a small scale you can also opt for small wedding place cards.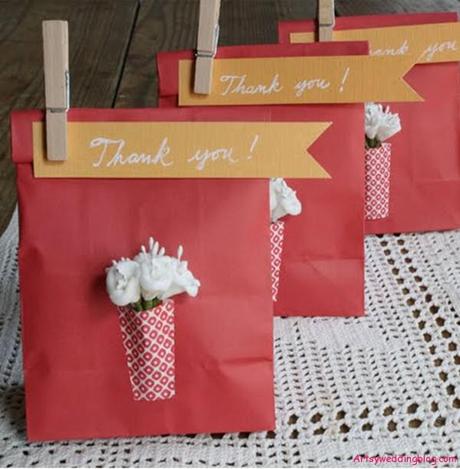 I have come up will small but interesting DIY ideas that are inexpensive and easy. Now, here are some materials that you will need for your paper vase favor bags
• Paper favor bags
• Masking tape
• Mini artificial flowers
• Patterned paper of your choice
• Pliers
• Solid coloured card stock
• Glue
• Mini cloth pins
• Paper scissors and
• White gel pen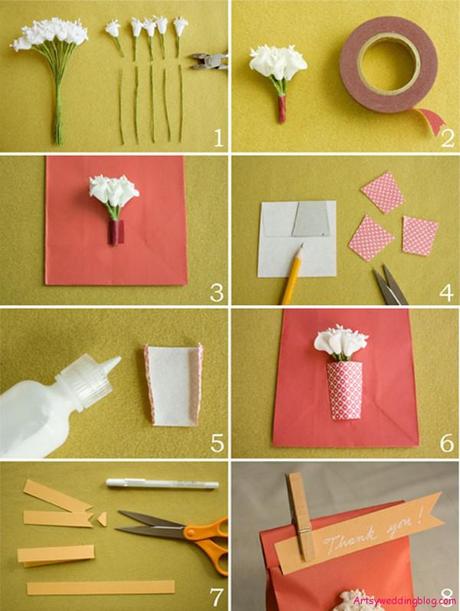 Method
Cut the stems of 4-5 artificial flowers with pliers to make them approximately 1.5" long.
Fold the bottom of step with masking tapes of floral tapes
Attach the flowers at the center of the bag in such a place that is nearly 1" above the bottom edge of the bag.
Trace the shape of a vase onto the backside of a patterned paper and cut some small pieces out of it shaped in form of a vase.
Fold the sides of the paper vase into nearly 1/8" to give it an upheaval appearance.
Now glue the vase on to the paper bags over the step of the bunched flowers.
Cut out 8.5"*11" solid cardstock into strips of 1" from it.
Snip a notch at the end of each strip, write you thank you note on the cardstock.
Put the gift in the goody bad and fold the bag at least thrice into it and then attach the card with the note on to it over the folds and clip it with a miniature cloth pin. You paper vase favor bag is ready to reach its recipients.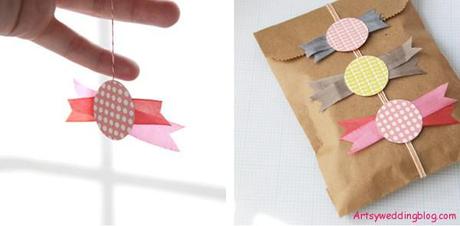 The cost of each favor bag will not be more that $10-$15 each, though it may vary according to the materials you decide to utilize in making it and how many guest you intend to gift them to.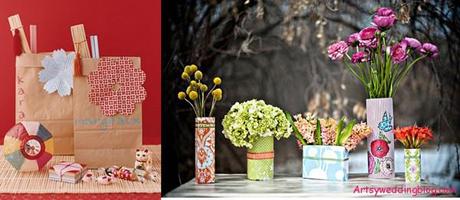 It's really easy, isn't it? You will just love the idea of gifting something that is handmade and have evolved out of your creative mind. You can also involve you family members in making these goodie bags. Take my words they will enjoy it to the utmost. Even the children will find it very interesting in designing these goodie bags. The DIY paper vase favor bags are great to pack return gifts for the friends of your kid at their birthday party, only you need to rearrange a certain things. In the place of artificial flowers, you can try some cartoon characters. Your children will love their mother's creative side and the way you take interest in return gift of his/her friends.