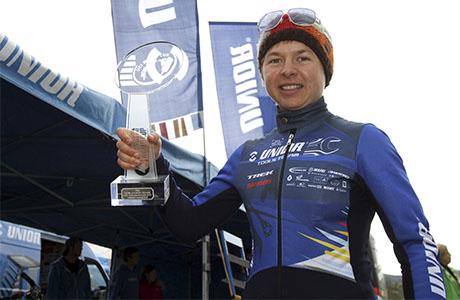 Source: press release

After World Cup XCO title, European XCO title, bronze from European DH Champs and bunch of international downhill & cross-country victories, the team enters its fifth season stronger than ever! For 2014 the Unior Tools Team resigns Tanja Žakelj and core of downhill squad, and also makes a big step forward in enduro. Team is now among the elite UCI MTB gravity teams and official EWS teams.
Tanja Žakelj's jump on the XCO World Cup podium in Hafjell, where she finally claimed white jersey, is remembered as one of the most emotional moments of 2013 season. But that is not all we will remember – the team took two World Cup victories, World Cup title, gold and bronze from European Championships, victory on iXS European Cup race (and second place overall in the series) plus multiple international and national victories and titles. It's going to be hard to repeat the results in 2014, but with 9 excellent riders and great support everything is possible.
Cross-country game changer
Tanja Žakelj had some great results before joining the team one year ago, including 10th place from London Games and U23 & Junior world titles. Her strong performance in first events of 2013 showed that she is a contender for the podium, but what she did later in the season shocked everybody. She was on the podium on almost every single World Cup XCO race, with victories in Nové Mesto and Val di Sole, she also claimed European title in Bern. She was good technical rider before, but after joining the gravity team and learning some moves from the boys, she proved that pure power is not everything, and that ladies can also ride the most technical sections with high speeds. Tanja keeps her ambitions high ahead of the new season, again with great confidence in her coach and the team: "I have higher self-confidence after last season, but again I have to focus on each of the events and do my best. Main target is of course on the World Cup and both World & European Championships. I'm working according to my program, with great trust in my coach and the team, this year also with new training of acrobatics. There are also some other changes in my training, but I will keep them secret for now."
Asian super star joins the team
Mio Sueamasa is multiple Asian Champion with great World Cup results and junior DH titles, so she doesn't need a special introduction. After racing in trial and downhill (and also 4-cross) she is now opening a new chapter in her career – on the cross-country bike! She will still defend her national DH title, but after ten years in gravity she found new challenges in endurance racing. "The tracks changed a lot in past decade. The jumps are getting bigger and bigger, so it's getting hard to keep up. Last year I did my first cross-country race in Japan. I went there just for training, but it was fun and a new challenge for me, so I wanted to do more," says Mio ahead of the new season. She will race in Asia and on the selected UCI World Cup events, but with special team status. In cooperation with Dirt Freak Japan (Unior Bike Tools distributor) and her local team, she is an ambassador for Unior Bike Tools, of course with team support on the events.
The team will be also represented in cross-country eliminator, again with young Slovenian talent Kevin Berginc.