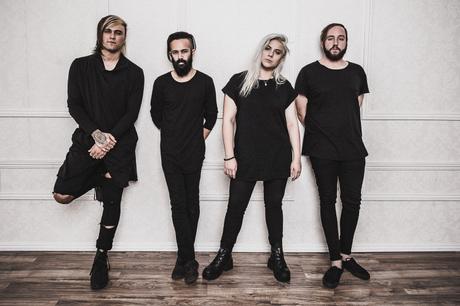 We're starting a new series on the blog titled "Under The Covers!" This is similar to our Behind The Song series, but instead will get some insight into the covers artists choose to record and/or perform.
The first cover comes from RVLS, a California-based alternative/pop quartet lead by vocalist Kalie Wolfe. On the brink of completing their first full US tour, RVLS continues to build momentum with their newest cover of "Heathens" by Twenty One Pilots.
Kalie shared the story of choosing the track and how the band went about recording it and making it their own. Check out the video and what she had to say below.
"I remember sitting in my car, going through Apple Music top charts and I saw 'Heathens' pop up. Being a TØP fan I actually got really excited. I plugged my phone into my speakers and started blasting it driving around. I instantly hit up my guitar player, Micket Woodle, and told him 'see what he could do, but make it harder.' About an hour later I got a demo of the instrumental.
"That same day I hopped into my Honda and drove straight to his house to track vocals. It only took us like an hour tops to record the vocals. I remember it was like 110 degrees that day in the valley, too, and we couldn't use AC because we didn't want it picking up on the mic. It was so hot so we were kind of rushing. Once it was done we sent it over to Cody Stewart who mixed and mastered it for us. We left for tour two days after. We had the song done for a bit on tour but really wanted a video to go along with it, so we took a few days to record some stuff with Santos Velasco and then I edited it.
"We started performing it live before we released it and I'm gonna be honest with you, my favorite part live is the 'watch it' part. We all just get to go nuts and you see that in the video. Justin Wells (guitar), Christian Lee (drums), and Sebastian Chamberlin (bass) really add so much to our live set in general, we all just wanna make sure you leave amazed. We now have it part of our set so if you get a chance to come see us live you can see it in person. Our next show is in Orange County, CA at Malones on October 9th, hopefully we will see you there." – KW
Filed under: Under The Covers Tagged: cover, heathens, music creates us, rvls, twenty one pilots, Under The Covers