Hi beauty lovers everywhere! I was beyond excited when Ultraderm, in conjunction with Facial Co. asked me to test drive some of their skin care products and then share my thoughts with you all on the experience.  Ultraderm

 is an Australian skin care company, with an intensive collection of active, result-driven skin care products to suit all skin types.  Enriched with high quality ingredients, 

Ultraderm

 is a professional skin care range that offers both corrective and preventive solutions to target a variety of skin concerns including premature ageing, pigmentation, acne and rosacea.    

Here is a run-down on the products I tried:

Skin Renew Cleanser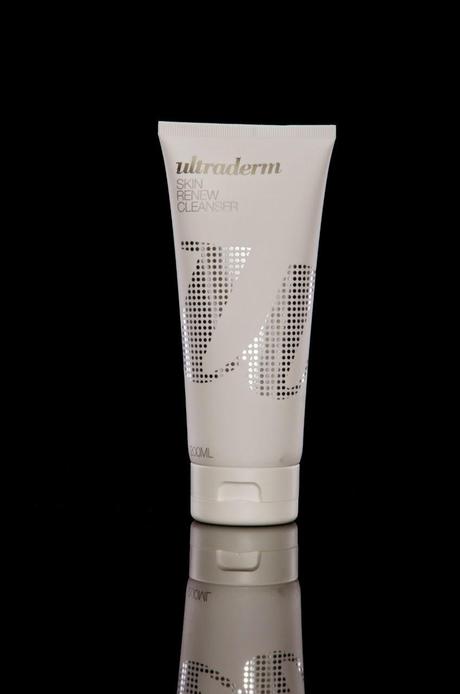 Highly effective for dull, lifeless, problem or aging skin and is on par, if not better than other well-known AHA cleansers!The Skin Renew Cleanser has the same stylish and attractive packaging seen throughout the Ultraderm range and comes in a generous 200ml-sized white, squeezable tube. It's has a neutral, non-offensive fragrance and I just apply a tiny amount of the clear, gel-like formula to my damp skin and it easily works into a generous foam. The AHA and BHA complex helps to provide the most thorough, deep-pore cleanse that effortlessly removes all traces of my daily make-up, dirt, oils, surface debris and impurities, while sloughing away dead, dulling skin cells, but is also kind enough that it doesn't upset my sensitive skin. After rinsing off, my skin feels refreshed and ultra clean, without any greasy residue or tightness. I prefer to use this cleanser at night when my skin needs a better cleanse and after having used for over a month now, I can see a visible improvement in the texture and tone, with a smoother, more luminous and refined complexion with fewer blackheads.TIP: For a super boost, I like to apply a thin layer of this cleanser onto my clean, dry face, then leave for approximately 1 - 2 minutes, as a mini-mask, to let the active ingredients penetrate deeply and to remove stubborn congestion and  oils, before adding water and cleansing as normal.Rating - 5/5
Skin Karma Cleanser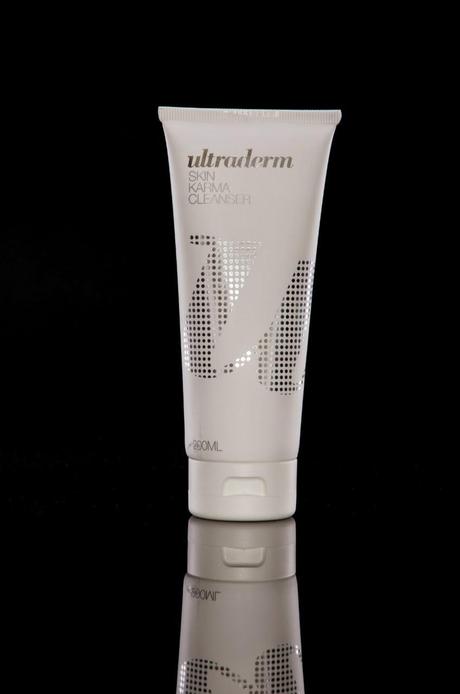 A gentle, hydrating cleanser for everyone and anyone that will keep skin cool, calm and collective!  The moisturising Skin Karma Cleanser features the familiar packaging seen across the Ultraderm range, which is modern and stylish and is presented in a generous 200ml-sized white, squeezable tube. The cleanser is pearlescent white in colour, boasting an almost balm-like consistency that is rich, creamy and non-foaming, with a silky texture.  I'm not overly fussed on the fragrance, even though it's quite a neutral scent and definitely not over powering, but that is only a personal preference and doesn't alter my impression on the overall quality or effectiveness of the product.  I apply it directly onto my dry face using damp fingers and whilst massaging gently, distribute it evenly over my face, neck and décolleté, before rinsing off with warm water and a soft face cloth. It adequately cleans my skin, removing dirt, grime and excess sebum without stripping or leaving any greasy residue on my sensitive skin.  Instead, after using regularly for the past 4+ weeks, my complexion is smoother, softer and brighter whilst remaining calm, comfortable, nourished and more balanced.  I mostly use this cleanser of a morning when a gentle and hydrating formula is better suited for my needs, however it is also the ideal companion to team with my cleansing brush some nights, so it perfectly compliments my existing skin care routine.Rating - 4/5Skin Karma Hydration Toner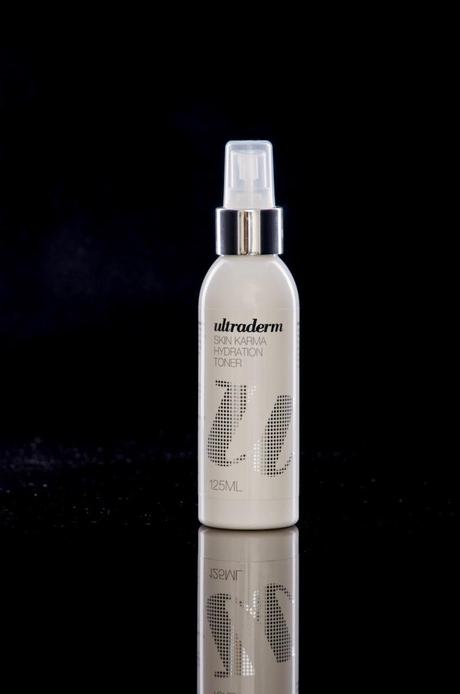 A beautiful facial mist to compliment my daily skin care regime or perfect for an instant 'pick-me-up'  anytime, anywhere!Boasting the modern, ultra stylish packaging featured across the Ultraderm range, the Skin Karma Hydration Toner has a white 125ml-sized spray bottle for convenience and ease of application. The non-drying formula has a delicate, uplifting fragrance and that I use after cleansing, or whenever I need a hydrating boost throughout the day.  I simply spritz the solution all over my face and neck areas and gently press into my skin using the tips of my fingers.  The immediate result is a beautifully refreshed, nourished skin, with no oily or tacky remnants left on the surface.  It's ideal for the humid conditions here in FNQ and when it's gets too hot, as a quick spritz definitely revives my complexion by providing cooling relief and helping to calm red, flushed skin, while balancing the pH, a benefit that's a bonus for my sensitive, oily skin.  Using this toner also prepares my skin to receive and absorb other skin care products and enhances their effectiveness too.  Over time, I've noticed an increased improvement in the tone and texture of my skin, which is feeling softer and smoother to touch, whilst my complexion is generally more radiant.Tip:  Can be used as a regular toner by spritzing directly onto a cotton pad to remove any cleansing residues or surface debris from skin.Rating - 5/5Skin Karma Moisturiser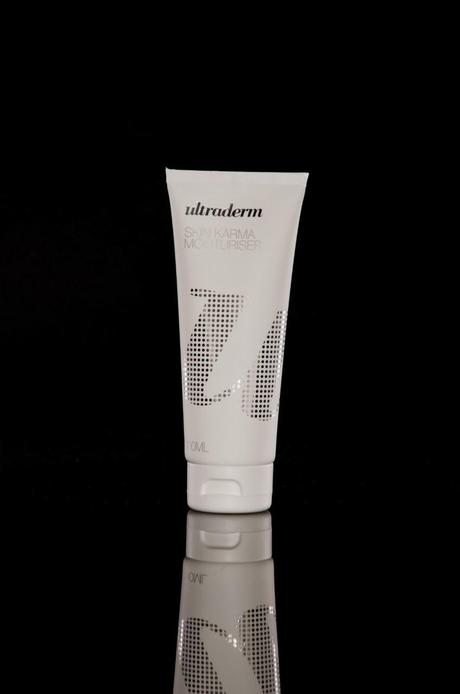 Problem skin sufferers rejoice, it does it all: supports, protects and heals the skin, as it locks in moisture!The simple, fuss-free Skin Karma Moisturiser is housed in the stylish and visually appealing packaging that is represented by every product in the Ultraderm range, with the 100ml-sized white, squeezy tube adorned with an eye-catching silver-chrome design and print.  The rich, emollient lotion is thick, creamy and white in colour, with little to no scent and despite the richness, it's fortunately super gentle and lightweight, making the formulation ideal to suit both my oily and sensitive skin concerns.  To apply, I warm a small amount of cream in my fingers before carefully massaging it all over my face, neck and décolleté.  It absorbs rapidly leaving my skin so soft and smooth with a non-greasy, slightly dewy finish.  This moisturiser is perfect to use whenever my skin gets stressed out, as it alleviates discomfort, while reducing redness and inflammation, making it a 'must-have' SOS in case of beauty emergencies.  Armed with this protecting moisturiser during the past month, my skin has been kept calm and nourished, whilst facial redness and blotchy patches have been nil and void, for a more uniform tone and a complexion that feels firmer, stronger and healthier.  Rating - 5/5Daily Protector Moisturiser 30+ SPF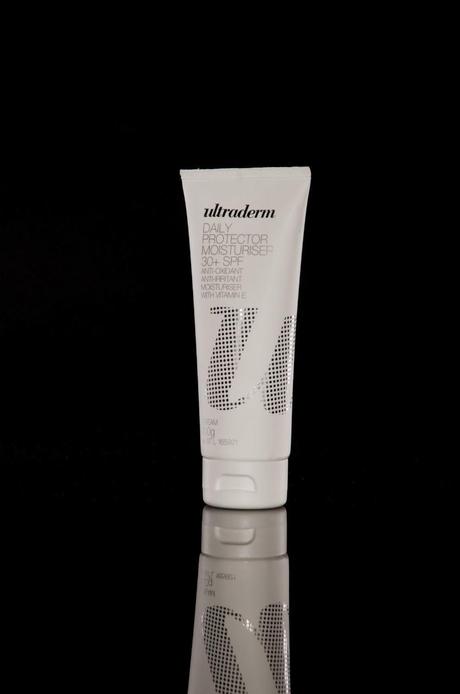 Dual function physical and chemical SPF Moisturiser that is super kind and cares for my skin!Like all the products featured throughout the Ultraderm range, the Daily Protector Moisturiser with SPF 30+ is presented in classy, modern packaging, with a 100gm white, squeezable tube that looks great on my vanity.  I've always had trouble finding an SPF moisturiser that suits my oily skin needs and am thrilled to have finally found a zinc based formula that offers a physical sun protection barrier as well as the chemical variety.  The cream is rich and super thick, but surprisingly very lightweight in texture and has a subtle aroma that initially smells somewhat like sunscreen, however it doesn't linger once applied and absorbs and dries quickly to create a completely non-greasy finish.  It also has the added advantage of soothing, calming properties, so it's gentle enough for even the most sensitive complexions and the benefits of zinc help to promote and achieve optimal skin health with extra comfort.  The combination moisturiser, antioxidant and broad spectrum sunscreen replenishes my skin and is great to use in the mornings when I know I'm going to be out and about or spending time outdoors and need protection to prevent sunburn or environmental damage, which leads to premature aging.  Over the past four weeks, my skin has noticeably improved in strength and definitely looks more luminous and healthy in appearance.Rating - 5/5Face & Body Polishing Cream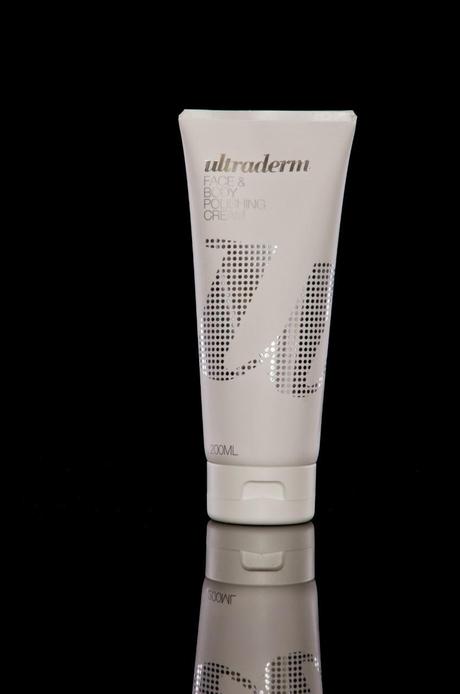 A revitalising exfoliator to energise the skin and brighten dull, lacklustre complexions!The Face & Body Polishing Cream is presented in the same contemporary and stylish packaging showcased across the entire Ultraderm range, with a generous 200ml-sized squeezy, white tube, distinguished with its silver-chrome logo and print.  The peach coloured formula has a pearlesent sheen and is thick with a butter-like consistency, which is infused with an array of delicate, non-abrasive, ultra fine exfoliating beads.  I absolutely adore the exhilarating scent, which smells like a blend of freshly picked bush lemons and mandarins that instantly stimulates the senses and leaves my skin feeling invigorated.  The combination chemical and manual exfoliant effectively provides a thorough, deep-down cleanse to slough away dead surface cells, illuminate impurities and clear congested pores, without causing aggravation to my sensitive skin or making it red and dry.  I've successfully used this polish on both my face and body with impressive results.  I like to exfoliate my face once a week and I've noticed that afterwards my complexion is instantly softer and smoother with an all over healthy glow.  It also improves my shaving experience when I exfoliate my legs beforehand, keeping the hair follicles clear and unrestricted to prevent pesky ingrowns or razor rash.Tip: Tackle unsightly body pimples or acne with regular weekly use of this exfoliator, which will keep pores free of oil, bacteria or impurities that can clog up pores as a result of normal perspiration.Rating - 5/5Dual Treatment Mask - 15% Glycolic & Lactic Acid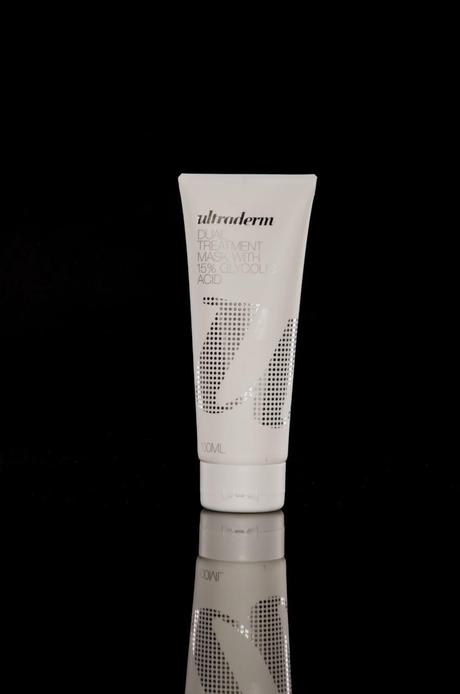 A maximum effect treatment mask that is highly potent and works fast to pack an almighty punch, making it the perfect pre-requisite for a special occasion or whenever my skin needs a radiance boost!  With the distinctive packaging prominent throughout the Ultraderm range, the Dual Treatment Mask looks chick and stylish, presented in a white 100 ml-sized, soft, squeezy tube inscribed with a silver-chrome design.  The thick, silky, pearlesent formula has the consistency of a rich, creamy dessert and is lightly fragranced with a scent that is equally decadent and pleasurable to the senses.  A small amount is all I need to distribute an even layer over my face, which sits on my skin in a thin veil, while I wait for 10 minutes as it works it's magic.  As soon as it's applied it stars tingling…not to the point that it's uncomfortable though, but just enough that I know all the goodness of the active ingredients are penetrating my skin, but after a couple of minutes that sensation subsides and decreases in intensity with each use thereafter.  Fortunately, I am a seasoned user of performance ingredients such as AHA's and BHA's and even though my skin is sensitive, it's developed a tolerance, so as a result, I've not experienced any aggravation to my skin, however anyone with sensitivity issues, should patch-test this mask before using for the first time.  It rinses off easily with luke-warm water and the effects are visible immediately, with my complexion looking smoother, softer clearer, plumper and more even, with an all over bright, luminous glow. TIP: BEWARE – Don't apply to broken skin such as a popped pimple, as I quickly discovered it really bites!Rating - 5/5Skin Renew Moisturiser with Tri-Peptide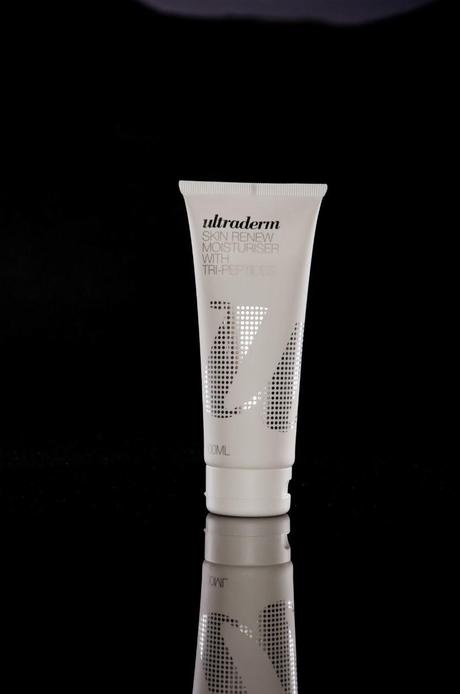 Compliments my anti-ageing routine and has become my PM moisturiser of choice!The Skin Renew Moisturiser has stylish and attractive packaging, like all of the products featured in the Ultraderm range and comes in a generous 200ml-sized white, squeezable tube.  The highly emollient lotion is thick, rich and creamy, with a white, silky texture that is virtually unscented.  I mostly use this moisturiser at night time, because it helps refine my complexion and I love that it's super lightweight, quick to absorb and provides lasting hydration, without making my oily skin greasy.  Since I've been using this moisturiser, my skin is softer and smoother, more evenly toned, plumper, firmer and literally glowing with health and vitality.Rating - 5/5All in One Balm SPF 15+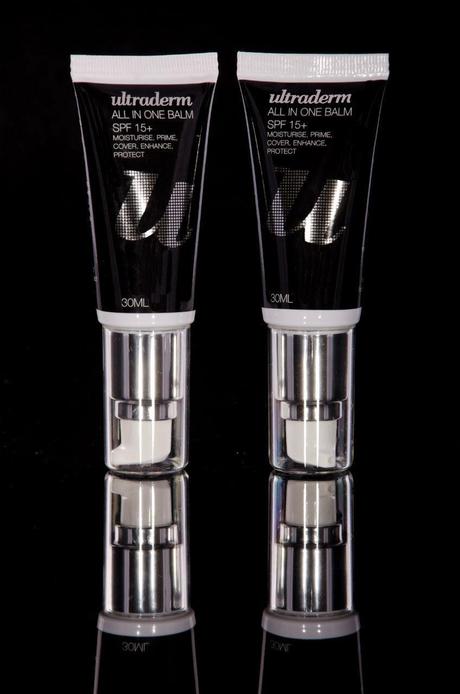 To put it simply, with skin care properties, awesome coverage & protection, this 5-in-1 product really has it ALL!The multitasking All In One Balm comes in beautiful packaging that is ultra stylish and synonymous throughout the Ultraderm range and has a sleek black and white 30ml pump-action tube adorned with silver-chrome print.  The zinc enriched formula has a thick, creamy consistency, but is weightless and a just small amount blends effortlessly over my whole face, drying fast and leaving a non-greasy, matte-like finish that lasts the distance.  The coverage is brilliant and it's the perfect alternative to a foundation without compromising the results, easily disguising all my flaws and imperfection for a flawless, but natural look.  I love, love, love this, it has become my favorite Ultraderm product, with the ability to effectively moisturise, prime, cover, enhance and protect.  I can honestly say since I've been using this practically every morning for over a month, that it's even better than any other alphabet cream or tinted moisturiser I've previously tried.  Not only does it make my skin look fabulous, but it also improves the overall condition of my skin, keeping it free of breakouts and encouraging a clear, healthy complexion.Rating - 5/5Skin Renew Cleansing Brush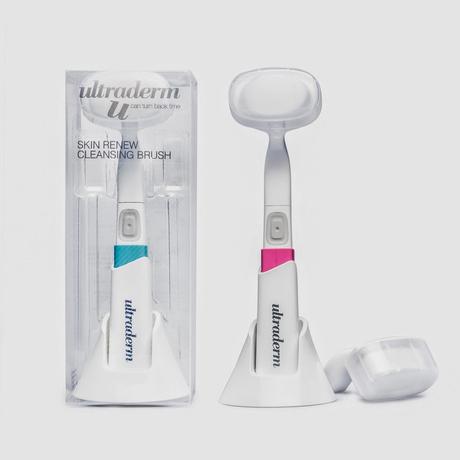 Not a gimmicky gadget, this cleansing brush really does work and if used consistantly 'u can turn back time' just like they claim!Presented in a clear plastic box and nursed in a cradle-like base, the Ultraderm Skin Renew Cleansing Brush is white in color and looks chick and modern, with a teal blue décor around the middle, which would look stylish in any bathroom.  With the ability to clean skin more thoroughly than a cleanser alone, the gentle sonic vibration of this battery operated devise works deep into the pores to clear congestion.  The bristles are super soft and very dense to feel like the ultimate in pampering as I work it all over my skin.  I like to use it with a gentle creamy cleanser, such as the Skin Karma Cleanser and it perfectly compliments my existing skin care routine, where I opt to cleanse with a facial brush every second night and alternate with the AHA, BHA Skin Renew Cleanser on every other night to avoid overdoing it.  I am loving this brush even more than my Clarisonic, because it's so streamline and easy to maneuver.  Over time, with regular use, it's helped to visibly improve the appearance of enlarged pores and keeps blackheads and breakouts at bay, enhancing the tone and texture, reducing excess oil production and leaving my skin feeling firm and resilient.TIP: Because it's compact and battery operated this facial brush is the ideal travel companion and is also brilliant for those who are doing their bit to save electricity usage.  Rating - 5/5
So, there you have it, I must admit I was super impressed and thrilled that these products perfectly complimented my existing anti-ageing regime.  What do you think, is this a brand you could be keen on trying?  To purchase or learn more about any of the products mentioned above, head to 
Facial Co
 for all your 
Ultraderm
 needs.
The images in this post are generic.