Hi peeps, I'm back!  The next product was forwarded to me by the lovely 

Tammerly

 author of 

Spoilt.  I must admit I had a few reservations when I first saw the brand in question was Clearasil, because it was one of the first skin care lines I recall being familiar with as a teen and over the years as I got older I moved away from what I considered to be a range appropriately suitable for teenagers.  However, I still do battle with the spots quite often, so I decided to give them another try now, after all these years……


This 2-in1 cleanser/mask is a product featured in the new range from well-known anti-acne brand 

Clearasil.  The energising Clearasil Daily Clear Vitamins & Extracts Wash (

can't find this range on their website at all??

) is enriched with nourishing Avocado and Vitamin E, along with the antioxidant benefits of Pomegranate, plus hydrating Glycerine to help retain moisture.  Unlike the existing Clearasil line-up, this range has a lower content of Salicylic Acid (a powerful pimple-fighting ingredient) making it kinder to the skin, yet still efficient enough to target and prevent breakouts, delivering a comfortable deep-pore cleanse that removes impurities, without drying or stripping the skin.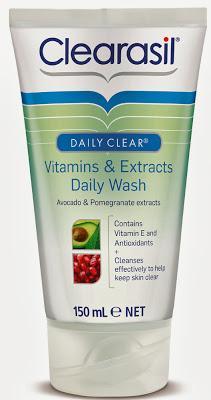 I never suffered acne as a teen, however I have had a bout of adult acne a few years ago and even more recently, my skin has gone a bit berserk, leaving me battling an onslaught of whiteheads that I was keen to get rid of fast, so the new 

Clearasil products arrived at an ideal time.  I'm actually thrilled to find a targeted spot cleanser that I can tolerate, because it isn't too potent or harsh for my sensitive prone skin and clears up breakouts without robbing the skin of its essential moisture.  I was impressed with the blemish control properties of this product after frequent, daily use over a four week period, it helped to rapidly reduce the swelling, redness and tenderness associated with existing pimples, allowing them to heal quickly, minus any long-term damage to my skin.  When used for the sole purpose of cleansing, I didn't succumb to any aggravation and have since noticed a positive improvement of my overall skin health, including the return of my blemish-free complexion.  The Clearasil Daily Clear Vitamins & Extracts Wash is available at various major retailers in Australia, for an absolute steal of a price, affordable for all budgets.  For anyone who leads a busy lifestyle and is struggling to get control of their skin, then this cleanser is worth consideration.  It's effective enough to treat problem areas, clearing congestion, thoroughly cleaning dirt, excess oil and bacteria that gets lodged deep inside the pores, all the while being gentle enough for even the most fragile skin.


The lightweight wash has a pale green, super creamy texture, so about a 10-cent coin sized amount works up into a non-foaming, mild lather.  It's then gradually massaged all over my wet face and easily rinses straight off omitting any tacky residue.  The pleasant fruity fragrance is both refreshing and invigorating.  It's not overly perfumed, nor does it linger on the skin, but acts as a perfect pick-me-up to ensure I start each day feeling instantly recharged.  I like to use this cleanser every morning, as it adequately cleans my skin, but it's not at all dry or taut; instead it's surprisingly conditioned and feels soft to touch.  Due to my sensitivity issues, I found using the product as a mask unsuitable for my personal needs and after leaving it on my skin for longer than a minute or so, I experienced an unusual reaction with a tingling/stinging, almost burning sensation and the sudden discomfort sent out warning bells and I had to wash it off straight away, afraid it may lead to irritation and trigger redness or other side effects.  After that one occasion, I simply continued using the product solely as a cleanser for the remaining duration of the test drive.




Presented in an easy-to-squeeze upside-down tube that boasts the same green and white color scheme across the range with eye-catching Avocado and Pomegranate images decorating the front of the packaging, it's chic and modern, appealing to both men and women of all ages, in lieu of the typical teenage audience that 

Clearasil

 usually attracts.  The tube has a large opening so lots of product comes out at once when dispensing, which is not only messy, it also results in using more product than needed, so it runs out quicker than it should.  The snap-shut lid is quite flimsy and needs to be handled with care to avoid breaking it off altogether.  On the plus side, the lower half of the tube graduates toward being translucent so it's easy to see how much product is left before it's finished.

TIP:

  Even though it's suitable for cleansing purposes, if you suffer from sensitive skin problems at all, then you should patch test prior to a mask application, just to avoid exasperating the condition.
Rating: I am awarding this clever cleanser with 4 stars out of 5.  Basically, it loses ½ a star for the poor quality packaging, with the lid just hanging in there, whilst the inability to control the amount of product that is dispensed from the tube is totally wasteful.  I've deducted the other ½ star because the mask function could prove to be too potent for people like me with more delicate skin and really needs to be pointed out.  Despite those minor negative points, I would definitely look at buying this product again.  It makes for a great staple cleanser that the whole family can use whenever they need a little help zapping some stubborn zits.


So, did you ever try the famous 

Clearasil

 products when you were a teen?  Have you tried them since??  What are your thoughts on this new range, would you be willing to use it yourself??  Please comment below with any feedback!




Thanks xxx ooo